MONTREAL, Canada— On the evening of Feb. 2, Shen Yun performed the first of its five consecutive shows at Place des Arts-Salle Wilfrid-Pelletier in Montreal. Sitting in the audience, restauranteur Waddah Elias and his wife, Rita Ghosn, were mesmerized.
"Emotions, emotions, emotions!" Mr. Elias exclaimed. "It's really nice. It's my first experience [with Shen Yun] but it's not going to be my last. I'm going to come back."
According to Shen Yun's website, its name translates directly into "the beauty of divine beings dancing." Though Mr. Elias struggled to find the right words to express his feelings in English, he completely agreed with that description.
"You can feel all the emotions when they were dancing. It was really divine. You can really see it," he said. "The colours, the dancing—they were so [precise]. You don't see that often."
Shen Yun is the world's premier classical Chinese dance and music company. The New York-based artists' mission is to revive China's 5,000 years of divinely inspired culture that has been all but destroyed under communist rule.
Presenting a brand-new set of dance pieces and solo performances each year, Shen Yun is sharing with the world the glory of China before communism.
Mr. Elias loved that idea. He expressed that although he's not familiar with Chinese history, he definitely enjoyed learning about it throughout the evening. He was also touched by the flawless cooperation between Shen Yun's musicians and dancers.
"It was crazy! They were so in harmony. You feel like you're watching a movie. It was really well-made and I really enjoyed it," Mr. Elias said with enthusiasm.
"I'm going to be talking about it! I'm going to put posters in my restaurants. I can sell tickets for [Shen Yun] if they want."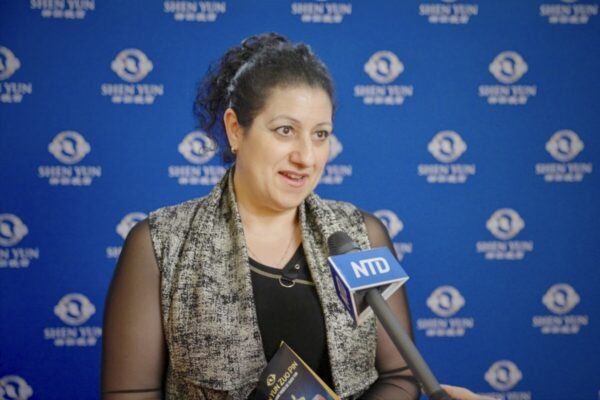 While Rita Ghosn readily agreed with her husband that Shen Yun's performance was very emotional, she could not decide which aspect touched her most.
"Frankly, everything. I don't know where to start and where to end! I really have goosebumps, I loved it," she said. "I don't want to tell you that I liked one and not say that I liked the other one. I liked them all!"
Using Shen Yun's story-based dances as an example, Ms. Ghosn said that "each story told us and showed us something [different.] So, each one had a meaning and that's interesting."
She wanted to congratulate Shen Yun and let the artists know that "we really appreciate the effort they made—the whole team that worked hard for this event. Bravo! And continue! I hope that everyone will come to see this beautiful show."
Reporting by NTD and Jennifer Tseng
The Epoch Times is a proud sponsor of Shen Yun Performing Arts. We have covered audience reactions since Shen Yun's inception in 2006.