INDIANAPOLIS, Indiana—What initially attracts many people to see Shen Yun Performing Arts is the irresistible combinations of colors and the exuberant, acrobatic dance. But for many, what they've found when it comes time to leaving the theater is something much more.
Shen Yun, a New York-based performing arts company, has a mission to revive "China before communism." Its seven touring companies travel the world each year, presenting a whole new program of dance, a live orchestra, and stories from ancient to modern-day China.
On Oct. 2, it graced the Butler Arts Center in Indianapolis where project manager Miles Riley and his wife Adrienne Riley were in the audience.
Mrs. Riley said she was amazed by the dancers and their agility.
I didn't know people could move like that. They seem to defy gravity with their tumbling and the aerobatics, and just how flexible they are and how expressive they are.
"Just the physical ability of the dancers, I didn't know people could move like that. They seem to defy gravity with their tumbling and the aerobatics, and just how flexible they are and how expressive they are," she said. "I liked it very much. It was beautiful."
When asked about his experience, Mr. Riley said, "It's very nice, and of course, they got very serious about two-thirds of the way through the first act, but I'm glad the company is telling what is happening in China."
Part of Shen Yun's mission is to let the world know about human rights abuses in China, the homeland of many of its performers. While its cultural roots are in China, Shen Yun cannot perform there due to its message.
"I think that's too bad," Mr. Riley said. "I certainly believe that the Chinese Communist Party would want to suppress it. The mailer said that this was a show that the CCP didn't want us to see, so I thought we should come."
He recommended the show for all his family and friends.
Like her husband, Mrs. Riley was moved by the show's depiction of current affairs in China, among which is the abuse of prisoners of conscience by the Chinese Communist Party.
"I was shocked about the kind of things that actually still go on today," she said. "It's very sad in some ways but also very glad that [Shen Yun is] getting the word out. And people really should know what is going on."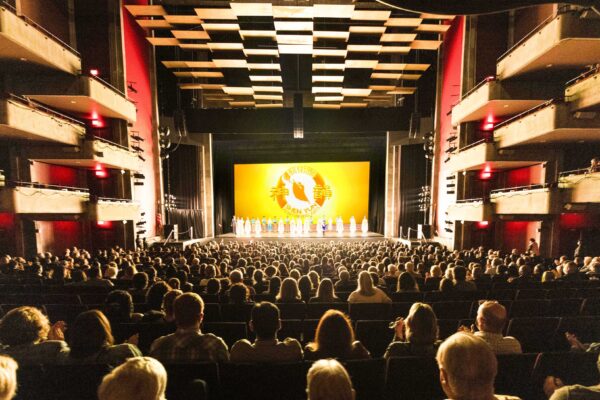 For the Whole Family
For the Lachs, Shen Yun was a family event.
Harper Lach, 8, said he loved the costumes, and sixth-grader, Halle Lach, found it especially enriching to see a live orchestra perform since she plays three instruments herself.
Their parents are David Lach, a civil engineer, and Julie Lach, a sports lawyer. Mrs. Lach said he felt the experience would be educational for the children.
"We wanted them to see and appreciate different cultures, and I thought this was a masterful way of showing the rich tradition of Chinese history," she said. "It's beautiful and it was fun. But also I thought the piece on present-day communism in China that was really insightful and makes us appreciate our democracy and that there are still struggles and challenges that we need to be a part of in helping."
She continued: "It's amazing what our democracy here can afford from rights and due process, and I appreciate that's not in every country. That is the point of bringing our kids to a show like this. Yes, they appreciate the beauty and the nature, but they can talk about some of the other pieces of the culture, which I thought the show was able to bring to light and make real, and then we can talk about it with them."
It was an eye-opener for Mr. Lach too. "It was great to experience a different culture and the history," he said. "I wasn't aware of the faith of the Chinese people prior to communism. So to experience this was truly remarkable."
He added that reading about the different dynasties of China is one thing, but it was quite another to experience what it might have been like.
"It's really interesting that people are here with this university in New York, recreating this cultural history that we can experience here," he said.
Going Back in Time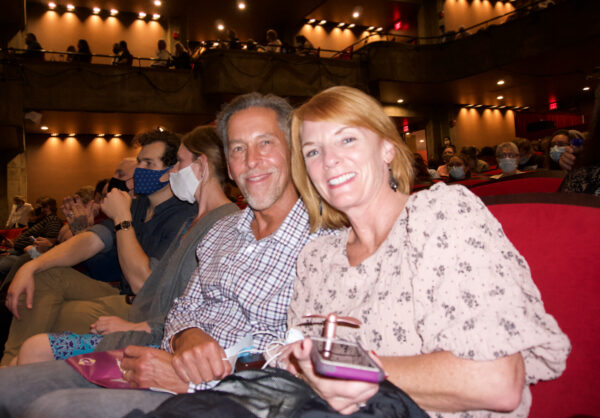 Dennis Robleski, adjunct professor and retired banker, and his wife Elieen felt as if the performance had transported them through space and time.
"It's a part of Chinese culture that I really hadn't ever had any exposure to before," Mrs. Robleski said. "When you think of communism here in the States, we think of oppression and repression … In my lifetime, China has always been communist, so to see what was there before is at the same time wonderful and sad."
Mr. Robleski thought of the different cultures that exist within China.
"I think we tend to think of communism as trying to force uniformity, and China is such a massive land and so diverse from so many aspects," he said. "This is really showing its diversity through the dance."
Reporting by Lin Pu, Nancy Ma, and Epoch Times Staff.
The Epoch Times considers Shen Yun Performing Arts the significant cultural event of our time. We have proudly covered audience reactions since Shen Yun's inception in 2006.