It's a bit of an American institution; the pacifier of peckish progeny; the survival rations of empty-pocket college students; the late-night master of munchies. And I've long sort of loathed the stuff: mac 'n' cheese.
When my brother and I were little kids and my mother stayed home to take care of us, she found much-needed income from child care for some neighbors. Best way to feed a bunch of whiny kids with mouths open like needy nestlings? A meal right from the box to the burner, ready in as long as it takes to boil noodles.
So I ate it. Often. But by middle school, I'd even leave a scoop of the "real" stuff untouched on my tray at the school cafeteria. While fellow college students burned it into the bottoms of their dorm-room hot pots, I sought comfort in instant ramen. But I digress.
Behind the Process
Let's not disparage the essentials of the box and processed cheeses, however. One might call this Depression food. Kraft came up with the boxed elbow macaroni with flavor packet in 1937, at a time when meals were a bit harder to come by. Plus, this was a good nonperishable item to keep in the cupboard or pantry.
But the cheese part, well, wasn't very cheese-like. Home cooks looking to shore up the cheesy end took to adding processed cheese, another early 20th-century creation.
The first processed cheese was developed in Switzerland, the home of fondue culture, which demanded a good melting cheese that didn't clump, become stringy, or allow the melted fats to separate. In 1911, Walter Gerber and Fritz Stettler used sodium citrate mixed into melting Emmentaler to make a homogenous cheese that remained so when melting. Sodium citrate is an emulsifier, an additive used to bring together substances that normally don't mix well—think oil and water. (It's also been used to keep donated blood from coagulating. Handy stuff.)
Over in the United States, the melting cheese race was also on. James L. Kraft was granted a patent for one made without an emulsifier in 1916. In 1918, Emil Frey, a Swiss immigrant, created a velvety melter named Velveeta, which was commercially produced by Monroe Cheese Co. Kraft patented a "cheese loaf" in 1921 and bought up Monroe Cheese and its Velveeta six years later.
Over the years, that iconic cheese loaf's recipe has been reformulated a bit, and now it's labeled as a "pasteurized recipe cheese product." That creamy meltability has given it a real presence out there in the mac 'n' cheese world. It's a love-or-hate thing now, but at a time when refrigeration wasn't yet a household concept (other than an icebox cooled by blocks of winter ice), a nonperishable form of cheese protein was a minor miracle.
Southern Mac
Mac 'n' cheese is no longer just a snack or borderline emergency ration. Here in cheese-state Wisconsin, it's served at some family restaurants, often—but not always—on the kids' menu. But in the South, the homemade dish is a matter of honor and pride, akin to chili recipes. Everyone's mother makes it the right way, and no one's pouring the ingredients out of a box. To find a respectable recipe, I would need to find a southerner.
A friend and former student had long boasted about his wife's killer recipe; Sharon Eveland, a transplant from Georgia, would be my huckleberry. She has two versions: A practical, quick meal for dinner, and her "this-is-going-to-take-me-forever-and-really-impress-people" (TIGTTMFARIP) version.
Mac 'n' cheese can be relatively easy comfort food, or like Eveland's more serious recipe, a dish that calls for far more than the name suggests.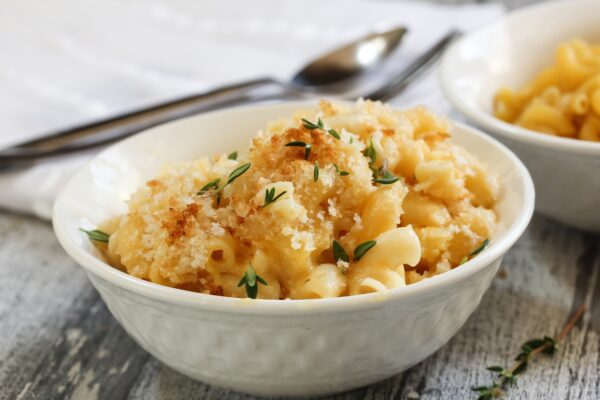 "My mom makes it more traditionally," she told me, "the way I first learned: a ton of cheese and noodles, and milk, pepper, eggs, and butter." If you are making the traditional mac, says Eveland, "you should be able to cut a section out and set it on a plate like a piece of pie." The recipe she shared, however, makes scoopable portions and is far creamier, bringing in at least three types of cheeses, sinful amounts of heavy and sour creams, and a thickening roux.
Eveland says it's great at 1 a.m. after a night out—"or for breakfast, too."
"If you make it with the right cheeses, it is really good." And when I asked about a certain famously processed cheese food, Eveland told me she "wouldn't be caught dead using it."
Others, when they see her ingredients list, may be caught dead eating it. Eventually. Check with your doctor before trying this at home.
Sharon's TIGTTMFARIP Mac 'n' Cheese
Makes 12 servings
1 pound elbow pasta
1/2 cup butter
1/4 cup all-purpose flour
3 cups heavy cream
12 ounces evaporated milk
2 tablespoons yellow mustard
1 tablespoon cornstarch
1 teaspoon onion powder
1 tablespoon garlic powder
1 tablespoon fresh parsley
1 teaspoon fresh ground black pepper
1 teaspoon white pepper
1/2 teaspoon red pepper flakes (or to taste)
4 cups freshly grated sharp cheddar (room to improvise here with varieties of cheddar or even mix in some pepper jack for more heat)
8 slices provolone cheese
1 cup sour cream
4 cups freshly grated parmesan cheese, divided
For the Panko Topping
3 tablespoons butter
1 tablespoon olive oil
1 cup panko
1/4 cup freshly grated parmesan cheese
In a large pot, cook pasta just until al dente, strain, and set aside.
Preheat oven to 350 degrees F. Lightly grease a 9-by-13-inch baking dish.
Melt the 1/2 cup of butter in a large skillet over medium heat, whisk in the flour, and stir constantly for a couple of minutes. Reduce heat and whisk in the heavy cream, mustard, cornstarch, evaporated milk, and all seasonings, stirring constantly until it reaches a boil. Allow to simmer, still whisking occasionally, until slightly thick.
Remove from heat and whisk in cheddar cheese and parmesan until melted. Stir in the macaroni until evenly coated.
Pour half of the macaroni and cheese into the greased baking dish. Then create an even layer of provolone slices, followed by an even layer of sour cream. Pour the remaining cheesy macaroni over the entire baking dish and sprinkle with 2 cups of parmesan cheese.
Make the panko topping by melting the butter and olive oil in a skillet over medium heat. Add panko and stir in the quarter cup of parmesan cheese. Cook until the crumbs become a golden brown. Sprinkle the mix over the top of the mac 'n' cheese.
Bake for 25 minutes, or until the dish is bubbly and the provolone within is fully melted.
Kevin Revolinski is an avid traveler, craft beer enthusiast, and home cooking fan. He is the author of 15 books, including "The Yogurt Man Cometh: Tales of an American Teacher in Turkey" and his new collection of short stories, "Stealing Away."  He is based in Madison, Wis., and his website is TheMadTraveler.com.