CINCINNATI—Robert Wilson, a computer software engineer, and Kristen Wilson, a human resource business partner saw Shen Yun Performing Arts for the first time at the Aronoff Center for the Arts on Jan. 28, and had such a wonderful time that Mr. Wilson said that he "would definitely come back in a heartbeat."
"It's an incredible show," said Mr. Wilson. "It is wonderful. It is great to see the history, from the ancient history to modern, to even to some of the drama that's going on now."
Based in New York, Shen Yun was founded in 2006 and quickly became the world's premier classical Chinese dance and music company. Over the years, Shen Yun has grown from one to eight equally-sized companies that tour the world simultaneously. Its mission is to revive traditional Chinese culture and show its audiences the beauty of China before communism.
"I really enjoyed it," added Mrs. Wilson. "The costumes were amazing. The dance was beautiful, and it was very educational. I learned a lot more than I would have expected."
Mrs. Wilson said that while she learned much about Chinese culture through watching Shen Yun, she realized there was still a lot more she wanted to learn.
"I think I learned how little I actually know about early Chinese history. So there's some gaps there that I need to learn more about. I think it's always important to preserve history and culture, so I think it's incredibly valuable."
Shen Yun's performance includes the use of Shen Yun's own patented animated background, which allows performers to move between the stage and the backdrop. The use of modern technology in reviving a traditional culture delighted the couple.
"I love the modern background," said Mr. Wilson. "It's just something that changes technology that I would not have thought would have happened, but just the blend of modern technology to the ancient costumes and dance, and everything else to bring everything together to tell a story. I think it's amazing."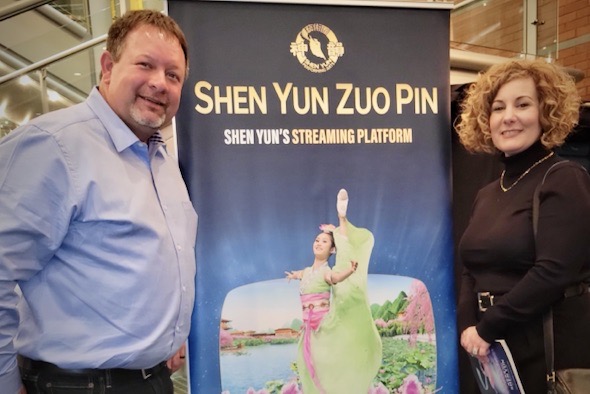 Also in the audience were Herstle Bridges, a sales associate, and his wife Asimena Bridges, a project manager in the biotech industry.
"Impressive," Mr. Bridges said. "Lots of colors—I like the colors, I like the dancing. Educational."
Mr. Bridges said that he was able to learn more about a culture that was different from his own through watching Shen Yun.
Shen Yun's program is made up of several dance vignettes, some of which are story-based dances, which Mrs. Bridges particularly enjoyed.
"I enjoyed every story," she said. "It was just very fascinating to see how you can tell the story without words. It's all through music and all through dance, so it was really nice."
Some of the story dances were set in modern-day China and depicted the Chinese Communist Party's oppressive regime. During the performance, the audience is also informed by the emcees that Shen Yun cannot be seen in China. Mrs. Bridges said Shen Yun was very bold for their portrayal of the Chinese communist regime.
"I understand that it's not something that's allowed to be shown over in China," she said. "So being able to show that here, to let people really understand what's going on over there, it's a bold statement. It was good."
Reporting by Charlie Lu, Michael Huang, and Wandi Zhu.
The Epoch Times is a proud sponsor of Shen Yun Performing Arts. We have covered audience reactions since Shen Yun's inception in 2006.