MONTREAL—Grace and a rare sweetness of life emanated from the stage today at Shen Yun Performing Arts in Montreal, according to acclaimed singer-songwriter Judith Berard.
"I cried a lot at first. Simply because there was this feminine grace, this sweetness that I no longer find in the media, in everyday life. At a specific moment, there is a message conveyed about this modern world in which these values are no longer present. We are in the process of losing these values that are so beautiful, spiritual, meditative, and graceful. And [Shen Yun] was good for my soul," Berard said, who attended New York-based Shen Yun on Jan. 5, 2020, at the Place des Arts.
"I felt wrapped in gentleness and I don't often feel that way in the reality we live in now. So it made me … my eyes were flowing. I was crying, carried by the grace that enveloped me, and came from the stage."
Berard got her start as a child singer and actress on television in Quebec. She joined the cast of Starmania, an internationally acclaimed rock opera, as a young woman, and went on to headline well-loved musical theater productions in Quebec and France.
Berard is also a beloved recording artist with solo albums under her belt. She was picked by Disney to perform the songs sung by the main character, Pocahantas, for the French movie soundtrack of the same name. She could not see the project through, unfortunately, but the version of her singing "Colors of the Wind" for the trailer still exists and is a fan favorite on Youtube. She was tapped again to sing Pocahantas's songs in the French version of the sequel, which she did, and sang the theme song on the popular video game "Prince of Persia."
Berard has composed popular songs through the years, including "Shall be Done" for Sarah Brightman.
As part of Shen Yun's revival of authentic Chinese culture, uniquely-trained bel canto singers perform solo pieces during the show. The lyrics of the original compositions they sing in Chinese often carry themes of divine inspiration and spiritual refinement.
Berard had high praise for soprano Min Jiang, who sang "Words of Encouragement."
"It really gets to me because … we see this being, so small, so delicate, so graceful, and with such an impressive vocal power that comes out of this little lady and is projected. At the end, she projected such a powerful, powerful note, it impressed me. I would be curious to know what vocal techniques bring such a vocal power," Berard said.
According to Shen Yun's website, "Ancient Chinese theater and early European opera shared the same singing technique, believed to produce the most beautiful and pure tone of voice."
Bel canto is often referred to as a lost art, rarely used on stage nowadays, but Shen Yun seeks to preserve it. The website adds the soloists' "ability to perform bel canto while retaining perfect Chinese diction is likewise unparalleled."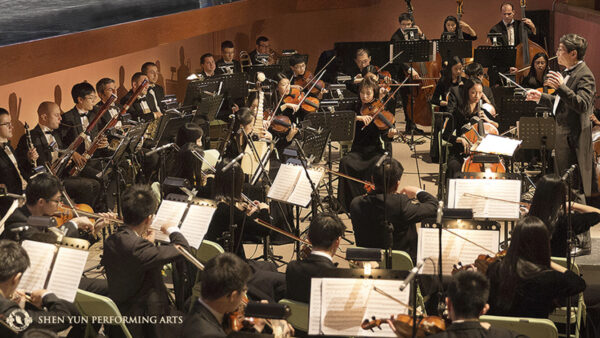 Berard commented on another unique feature of Shen Yun: its orchestra that utilizes a Western sound expertly combined with Chinese instruments and melodies. Classical Chinese dance and music are capable of expressing a wide range of emotions and expressions, from sorrow and grief to joy and even tipsiness.
"Oh! This ethnic, folk mix, through ancient and new instruments, it's a perfect blend. It's a little bit this 'comic book' side sometimes that the ancient music can bring through the woodblocks. I don't know the name of the instruments but it brings a very expressive, comic-strip-like atmosphere, which is very beautiful, which is also expressed by the dancers. So there is this harmony between the music and the dance which is really perfect," Berard said.
Along with depicting spiritual themes that ran throughout traditional Chinese society, Shen Yun illuminates important modern stories on stage. The brutal persecution of the followers of Falun Dafa now happening in China is a story that hasn't reached as many people in West as its gravity and size would suggest. But Shen Yun's artists find it significant, with its poles of good and evil, and themes of compassion and forgiveness, and many audience members such as Berard say those are their favorite dances of the evening.
"What really moved me was the courage to denounce things that hurt people. The elegance, gentleness, sensitivity, the mix of violent words in the sad message that comes through in this very touching melody, of a couple who can't be together because a regime prevents it, it struck me. I wasn't expecting that. So I was moved, touched by this musical expression," Berard said.
The acclaimed artist feels that Shen Yun is doing a stellar job of informing the world about this injustice, using the arts.
"Yes! In fact, I think Shen Yun has taken an extremely courageous and educational mission for us North American people who sometimes I think are cut off from what is really happening in Asia. We only see through the eyes of the media, we don't look any further. And this show travels through this poetry, this beauty, messages that are very important to us Westerners, very important.
"That's what moves me about this show. You use this grace, this beauty, this elegance to iterate difficult things that we need to hear through other media than politics or written messages. It's through this light, this poetry, this dance that expresses itself … not distress but … In fact, I am very moved because we are under the impression that there is something that can be lost, beauty can be lost in a silent, insidious way. And that's what this show reminds me of: We mustn't forget that people have ancient, folkloric stories. The poetry of these people must continue to exist. Regimes must not prevent this," she said.
"Vive Shen Yun! Long live Shen Yun!" Berard exclaimed.
With reporting by NTD Television and Brett Featherstone.
The Epoch Times considers Shen Yun Performing Arts the significant cultural event of our time and has covered audience reactions since the company's inception in 2006.
Montreal, Canada
Shen Yun World Company