BALTIMORE—Many audience members have no idea what to expect when they see their first performance by Shen Yun Performing Arts. Beforehand, typical associations with Chinese culture shows might be a preponderance of red, lots of acrobatics, and a foreign feel.
But Shen Yun is very different and audience members in Baltimore's Hippodrome Theatre were left with hope and a feeling of being connected.
Richard Davis, chief engineer at Northrop Grumman, a company that supports NASA's space exploration, said after the evening performance on Feb. 1, 2020, that it was "very moving, it was very uplifting" and that he was leaving with "a sense of awareness. A sense of wonder, and a sense of peace."
Shen Yun is not a typical Chinese show, in fact, no one has seen anything like it in China today. The New York-based company has never been allowed to send a company to the Mainland because of what you might call a culture clash.
The mission of Shen Yun is to revive the culture of China's 5,000 years of civilization. While different dynasties and regions have their own unique characteristics, the unifying threads that wove this culture together over the millennia were its spiritual values.
Davis, who said he had seen a performance many years ago, felt that this time he was leaving better able "to understand hope, and mercy and [a] sort of resurrection."
He said saw a theme of overcoming adversity in the performance and felt it connected with his life. The performance also reminded him "to have a sense of joy," he said.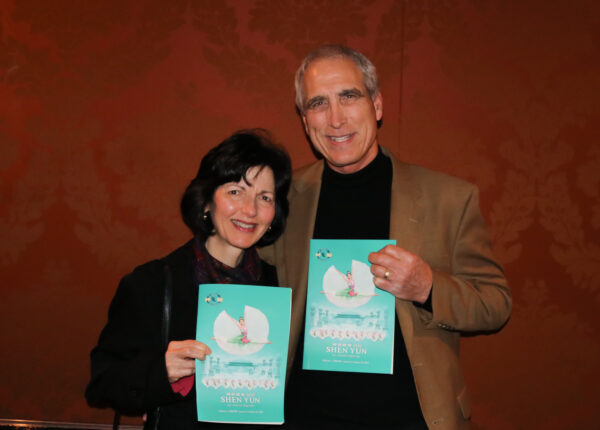 Other audience members, Robert Wilhelm and his wife Kimberly (both certified personal accountants) who saw the performance, said the spiritual values were very universal.
"It had the basic message of what we all are trying to get to—or what we should all be trying to strive for. And that's basically looking out for each other and not being oppressed by anything, you know, being free to enjoy life and to recognize that there's a Creator who had a plan in mind for all this. And we should be striving to live up to that plan," Mr. Wilhelm said.
Why Shen Yun Can't Perform in China
The Shen Yun website explains why it cannot perform in China:
"The company's mission is to use performing arts to revive the essence of Chinese culture—traditionally considered a divinely inspired civilization. Since the CCP is officially an atheist regime, it is afraid of the freedom of expression this arts company enjoys in the West."
Since its inception in 2006, the Chinese Communist Party (CCP) has tried to sabotage performances. Some of the incidents are chronicled on the Shen Yun website.
And the harassment has continued this year. In December, a line of paid protesters greeted audience members attending performances during the start of the season at Purchase, New York.
Some of the narrative dance pieces in Shen Yun are set in modernity and expose the persecution of practitioners of the spiritual practice Falun Dafa.
Mr. Wilhelm said he really sees Shen Yun as part of the battle of good and evil in the world.
"I just hope—if it's a battle—this wins out," he said referring to the goodness portrayed in the performance.
"[There's] got to be a victor and a defeated, as far as I'm concerned, because some of the stuff out there is just antithetical to what we're trying to … what we all should be striving for," he explained.
With reporting by NTD Television, Jenny Jing, and June Fakkert.
The Epoch Times considers Shen Yun Performing Arts the significant cultural event of our time and has covered audience reactions since the company's inception in 2006.