NAGOYA, Japan—Shen Yun Performing Arts World Company finished its 32 performances in Japan on Jan. 30. In the past nearly-40 days, Shen Yun toured 10 cities and was welcomed by full houses everywhere.
At the first stop, the city of Hachioji, all tickets were sold out one month before the show. And at the last stop, Nagoya City, the organizer had to open the fourth floor to respond to the high demand.
"I have noticed that almost all Shen Yun tickets were sold out in the past over one month in Japan," said Mr. Hayashi, an executive of a well-known Japanese TV channel, after attending Shen Yun at the Shinjuku Bunka Center in Tokyo on Jan. 24. "The extremely high quality of the show attracted audiences and built up its excellent reputation."
Mr. Hayashi wished Shen Yun would come back to Japan next season. He predicted: "Shen Yun will attract more audiences next year."
New York-based Shen Yun is the world's top classical Chinese dance company, and has a mission to show the beauty and goodness of "China before communism."
'A Magnificent Show'
Mr. Okachi Storu, the owner and president of a Buddhist products store, attended Shen Yun with his wife on Jan. 30. He said: "It's a magnificent show. I enjoyed it a lot. I felt great!"
Mr. Okachi said that he felt he was inside the stories that Shen Yun presented, which made him feel magical, surprised, touched, and appreciative.
Mrs. Okachi added, "When the curtain opened, we were shocked by the scenes: the heavenly maidens danced inside the clouds. It's fabulous! The dynamic backdrop coordinates with the stage seamlessly. The dancers stepped out of the backdrop and then entered in it. It's magic!"
The couple had high praise for the dancers.
"The female dancers moved elegantly and gracefully. They controlled their force very well, even on their fingertips, not to mention their shoulders and bodies," said Mrs. Okachi.
Mr. Okachi said: "The male dancers are valiant. They are majestic."
Mrs. Okachi said that the thing she most wanted to do was "share the courage and inspiration that I received (from Shen Yun) with all my friends. I hope I can take them to attend Shen Yun."
Shen Yun was founded in 2006, and has quickly became a global phenomenon. The Shen Yun 2023 season will be its biggest yet, with its eight equally sized touring companies set to visit more than 180 cities across five continents.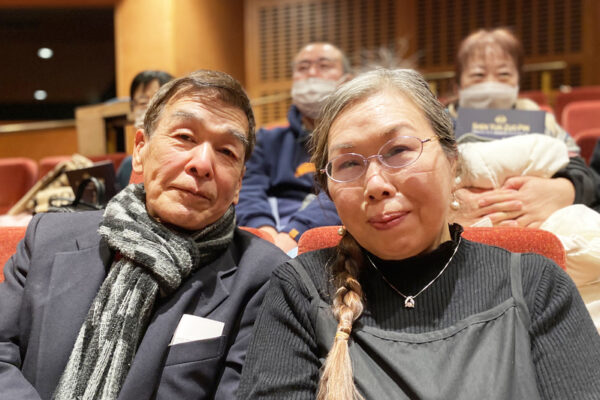 'The Performance Is Formidable'
Mr. Sugiura Manabu is a former director of a well-known Japanese large-scale electrical machinery company. He was surprised by the beauty of Shen Yun.
"The performance is formidable! I feel grateful that I can attend the show and can sit in the front row," he said. "The beauty is just what I expected. I was very moved."
Mr. Sugiura said that he kept on feeling a strong energy coming from the stage and orchestra pit.
'No Words Can Describe the Beauty'
"All dancers have outstanding jumping abilities and extraordinary flexibility. They jumped very high, which showed what they're capable of," said Ms. Seo Mitsuki, a former dancer of The Takarazuka Revue, a Japanese all-female musical theatre troupe.
She was amazed by the beauty of Shen Yun.
"No words can describe the beauty," she said. "The dancers have super skills and techniques, and the overall performance is superb."
As a dancer herself, Ms. Seo said she learned a lot from Shen Yun.
"I want to learn more about how dancers use their backs, as well as the choreography. We don't know this type of choreography (in Japan). This is a great chance for me to learn," she said.
Each Shen Yun performance consists of nearly 20 vignettes, presented through highly-expressive art forms such as classical Chinese dance, original orchestral music performed live, soloists who sing in the bel canto tradition, animated digital backdrops, and more.
'I Received a Very Good Thing'
Ms. Sakakibara Miyuki, a director of a metal processing company, attended Shen Yun with her father Mr. Sakakibara Tatsuo, the former president of a dance studio, on Jan. 30. They appreciated Shen Yun's effort to revive the traditional Chinese culture and said they felt the divine nature in the show.
Ms. Sakakibara said she received the values that Shen Yun delivered, and felt "I received a very good thing. I'm one step closer to the divine being."
For 5,000 years, China's civilization was built on values and virtues from the spiritual teachings of Buddhism, Taoism, and Confucianism, and values like loyalty, propriety, wisdom, justice, and benevolence—values that are universal and shared the world over.
Mr. Sakakibara was very touched by these values and Shen Yun's beauty.
"It's a surprise that we can attend such a great performance in Japan. It's rarely seen," he said. "It's more precious because it's my child who brought me here to show her love. I'm very happy. Today is a great day."
Ms. Sakakibara said, "The Shen Yun dancers are awesome. They kicked their legs very high and kept on tumbling. I watched them with great excitement. I hope I can work hard to be the best, like what Shen Yun dancers do."
The father-daughter pair said they would tell all their friends about Shen Yun, and they couldn't wait to attend Shen Yun again.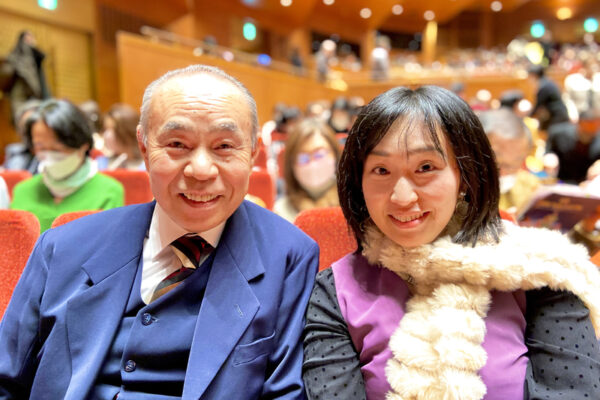 Reporting by Epoch Times Staff in Nagoya, Japan.
The Epoch Times is a proud sponsor of Shen Yun Performing Arts. We have covered audience reactions since Shen Yun's inception in 2006