Mushrooms are strange creatures. Neither plant nor animal, these fungal fruits are in a class all their own. Some species are psychotropic. Others are deadly. For many ancient cultures, even perfectly edible mushrooms were suspect.
The Chinese, however, embraced mushrooms early on. One of the most important specimens in Chinese culture is shiitake, which has been a treasured food and folk medicine throughout Asia for at least 2,000 years. Shiitake's reputation for well-being remains strong to this day.
Shiitake is a Japanese name—a reference to the the shiia oak on which this fungus is sometimes found. Chinese names include xiang gu (fragrant mushroom) and hua gu (flower mushroom).
Wild shiitake were once reserved solely for royalty. When the Chinese perfected methods to cultivate them however, problems of scarcity diminished. Today shiitakes are the second most consumed mushroom in the world after the plain button variety.

Nutrition
White mushrooms may be more popular, but shiitake is superior in every way. They possess a dark, savory flavor and incredible nutrition.
All mushrooms are rich in B vitamins and protein, but shiitakes are the best bioavailable vegetarian source of iron around. They also have lots of selenium, zinc, and other minerals necessary for human health.
Shiitakes are naturally big in vitamin D, but mycologist Paul Stamets has developed a method to increase vitamin D2 levels tremendously. The procedure involves drying caps gill side up in direct sunlight. Stamets has shown that with just two days of sun, D2 levels can increase over 400 times.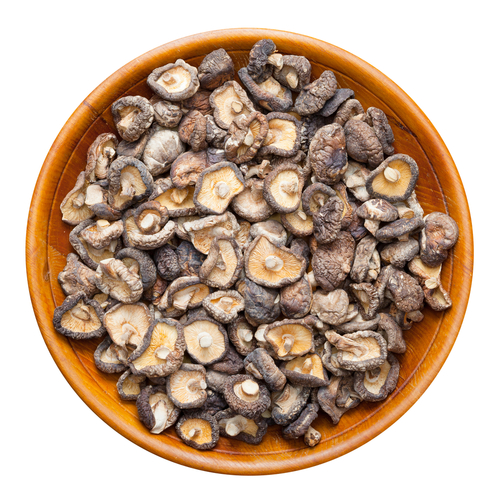 Dried or Fresh
Asian groceries, health food stores, and specialty markets sometimes carry fresh shiitakes, but you're much more likely to find dried caps. Many prefer dried mushrooms because flavor and medicinal constituents are believed to be more concentrated.
To rehydrate, separate caps and stems and soak for 24 hours (much less for pre-sliced mushroom pieces). Discard the tough stems but keep the soaking liquid to make a broth. If you need mushrooms in a hurry, soak caps in hot water for at least half an hour, but be warned: Hot water diminishes flavor and undersoaked mushrooms are quite chewy.
Shiitakes can be used in a myriad of ways, from soup and stir-fry to omelets and pizza. However you use it, make sure it's cooked. Raw or undercooked shiitake consumption can sometimes cause a rash.
Broth is a most satisfying and healthful application of shiitake. Herbalist Todd Caldecott, author of "Food As Medicine," writes that shiitake broth is "the closest we can come to a nourishing bone broth without using animal products, but it is also quite distinct and very unique."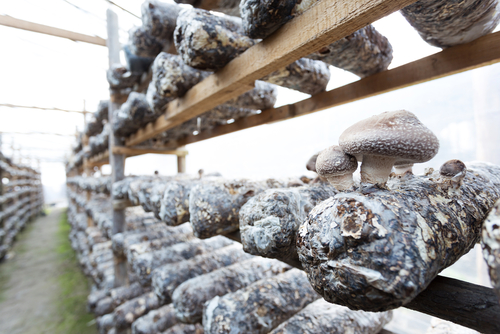 Medicine
In 1620, renowned Ming Dynasty doctor Wu Rui wrote that shiitake provides energy, wards off hunger, cures colds, and improves circulation.
Today, shiitake is used for cancer, chronic fatigue syndrome, HIV, frequent respiratory infection, candida, and cholesterol reduction. This mushroom (or at least its constituents) has received more modern study than most plant medicines, but evidence is still considered preliminary. Many animal studies show favorable results, but there have been only a few small trials on human subjects.
Researchers have focused most of their attention on two well-known shiitake preparations: Lentinula edodes mycelia extract (better known as LEM) and lentinan. Both have demonstrated an ability to prevent and shrink tumors, support immune function, and exhibit antiviral properties.
In Japan, where many modern trials on shiitake originate, both lentinan and LEM are used to lessen the toxic effects of chemotherapy and radiation treatments. Lentinan has been approved in Japan since 1985 as an adjunct for stomach cancer treatment and is often used by Japanese women undergoing treatment for breast cancer.
LEM is often recommended for those with HIV infection and has been shown to stop viral replication, strengthen immunity cells, and protect the liver.
Keep in mind that these actions are based on full therapeutic doses of prepared medicines and not the whole food. In his book "Medicinal Mushrooms," herbalist Christopher Hobbs writes, "Although shiitake can be a valuable dietary supplement, the amount one would have to eat for medicinal doses is so high that it might cause digestive upset."
Luckily, shiitake supplements are easy to find over the Internet or at your local health food store. According to Hobbs's website, the demand for mushroom medicines is more than $1.2 billion worldwide.

Zesty Mushroom Soup
This is a soup sure to bring warmth to cold hands. Ginger, garlic, red pepper flakes, and shiitake all get the blood pumping.
1 tablespoon butter or olive oil
1 large shallot, chopped
2 cloves of garlic, chopped
1 tablespoon grated ginger
8 shiitake caps (fresh or reconstituted), cut into bite-sized pieces
1 stalk of celery, chopped
2 bay leaves
1/4 teaspoon red pepper flakes
1/4 teaspoon fresh ground pepper
Sea salt to taste
4 cups liquid (use water, chicken, or vegetable broth, and/or soaking liquid if starting with dry shiitakes)
1 piece of kombu seaweed (optional)
3 ounces of soba noodles (a buckwheat-based pasta)
1/2 cup chopped cilantro
Juice and zest of one lime
Melt butter or oil in a large pot and add shallot, ginger, garlic, celery, and shiitake. Sauté over medium heat until veggies are soft. Add bay leaf, red pepper flakes, ground pepper, and salt. Sauté for another minute, add liquid and kombu. Just before soup comes to a boil, turn to low and cover for 20 minutes.
While soup simmers, cook noodles according to package directions, but leave slightly underdone. Drain noodles, add to broth, and turn off heat. Cover until noodles are tender (about two minutes). Discard kombu. Top each bowl with chopped cilantro, lime zest, and a splash of lime juice. Serve immediately.
Makes 3 servings