CANBERRA, Australia—Australians should be ready to share in an experience full of energy and cultural insight with Shen Yun Performing Arts, said the Attorney-General of the Australian Capital Territory, Shane Rattenbury, after enjoying a performance at Canberra Theatre on April 1.
"The show was so enjoyable … so colourful, so energetic," Mr. Rattenbury said. "The performers are so talented and it's a really interesting cultural insight for Australians to share in that."
Shen Yun, which is based in New York, is touring the world to present to its audiences the beauty and traditions of "China before communism."
Mr. Rattenbury said he thought it is "really important that we have these discussions" about culture and communism's destruction of China's traditional cultures, which are said to be inspired by the divine.
"I think across the world, we need to learn to embrace many cultures, to remember that our common thing is being human together. And we should embrace that and try to accept differences and embrace everybody," Rattenbury added.
He said of Shen Yun, which performs next at the Sydney Lyric Theatre from April 6 to 17: "If you have the chance, come and see the show.
"It is a great opportunity to not only enjoy your show, but to embrace a culture that you perhaps might not be familiar with, and to really learn something.
"It's a whole mixture of things and you walk away really feeling like you've had a lovely evening," he said.
Waiting Since Mexico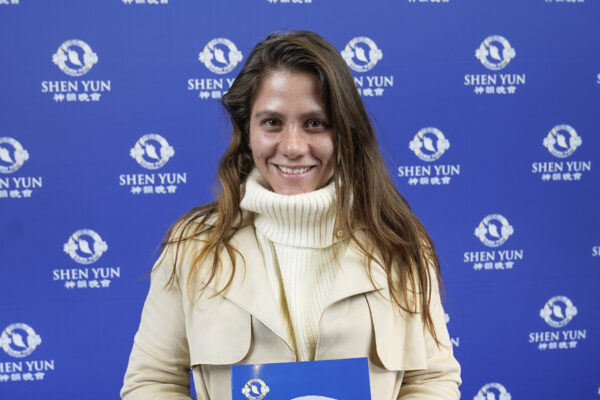 Shen Yun has grown a reputation as the world's premier classical Chinese dance company, touring internationally since 2006 with fresh choreography and storytelling every year.
Maria Herrera, who works at the Mexican Embassy in Australia's capital of Canberra, said that she had wanted to see Shen Yun while she was in Mexico, but didn't get a chance.
"Now that I'm here, wow, it's spectacular," she said of finally being able to see the performance. "I am so in love with this production."
Ms. Herrera said that Shen Yun's performances conveyed a good message that even if you live under the tyranny of communism we all have the arts and music to "join us together."
"In this case, China, you bring to the world the best of your country, of your culture," she said of Shen Yun.
"With these type of performances, we can really feel we are all aligned with nature, with music … we are all one thing together from our roots in heaven, so yes, it's a beautiful message," she added of the performance's exploration of the ancient Chinese belief that their culture was a gift from the heavens.
Shen Yun's mission is to revive the 5,000 years of heavenly-bestowed Chinese culture that has all but been lost under the modern communist regime.
'It's This Human Feeling of Being'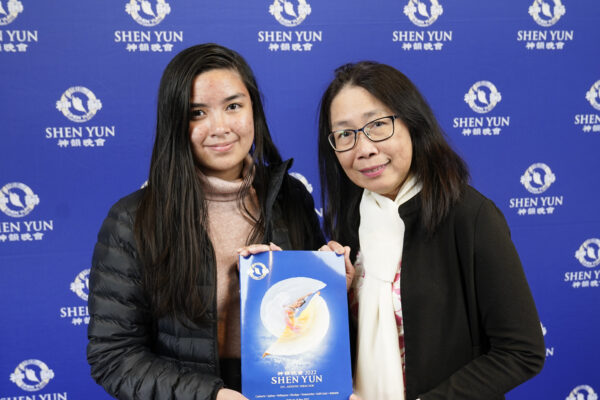 Mother and daughter pair Sandra and Sarah Haines also expressed thoroughly their enjoyment of Shen Yun's performance on Friday night.
Sarah, a former dancer, said she was impressed by the technique of Shen Yun's dancers.
"Some of the stunts they were pulling out on the stage were beautiful to watch, and I could not see a single flaw in some of their landings. Absolutely amazing," she said.
Meanwhile, her mother expressed deep appreciation to Shen Yun's artistic director for bringing to the forefront of the performance's storytelling the Chinese peoples' traditional belief in the compassion of Buddha and the idea of continued existence beyond this world.
We're not only studying about dance or enjoying the dance, we really understand why that dancing happens.
"We're not only studying about dance or enjoying the dance, we really understand why that dancing happens. There is a story behind it, including the belief in Buddha … that's something out of this world.
"At the moment, probably a lot of people don't really think there are other things beyond us. [Shen Yun] is showing us that there is, [and] also helping the young children to believe.
"It's this human feeling of being," she elaborated, "You know, it's alive. That's it. You have to continue to do that.
"These are the things that are our tradition," she added. "I believe that tradition does not belong to just one race or one country, it belongs to the human race. So you have to support [these traditions] to maintain them, because if they're lost, that's it, you can't get it back."
With a big smile on her face, Sandra told Shen Yun: "I think you've done a really good job and I hope that you keep going. Come back to Canberra so we can watch it again."
Reporting by NTD and Melanie Sun.
The Epoch Times is a proud sponsor of Shen Yun Performing Arts. We have covered audience reactions since Shen Yun's inception in 2006.