MONTREAL—Shen Yun Performing Arts' matinee at Place des Arts on Jan. 4, 2020 was a moving experience that garnered a standing ovation for a show that attendees said reminded people of the importance of morality.
"It was spectacular, absolutely beautiful," said Anni Bedrossian, an evidence-based health and fitness coach based out of Montreal.
"I loved it, I loved the colors. It was just captivating."
New York-based Shen Yun was founded on a mission to revive 5,000 years of divinely inspired culture, which includes a rich history of fashion. Shen Yun's colorful costumes and digitally animated backdrop compliment the intricate choreography of the world's premier classical Chinese dance group.
"It took my breath away, really. When the curtains go up, and we see all the colors, and then all the dancers … it was just really breathtaking," said Bedrossian.
Bedrossian described Shen Yun as a powerful experience.
"It was awe: I couldn't believe people could actually move that way, in such a beautiful and effortless manner."
"I felt very inspired by it."
Shen Yun's dancers have gained a reputation around the world for their incredible synchronicity and mastery of one of the world's oldest and richest forms of dance.
The group draws on China's rich culture and history for its story-based dances, and also portrays the folk dances of many of China's various ethnic groups. The group also portrays events taking place in China today, where the communist regime has made a systematic effort over its 70-year reign to stamp out traditional culture and the deep belief in the divine that Chinese people have held to for millennia.
"I liked the kind of educational part where we learned about what was going on right now, in China, and the suppression. And the spiritual part was really beautiful. And really, it's just such a shame that it's suppressed," said Bedrossian.
"It's honest and it's truthful and I think that makes really good art."
The Importance of Culture
For Ana Caicedo, a telecommunication engineer, the stories were deeply moving.
"I really really liked the stories, the tradition, the costumes. I cried."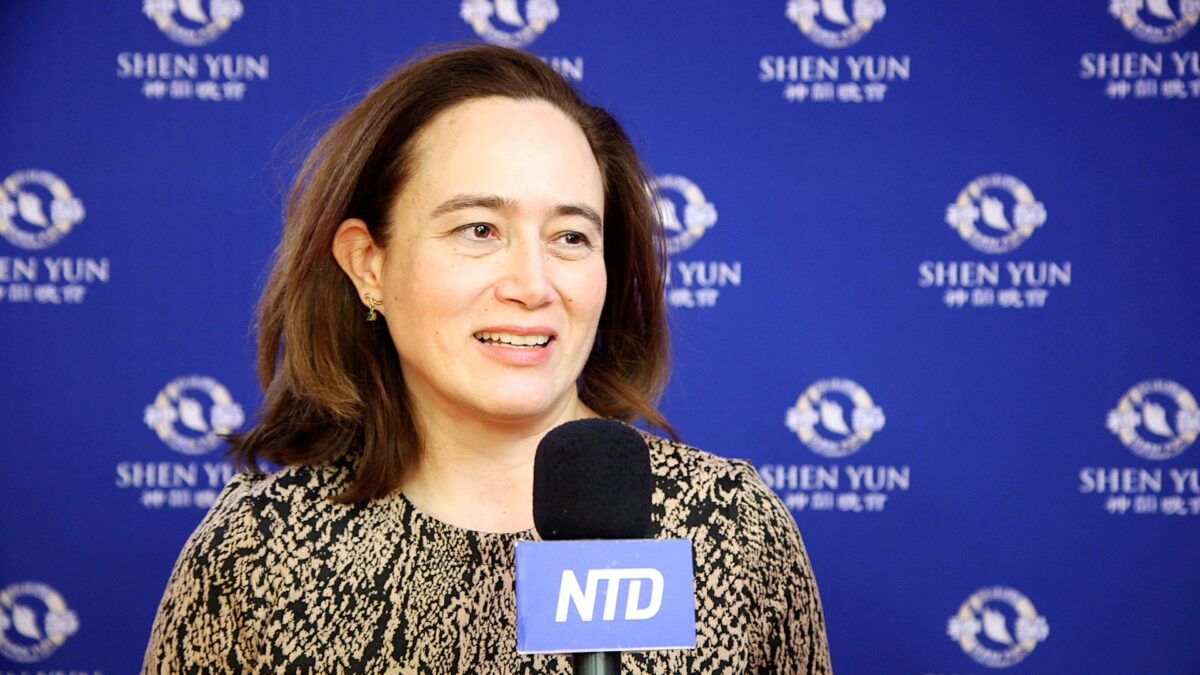 She said she was also impressed by Shen Yun's bel canto vocal soloists.
"There was so much emotion and culture. It's impressive how they have preserved this."
"If we forget the past, how are we going to get to our future, right? The culture, our customs, they're so very important," she said.
"People sometimes lose their way because they forget their past and their stories."
"I'm already telling my brother to come," said Caicedo.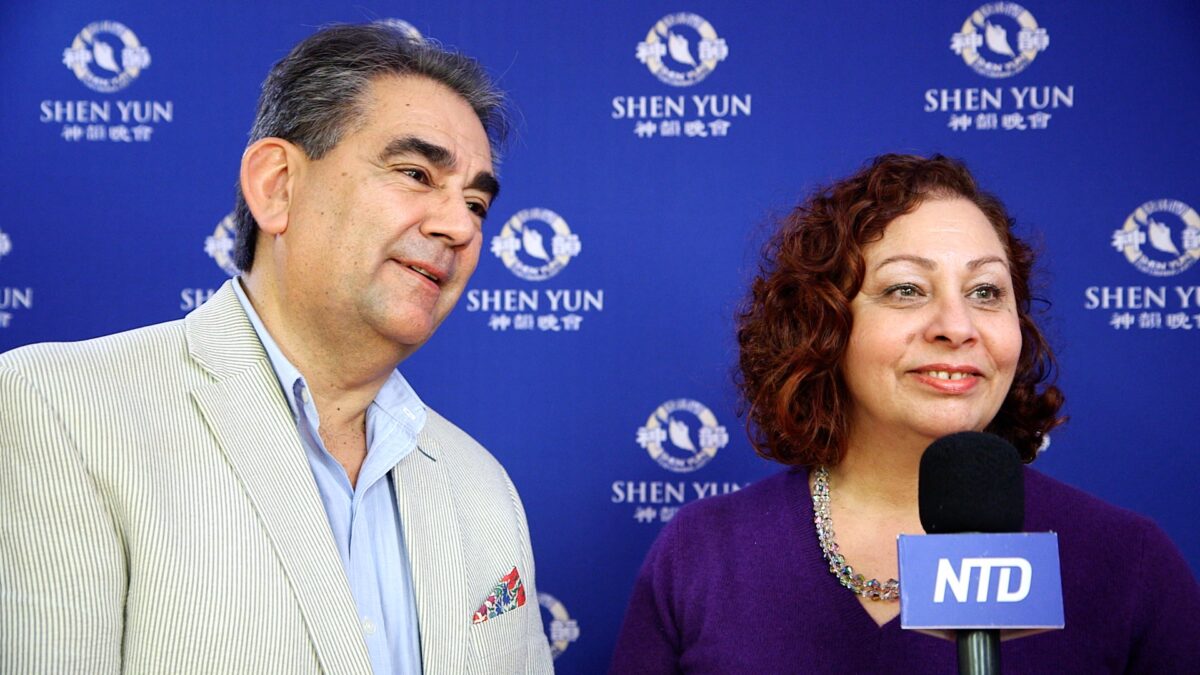 Javier Hoyos, a network manager, came with Magda Sedra, a teacher. The couple shared their enthusiasm for the performance.
"Exceptional, splendid," said Sedra when asked for her reaction.
"I enjoyed it, I enjoyed it very much. It's magnificent. We've been waiting a long time to see this show, it's incredible," said Hoyos.
"I felt a lot of emotions in the show. I look at the faces, the expressions, the colors … for me it was wonderful. Sometimes I cried a little," he added.
The couple were both impressed with the deeper aspects of the performance. Shen Yun draws more from China's rich history than just stories and costumes, it also strives to capture the character of the Chinese people, a character refined through the presence of China's three spiritual traditions: Daoism, Buddhism, and Confucianism.
"Yes, on the spiritual level, the message is a positive, universal message. Whatever our beliefs, in the end, it's peace, it's harmony, it's integrity, values that we lost at some point," said Sedra.
Hoyos echoed the sentiment.
"They showed us that moral principles that have been lost, so much so. And here they showed them again, the loyalty," said Hoyos.
"Indeed, I completely agree, it's the principles of loyalty, integrity … these are values that are unfortunately lost in modern life. And it's good to rename them, bring them back to the surface, and present them to people again. There were children sitting there, of all ages, and I think it's a beautiful, healthy message," added Sedra.
"We walk out of this show with a little seed planted again," she said.
Hoyas said coming to see Shen Yun was fulfilling a dream they had for a long time.
"It was actually a gift we received from my brother and my mother," he shared.
Shen Yun will finish its five-show run in Montreal on Sunday.
With reporting by NTD Television.
The Epoch Times considers Shen Yun Performing Arts the significant cultural event of our time and has covered audience reactions since the company's inception in 2006.
Montreal, Canada
Shen Yun World Company