Shen Yun Music 'too good to be true,' Says Pianist
March 30, 2010 11:12 am Last Updated: October 1, 2015 8:29 pm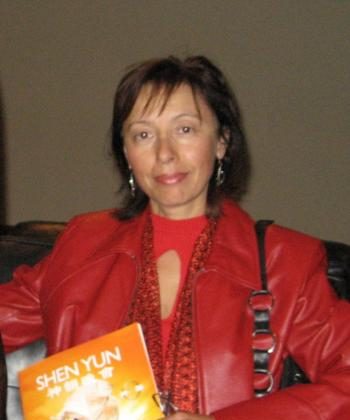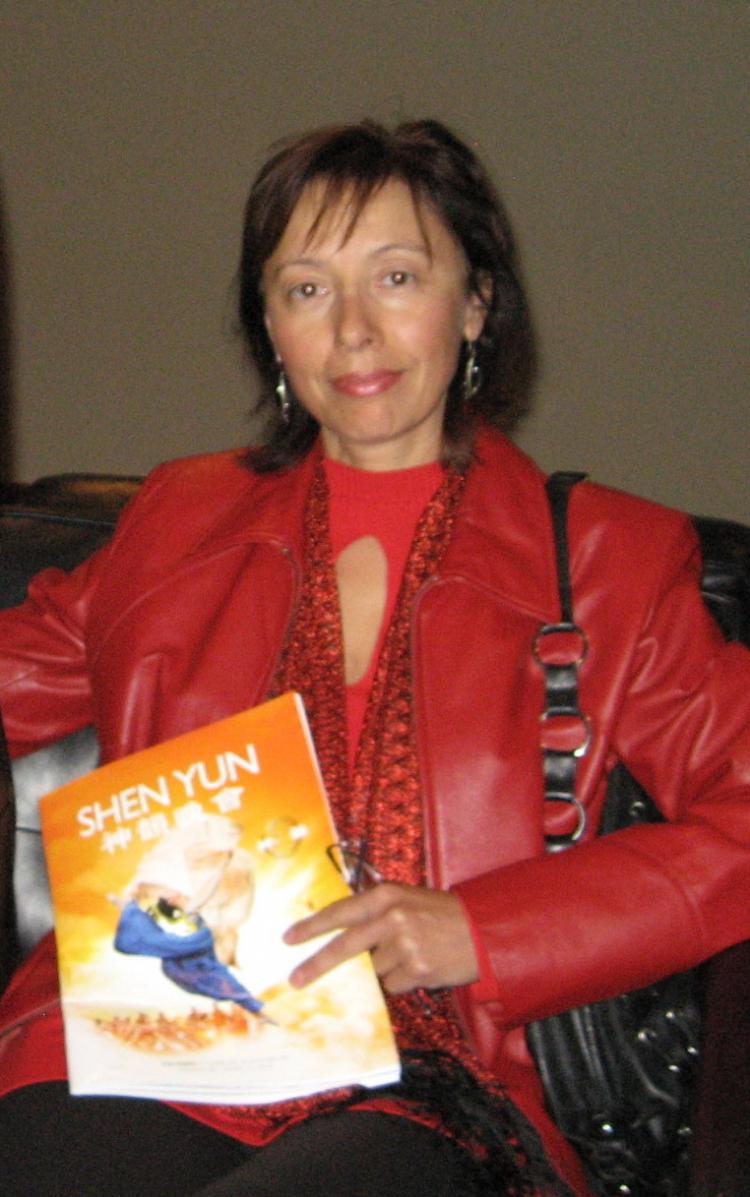 CALGARY, Canada—Most of all, it was the beautiful colours that delighted Iryna Zayarny at the opening show of world-renowned Shen Yun Performing Arts at Southern Alberta Jubilee Auditorium on Tuesday evening.
Ms. Zayarny is a pianist who teaches at the Conservatory at Calgary's Mount Royal University, a leading institution of arts education in Canada established in 1910. She is also a painter, and her work will be shown in an exhibit in three weeks.
She noted that she especially admired the costumes with their bright colours that contrast with and complement each other. They included reds and greens, yellows and violets, blues and oranges.
"They are called complementary colours. They, on the colour wheel, are against each other, but when you put them together, they look even brighter with each other," she said.
"Someone is doing a good job of putting colours together on the costumes. They are really done professionally. Every colour matches the other colours," said Ms. Zayarny. "They draw people's eyes . . . As an artist, I'm telling you, it's very beautiful."
Ms. Zayarny was accompanied by her son at the premier classical Chinese dance and music production.
"It was put together very well," agreed her son, who said that "the whole show is energetic" and that the story-based dance titled Wu Song Battles the Tiger was his favourite performance.
The dance is based on one of China's most beloved novels, Outlaw of the Marsh, in which the mighty Wu Song saves a village from a man-eating tiger.
It was the theme of strength that impressed both mother and son.
In contrast, Ms. Zayarny's most memorable dance was Fairies in the Clouds, a fan dance portraying pure and carefree deities in their heavenly home. The peaceful blue and white on stage conveyed a different mood.
"Softer mood, brighter mood, sometimes there are different moods," she said, adding that the music played by the live 40-plus-member orchestra was "too good to be true" and greatly complemented the other elements of the show.
A trademark of Shen Yun is its orchestra that bring to the audience a masterful fusion of classical Chinese and Western instruments in their performances of original compositions.
" Very nice . . . very clean, perfectly together as a group, as an orchestra," she said.
As a pianist and teacher in western classical music, Ms. Zayarny praised conductor Lin Chia-Chi and said the sounds from the Chinese instruments let her "envision myself in China."
"The music was really Chinese," she said, noting that western music has the chromatic scale while the five-tone pentatonic music featured in Shen Yun gives it the distinctive Chinese flavour.
"Pentatonic . . . You don't use half steps, you use different tones," she explained. "The basic [character] for Chinese music is different."
"The short notes, long notes in different instruments, high and low notes . . . it all fit together very, very well," said Ms. Zayarny's son.
With reporting by Bei Chen.
Shen Yun Performing Arts International Company will be performing two more shows in Calgary on March 31 and April 1.
For more information, please visit ShenYunPerformingArts.org.