FORT LAUDERDALE, Fla.—Shari Matz, a stage and TV actress, was stunned by Shen Yun Performing Arts when it played at the Au-Rene Theater in Fort Lauderdale on Dec. 29.
Shen Yun performs worldwide and is dedicated to restoring China's authentic 5,000-year-old culture to its original glory and authenticity. Its classical and folk dancers bring stories from the past and present with costumes that are true to the smallest detail.
The dedication and precision of the dancers, together with the creativity, choreography, and music were amazing, said Shari who attended a matinee session.
"I can really appreciate [it all] as a performing artist myself. It's absolutely wonderful," she said.
"I've never seen this type of dance before. It's my very first and from what I understand these are the prime and the premium of Chinese performing artists in the entire world—the best of the best."
Shen Yun translated into English means the beauty of Divine beings dancing. The ancient Chinese believed that their culture was bequeathed to them by the divine.
Shari felt a connection with the dancers.
"It's heavenly!  …  It's so precise and eloquent and soft and they're so light on their feet," she said.
"Like you're flying—like you're floating like heavenly beings—like you're … transformed into another realm or another planet," she said.
Through its storytelling, Shen Yun provides a panoramic view of the trials, tribulations but also the joy of the Chinese people both ancient and modern. It is a reminder that the Chinese culture and spiritual teachings were once an intrinsic part of everyday life.
After watching Shen Yun perform, Shari felt she had a better understanding of the Chinese people, their pride in their past, their strength, determination, and optimism for the future.
Shen Yun left Shari with a profound impression that she would take away with her.
"I would say that the beauty of the music and the dance and what it means to them on a spiritual level, and how much heart and passion they have for their people and their heritage," she said.
"I can tell that [the Shen Yun dancers] are so passionate and peaceful and flowing in their dance and very united. [It] is a team effort and they are very connected as well as interconnected—physically, literally, and figuratively speaking," Shari said.
Shen Yun Touches Hearts
Antonio Divine, a nurse who works in a Baptist hospital, was also captivated by the matinee's performance, so much so that he said he would be returning.
"The art, the performance, the stories are so compelling. And it brings so many things to my heart and my soul. I really enjoyed [it]," Antonio said.
Many audience members have said that they felt a feeling of the divine while watching Shen Yun, and Antonio agreed.
"There was actually a point where I got so emotional that it brought tears to my eyes, especially when I saw what's still happening in China, that they don't allow people to speak out. So that part really touched my heart."
Antonio was talking about the persecution of the ancient spiritual practice Falun Gong, which teaches truthfulness, compassion, and tolerance, and a series of health-promoting meditational exercises. The practice has been persecuted in China for over 20 years.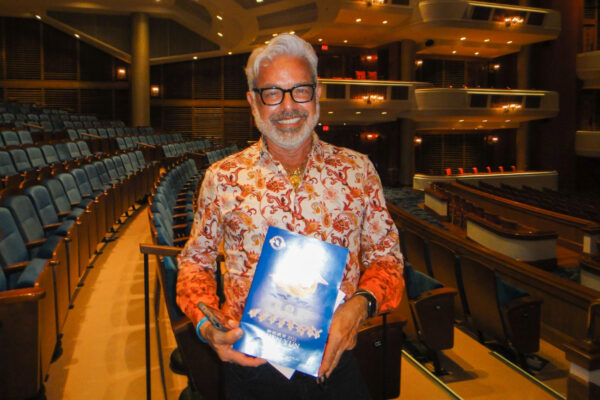 Inspired by the theme of compassion in the last dance he said, "If we all put our hearts and mind to bring peace to the world, we can do it."
Antonio explained that he was a very spiritual person and that while watching Shen Yun he could see a light emanating from some of the performers.
" I feel divinity is a power that we all have inside. We are blessed with that power and we can share it," he said.
Many people have also commented on the healing power of Shen Yun. Antonio described his own experience.
"I was looking at the show, especially at the end when the divine force arrives. I have a few challenges in my life, and I just felt that from now on, after seeing the show that my life is going to improve," he said.
In fact, after watching Shen Yun, he said his body felt stronger.
"You know when we were coming to the show, I was complaining. I said, 'Oh you know my back hurts, my back hurts.' And I was sitting at the beginning [of the performance] and I was saying 'oh my back hurts'."
But after the performance, Antonio realized that his back pain had disappeared.
"I think, you know, it is for everyone, but some people choose to receive it and some people close themselves," he said.
Antonio felt greater optimism after watching Shen Yun.
"I feel energized, I feel like I'm ready for 2022," he said.
Reporting by  Xinxin Teng and Diane Cordemans.     
The Epoch Times is a proud sponsor of Shen Yun Performing Arts. We have covered audience reactions since Shen Yun's inception in 2006.