CLEVELAND, Ohio—Intermission at The State Theatre during the Feb. 6, 2022 matinee of Shen Yun found audiences equal parts exhilarated and pensive.
Among them were Julia McCaslin, director of operations for a seafood company; and her husband Matthew Depante, a chef de cuisine for Hilton.
"It was beautiful dancing!" said Ms. McCaslin. "I really like the fact that there's information about what is going on in Chinese culture—like, please be aware there's beauty here but there's also a lot going on."
In Shen Yun's classical dance presentation, the issue of free speech and religious persecution in today's China are themes that run parallel to stories of China's ancient past.
Told in spirited dance, colorful staging, and heartfelt music, 5,000 years of Chinese culture are displayed on Shen Yun's stage. The mission of the New York-based company is to show the world what China was like before communism and raise awareness about the decimation of China's faith-based traditions today.
"Having a personal Chinese friend who has been speaking about this kind of thing recently, I love to see it in a wider theatre like this to see people in Cleveland exposed to these kinds of stories," said Ms. McCaslin.
"But also to have it showcased next to such beauty, and to see such gorgeous culture, the depth of emotion and beauty, to be seen in Chinese culture, I liked that the two are being shown side by side."
For Mr. Depante, he found the balance between beauty and solemnity quite pleasing. "It's nice to see them actually making a statement … but it's done in a mild way and the show overall is just beautiful," he said.
Ms. McCaslin agreed: "The production itself is stunning, it's mesmerizing, it's really immersive, it's very emotive, very thought-provoking as well, I think overall the production just couldn't be better!"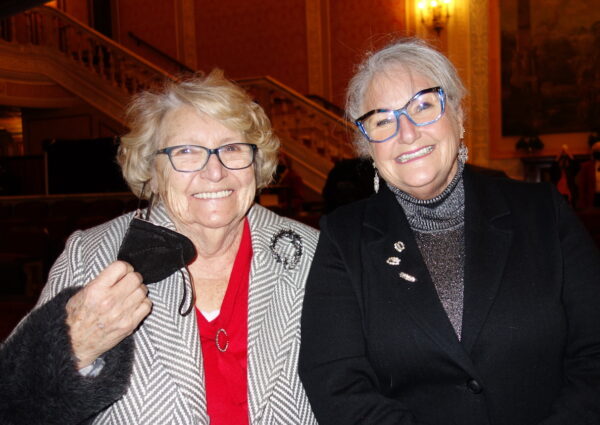 Attorney Barbara Kanapek and her mother Rae Kanapek were first-timers to Shen Yun.
"I expected it to be beautiful. What I didn't expect was the overall experience, the technology," said Barbara. "It was overall just an amazing experience."
She was referred to the patented digital backdrop, which extends the stage action to locations set in China's present and past.
"It enhanced the experience because you could actually see the transition from ancient times to modern times," she explained.
"It was very educational and it was very inspiring. And I don't know why anyone would go from those beautiful, historic traditions to banning those beautiful historic traditions. Makes no sense to me," Barbara elaborated. "It's terrible because the history and the beauty that this presented, and for people in China not to be able to see this is just terrible."
After the communist takeover in the 1950s, the Chinese Communist Party has been systematically dismantling the core tenets of Chinese culture, from destroying temples to burning books and killing thinkers who embody the traditional ways of life.
Rae was surprised at how much ground the show was able to cover. "History-wise and cultural-wise; it covered a lot. It was a good insight into another culture," she said, adding that she'd love to bring her young great-granddaughter to see Shen Yun.
For Barbara, she was already raring to see it all again.
"I'm going to tell my friends that they should go see this, that it's an amazing production. It's going to be in Columbus next month and I have friends in Columbus, so I'm going to talk them into going with me again!"
Reporting by  Michael Huang and Charlie Lu.
The Epoch Times is a proud sponsor of Shen Yun Performing Arts. We have covered audience reactions since Shen Yun's inception in 2006.