OTTAWA, Canada—Dance and music are universal languages that bring people together and convey deep emotions. Shen Yun Performing Arts's classical Chinese dance and music are lauded among musicians for being especially ancient and rich. In Ottawa on Dec. 26, 2019, two violinist friends attended Shen Yun Performing Arts and marveled at its unique content and technique. Shen Yun is known the world over for being the preeminent classical Chinese dance performance with its very own orchestra.
Sonia Caceres is a professional violinist and will receive her master's degree in musicology from Carlton University. She attended New York-based Shen Yun with her friend Denis Pang, a major in Canada's air force and a violinist in his own right.
Caceres shared her high opinion of Shen Yun, especially its original musical scores and unique orchestra.
"It was a great show, I think that all the artists were amazing. It just shows us a little bit of the Chinese culture, and it is amazing that those guys are here and you can learn about it. As a artist you can hear different instruments from China and see how they play with classic instruments, such as the violin and other instruments. It was great, all the artists were amazing, a beautiful show," Caceres said.
Shen Yun combines Eastern and Western musical traditions in its orchestra. How? According to Shen Yun's website, "First, the Western orchestra serves as a foundation, accentuating the distinct sound of Chinese instruments. Second, the bedrock of soul-stirring melodies from the ancient Middle Kingdom is fully brought to life by a Western symphony. This is what makes Shen Yun's music unique and is a new frontier in classical music."
Caceres's impression of Shen Yun's orchestra is that "it was amazing."
"The combination the sound it had like a very particular sound. You can hear, like a tradition from China, the instrument that sounds similar to the violin but it is very different at the same time. So I think that is just an amazing experience on how you can combine and can share your culture, and even have more high-level music results," Caceres said.
The synchronicity of the dancers with the music stood out to Caceres.
"The dancers are in synchrony with … the music—the effect is matching with what they are doing, which is great. You just are involved in the performance, completely involved in that. That was great," Caceres said.
Caceres's friend Denis Pang was thoroughly impressed by the artistic skills he saw in the Shen Yun performance. It fulfilled his lofty expectations.
"Oh, it is … beyond … as good as I thought it would be! You have to see it, because what you see on the posters, what you see on the TV ads give an impression of excellence, but that excellence that you see for real when you're there—it doesn't translate in the advertising. You really have to be there to see it, and there's a certain emotion that comes when you view it, and that is fantastic. As an artist, this is something that they're really on top of their arts. And it takes not only talent, but it takes long practice to make that talent show. It's quite an accomplishment. It's very well-done," Pang said.
Pang's ethnic background is Chinese. He said Shen Yun opened his eyes to aspects of Chinese culture he hadn't known before and guided him further in other aspects.
"From the cultural aspect, I'm more on the learning mode. Because [Shen Yun] is quite unique, I don't think we can see that anywhere else. So if you want to certainly get knowledgeable, that's a good point to be and to start. If you've never been exposed, this is an excellent way to start, and I believe even if you have been exposed to it, that's an excellent way to continue to grow.
"Because even if I've seen [Shen Yun], next time I will see it even if it's the same show. I'm sure I would notice different things than the first time you see you're overwhelmed by so many things happening at the same time. And the next time you see it, you kind of peel another layer, and you access more from the show," Pang said. "It's definitely worth seeing a couple of times."
Along with the ancient stories, Shen Yun depicts real-life stories of modern China, including stories where people of faith are persecuted and oppressed by the current communist regime. These scenes are some of the most hopeful and uplifting, many say, because of how the characters, based on real people, overcome the brutality with compassion, forgiveness, and faith.
Pang wasn't familiar with these events in China and was grateful to Shen Yun for introducing them to him.
"Really I have to take time aside and dig more into it. Because certainly the oppression part of the story—the storytelling in there was a story of oppression—and that certainly is concerning for anybody. I don't really know much about it. But certainly, we'd probably look into it a bit more on my own separately."
Caceres agreed that it's an important story for the world to know about.
"I think that to be aware of what is happening, what other cultures can bring us, is so important. You can see how that can match completely with your life, and how you can apply it daily. So I think it is important to see it, and what a better way to do it through art. So, that is amazing," she said.
Pang and Caceres both noted the spirit and emotion that runs through a Shen Yun performance and is nearly palpable in the audience.
"To add artistry on top of the difficulty on top of the athleticism is another level," Pang said. "It requires really super training and artistry. Also the musicians—play with the melodic line and they add such emotion into their playing. And the dancers, they're also able to render such emotion through their gesture, it's the finishing touch in everything they do. And I think there was a great time spent on making sure that that was done properly."
"You can see it," Pang added, "how the dancers, they are doing an amazing job with their movements. They are showing how that heaven and peaceful part is going through their bodies, so it just like kind of pure expression and very deep emotions."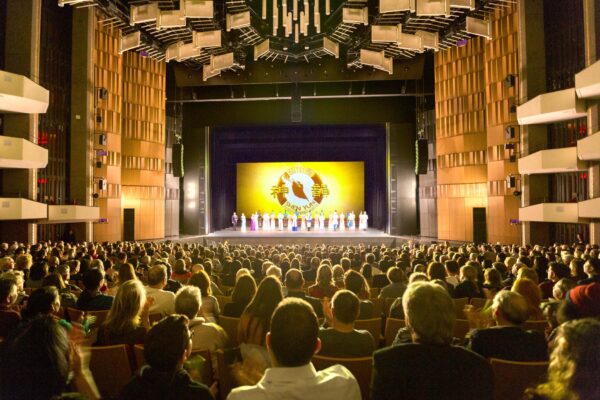 Both said they would highly recommend Shen Yun to others.
"It's a great opportunity. If you have the chance to come and see it, you should do it," Caceres said.
"Oh, this is not to be missed! I mean, of course, there are so many competing performances in Ottawa, but this one I would say is quite unique, and on my calendar, I certainly would come back. And I'll bring more of my friends with me next time!" Pang said.
With reporting by NTD Television and Brett Featherstone.
The Epoch Times considers Shen Yun Performing Arts the significant cultural event of our time and has covered audience reactions since the company's inception in 2006.
Ottawa, Canada
Shen Yun World Company