Shen Yun 'defies description,' Says Musician
April 26, 2014 3:02 am Last Updated: April 27, 2014 4:24 pm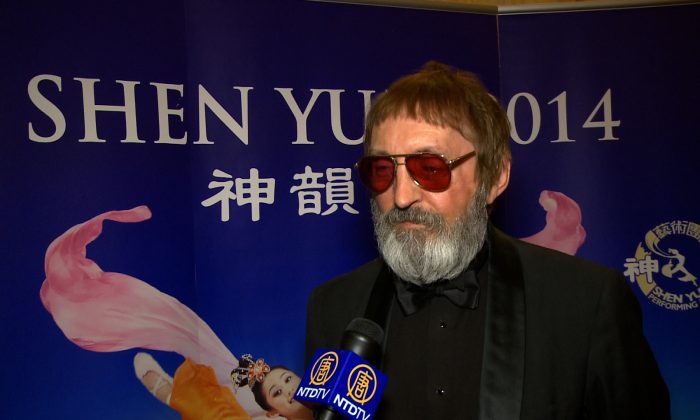 BUFFALO, N.Y.—Musician Bill Moore adored Shen Yun Performing Arts's combination of traditional Chinese instruments with classical Western instruments in its orchestra. 
"I love the music, I love the mixture of Western and Chinese, it's really wonderful," said Mr. Moore, who plays with several bands. 
"It's elevating, it's wonderful," he said after seeing Shen Yun's Touring Company Friday night at the Shea's Performing Arts Center. 
Based in New York, the world renowned Shen Yun features performances of classical Chinese dance, alongside ethnic dances from different regions of China. Each dance is accompanied by the Shen Yun Orchestra, which plays original scores. 
The show, in its entirety, was a wonderful experience for Mr. Moore. 
"It defies description, fantastic."
'China needs to go back to its roots'
Shen Yun's mission is to revive China's divinely inspired culture. 
"Forcing atheism upon society, the Chinese Communist Party has for decades launched various campaigns—most notably the Cultural Revolution—to destroy not only cultural sites, temples, and relics, but also the Chinese people's belief in virtue and faith in the divine," says the Shen Yun website.
"Today, on the surface, the Chinese Communist Party claims to be reviving traditional Chinese culture. But no matter how its efforts are framed, they are ineffectual. For the Chinese Communist Party removes the cultural essence of respect for the divine, thereby extracting the heart and soul of traditional Chinese culture. Shen Yun seeks to revive these virtues the world over."
Mr. Moore said he enjoyed seeing the spiritual aspect of Chinese culture in the performance. 
"I think it's something that China needs. I think China needs to go back to its roots—we really appreciate that," Mr. Moore said, who came to see Shen Yun with his wife. 
Watching Shen Yun, Mr. Moore said, leaves one with an uplifting feeling.
"It makes me really happy," he said. 
"I understand the [Chinese] character for medicine [is] derived from the character for music," he added, citing a fact told by Shen Yun emcees during the performance. "Makes perfect sense to me."
With reporting by NTD Television
New York-based Shen Yun Performing Arts has four touring companies that perform simultaneously around the world. For more information, visit ShenYunPerformingArts.org
The Epoch Times considers Shen Yun Performing Arts the significant cultural event of our time. We have proudly covered audience reactions since Shen Yun's inception in 2006.