PINGTUNG, Taiwan—Liu Huai-wei, a happy father called his newborn a "Shen Yun baby" because his wife gave birth to their baby three months after they saw Shen Yun Performing Arts together in March this year. And now, attributing his baby's healthy growth and charming personality to the magic the performance, he was back with his mother for more—attending the concert by Shen Yun Symphony Orchestra on Sept. 24.
"My hands are sore from clapping. I clapped as loud as I could, because the emotion touched my heart. That wonderful feeling I couldn't describe, the gratitude to every great musician up on stage," said Mr. Liu, dean of the Department of Visual Communications Design at TransWorld University.
Based in New York, the Symphony Orchestra is part of Shen Yun Performing Arts, a dance company that has tours the world every year since its debut in 2006. This year marks the second year that the orchestra has traveled to Taiwan.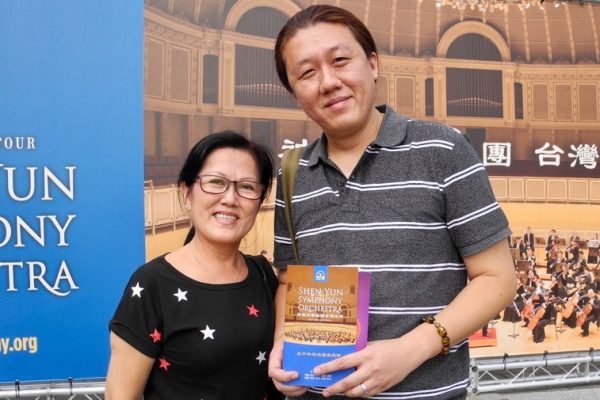 "Immediately they started my eyes filled with tears. I felt the emotional energy, the positive energy filled my body," said Mr. Liu, who explained that he had the similar feeling when the curtain first raised when seeing Shen Yun in March.
When asked to describe the orchestra, he said, "The level of Shen Yun music is something that I cannot describe. There is not a single phrase to describe my praise for it."
"I can only be grateful that I have had the opportunity to see it, and I want to tell everyone how I have been deeply touched."
When Music Turned into Vivid Images
While the dance performances he saw six months earlier brought him the magic of visual images, Mr. Liu explained how seeing the orchestra was equally magical and yet very different.
"I was there simply enjoying the orchestra's performance and I was invigorated with imagination and creativity," he said. "I could feel somehow the different scenes from the music pieces spinning in my head."
He marveled how, while listening to the piece "The Great Khan," he felt he had been taken from the theater to another world—riding a horse on a vast grassland.
And for another music piece "Dunhuang," it was more than just vivid images, according to Mr. Liu. " It was a solemn piece. And I received a message which was how we should be steadfast in our faith and make better use of our power to make an impact."
He emphasize that whatever more he said, he would never be able to describe how deeply he felt and how much he saw.
"Shen Yun music shook every cell in my body—something that went very deep and holistic. It went to my heart and every cell in my body, together it brought out the different [visual and sensational] states within me," he said.
A Mission That Goes Beyond Borders
Shen Yun Symphony Orchestra is currently one-of-a-kind orchestra in the world, with traditional Eastern and classical Western instruments. The Chinese instruments like the pipa and erhu take the lead in melodies while the symphony orchestra serves as a foundation.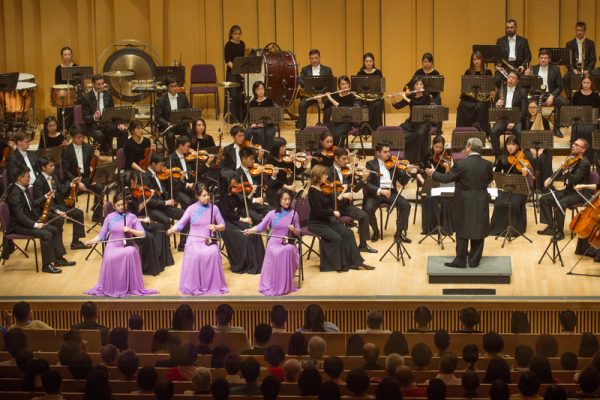 Such successful integration had a much deeper significance, said Mr. Liu. "Music has no borders. And since [the East and the West] can be beautifully combined together, why cannot disputes and injustices between people be solved similarly?"
According to Mr. Liu, beneath the surface of such beautifully integrated music was a positive force—the power of compassion—that was the key to solve any trouble in the world.
"I believe Shen Yun Symphony Orchestra, and all of its musicians and performers know their mission," he said. "They know how they can make an impact [in the world]."
Music's Therapeutic Power 
Mr. Liu had a very specific reason for bringing along his mother to hear the orchestra after seeing how the performing arts had greatly impacted his newborn baby.
"I believe Shen Yun music can help people overcome problems they are facing, which is why I brought my mother along," said Mr. Liu. "She has ill and I hope that after she came to see the performance, she would improve either mentally or physiologically.
In traditional Chinese culture, one of the earliest purposes of music was to heal. And it was no coincidence that the Chinese character for medicine became from the character for music. Since its debut in 2006, Shen Yun has dedicated its annual global tours to the mission of reviving traditional Chinese, which is lost in modern-day China.
Mr. Liu wished everyone, regardless of age, would come to listen to Shen Yun music.
"You will live your life to the fullest after you have experienced [Shen Yun music]," he said. "You will be able to open up the previously closed parts in your heart, which I think is very important."
Before going home, Mr. Liu took the opportunity to thank Shen Yun for its visit to Pingtung. "Pingtung has long been considered a cultural desert since there are very few large-scale performances by international companies."
"Shen Yun music has turned this desert into an oasis," he said.
Shen Yun Symphony Orchestra will conclude the Asian leg of its 2017 Concert Tour on Oct. 3. And beginning on Oct. 11, the orchestra will return to North America with the very first performance in Toronto, which is followed by Boston, New York and Washington DC.
Reporting by NTD Television and Frank Fang
New York-based Shen Yun Symphony Orchestra comprises musicians from the five Shen Yun Performing Arts touring companies.

The Epoch Times considers Shen Yun Performing Arts the significant cultural event of our time and has covered audience reactions since the company's inception in 2006.