Loaded with flavor from spices and hominy, this variation of pozole becomes a meal-in-one, with chicken thighs standing in for pork. And I so enjoy the colorful melange of textures and flavors of this crowd-pleasing, Mexican-style stew.
Hominy is always a key ingredient in any pozole. What is it? It's field corn that has been treated with alkali that softens and removes the tough outer hull. In this process, the corn puffs up to twice its size. In addition to this stew, hominy is what is used to make masa and tortillas.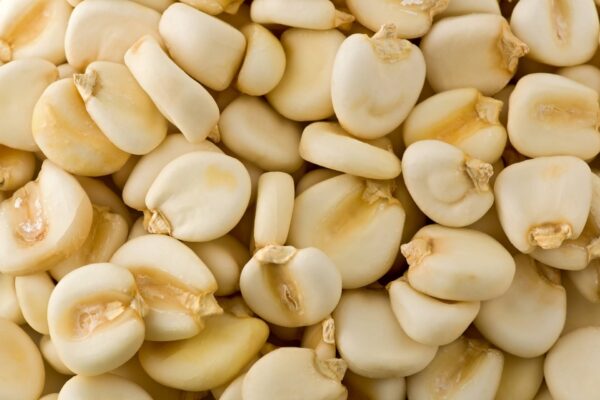 Be sure to have everything measured out and cut up before beginning to cook. Using store-bought salsa verde and canned hominy helps to make this seriously simple to put together.
You can use onions instead of leeks, but I like the subtle leek flavor. Poblano peppers offer spicy notes, while the corn and hominy imbue sweet nuggets to the stew. Don't forget to serve the side garnishes so everyone can choose what they like.
This stew is a wonderful main course soup accompanied with warm tortillas and a salad with jicama, orange segments, and spinach. Chilled Mexican beer is the perfect beverage.
Chicken Pozole Stew
Serves 6 to 8
3 pounds skinless boneless chicken thighs, cut into bite-size pieces
1/3 cup all-purpose flour
Salt and black pepper or seasoning salt
1/4 cup plus 3 tablespoons olive oil, divided
2 leeks, white and light-green part, cleaned and coarsely chopped
2 bell peppers, one red, one orange, seeded and cut into 1-inch dice
1 poblano pepper, seeded and cut into 1-inch dice
3 cloves garlic, minced
1 teaspoon chili powder
1/2 teaspoon chipotle chile powder
1 1/2 cups chicken stock, divided
1 (16-ounce) jar salsa verde
1 (15-ounce) can white hominy, drained
1 1/2 cups frozen and defrosted sweet corn
Garnishes include: radishes, lime quarters, diced avocado, tortilla chips, cheddar cheese, and sour cream
Combine the flour and salt/pepper or seasoning salt in a lock-top plastic bag. Add the chicken pieces and shake until all are lightly dusted with flour mixture. Remove from bag and place on aluminum foil.
Heat 1/4 cup olive oil in a medium Dutch oven over medium-high heat. Add the chicken in batches and sauté for about 5 minutes or until lightly browned. Transfer the chicken pieces to a bowl.
Heat the remaining 3 tablespoons olive oil in the pan, add the leeks and sauté over medium heat for about 5 minutes, stirring occasionally, until nicely softened.
Add the peppers and cook for about 8 minutes, scraping up any browned bits with 1/4 cup of chicken stock, until softened. Add the garlic, chili powders, and chipotle chile powder and sauté for another minute.
Return the chicken pieces to the pan. Add the remaining 1 1/4 cups chicken stock and the salsa verde and bring to a simmer. Add the hominy and the corn and simmer for 30 minutes, or until vegetables and hominy are nicely softened. There should be a nice amount of liquid; you can always add more chicken stock if it is too thick. (At this point, taste for seasoning. If you like it hotter, add more chili powder. If you like it with a smokier flavor, add more chipotle chile powder.)
To serve, ladle into bowls and top with your choice of garnishes.
Diane Rossen Worthington is an authority on new American cooking. She is the author of 18 cookbooks, including "Seriously Simple Parties," and a James Beard Award-winning radio show host. You can contact her at SeriouslySimple.com. Copyright 2021 Diane Rossen Worthington. Distributed by Tribune Content Agency, LLC.