LOUISVILLE, Ky.—Archeologist and best-selling author Dr. David West Reynolds is delighted to have had the chance to see a live Shen Yun performance.
"I'm glad that I lived at a time where I could see [Shen Yun's artistic director's] productions instead of just reading about them in a history book, because they will be in history books someday," he said after seeing the performance on Oct. 9 in Whitney Hall at the Kentucky Center for the Performing Arts.
Reynolds holds a Ph.D. in archeology specializing in ancient Rome and Egypt. He's also the New York Times #1 best-selling author of Star Wars guide books. His books have been translated into a dozen languages and have sold over 2 million copies around the world. He has also written books on the history of space exploration, articles on dinosaurs, and world religion. He's served as a BBC host for a Star Wars documentary, and worked as a consultant on dinosaurs for the Discovery Channel.
Reynolds said that a Shen Yun performance is something that one has to experience in person.
"You have to be here, to feel what we felt tonight," he said. "Great art needs a great audience, and so to show up means we're part of that tradition, too."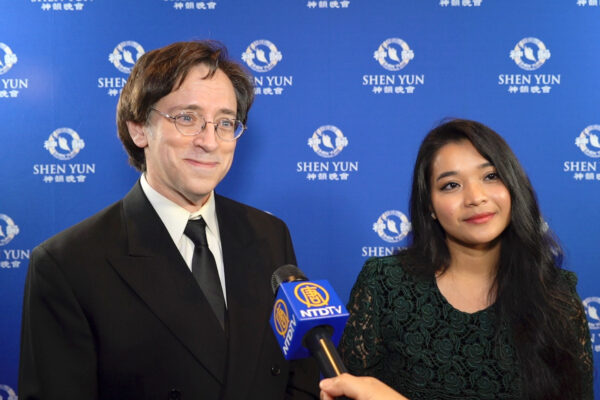 Reynolds shared his perspective on the performance through the eyes of an archaeologist.
Today is a time where so much beauty is being destroyed in art but also in our cultural manners, in the way we treat each other.
"As an archaeologist, I look at culture with a perspective across thousands of years, so I see how today is a time where so much beauty is being destroyed in art but also in our cultural manners, in the way we treat each other," he said.
He expressed appreciation for Shen Yun's efforts to revive China's traditional culture, saying the company has worked very hard "to bring back the best that civilization has ever created."
"Chinese civilization is so powerful, and to see that so much has been lost, but so much has been saved—Shen Yun has saved so much before it was too late," he said.
Reynolds was full of praise for Shen Yun's artistic director.
"As soon as I read the program before we came in, I thought wow, this man must be really extraordinary," he said.
"But once you see what he has produced, I am absolutely in awe. I'm honored to have been able to see that in my lifetime, to see an artist of his caliber bringing together a company like this," he continued.
"They were there to convey powerful messages of what it means to be human and what our potential is, and that's exactly what I saw tonight."
He also shared his admiration for how Shen Yun took on the difficult task of portraying tragedy through art.
"There's profound tragedy that's just painful to watch. I've read [about it] in the headlines, I can't believe that it's true, I can't believe that's happening in this era."
Reynolds was referring to the scene depicting the persecution of adherents of Falun Dafa in today's China under the rule of the communist regime.
"Powerful art is willing to take on powerful themes. Shen Yun does this, it shows us the whole range of who we are, but it also shows us who we can be and that's the hope," he said.
Reynolds also noted Shen Yun's value in bringing forth traditional values and the important role they can play in today's world.
"I'm most grateful for this performance that it makes me believe that the ancient traditions, the ancient values are what will get us through all of this that's so heartbreaking in the modern world," he said.
"My conclusion studying all of civilization is that, without faith, you can't understand all of the human experience. And so all of the technology that we have today can be so distracting that you forget what's important."
Reynolds said despite all technological advancements in today's world, there are voids that can lead people to do bad things, but Shen Yun offers hope.
"Our technological world seems like it's everything. It's so dazzling, overwhelming, but it's empty, and it lets us do terrible things that should never ever have happened."
"[But] I felt like Shen Yun uses technology for a good purpose for remembering what it is to be human. The message of faith in Shen Yun and [its] message of hope is what I think is most important in the whole production."
'Not Just Entertainment'
Reynolds expressed his admiration for the resilience of Falun Dafa practitioners—adherents of a Buddha-school spiritual practice that has at its core the three principles of truthfulness, compassion, and tolerance—who have been persecuted in China since 1999.
He admired "the reaction of those who follow Falun Dafa, to the persecution, where they absolutely refuse to be evil themselves."
No matter how small your life gets, you always have a choice of what you will do. Will you be a positive influence or a negative one?
"No matter how small your life gets, you always have a choice of what you will do. Will you be a positive influence or a negative one? And no matter how much gets taken away from you, whether it's through an illness, whether you're imprisoned, whether you're beaten, you can choose to be positive, and that choice can't be taken away from you," he said.
He said Shen Yun's performance is a reminder that no matter what kind of adversity one may be faced with, people can feel at peace with themselves as long as they know they have made the right choice.
"Everything else can be taken away—your life, your livelihood, as we even saw your organs [through state-sanctioned organ harvesting in China]—but they cannot take away your choice to be a good person, to be virtuous, and that's a very powerful thing to realize."
"It's not just entertainment—this is much more than that. I'm really pleased to have seen this. I think it's something important," he said of the performance.
"It's practically impossible to pull off a company like this under the pressures and the challenges that the entire company faces."
Reporting by NTD Television and Maria Han.
The Epoch Times considers Shen Yun Performing Arts the significant cultural event of our time. We have proudly covered audience reactions since Shen Yun's inception in 2006.