DENVER, Colo.—Sabra Kuykendall has wanted to see Shen Yun Performing Arts for years.
On the evening of Nov. 6, she and her husband Randy Kuykendall, former head of the Colorado Department of Public Health and Environment's Health Facilities and Emergency Medical Services Division, attended their first experience of Shen Yun.
"It's a wonderful show. I've wanted to see it for years and I'm really glad I finally got the chance to. It's beautiful!" Sabra said.
"Absolutely an outstanding show! We're so glad to be here and get to see it, finally!" Randy added.
New York-based Shen Yun's dancers are trained in classical Chinese Dance, which includes a wide range of difficult tumbling techniques. According to Shen Yun's website, these techniques are what gymnastics or acrobatics originated from over a history of thousands of years.
"It's unbelievable, the dancing and acrobatics involved in it," Sabra said. "The dancers did acrobats and recurring flips, like four or five in a row. I thought that was really cool!"
The dance form also allows for an extensive range of emotional expression to support Shen Yun's lively storytelling.
"There's so much symbolism in their art and dance, in everything they do," she added.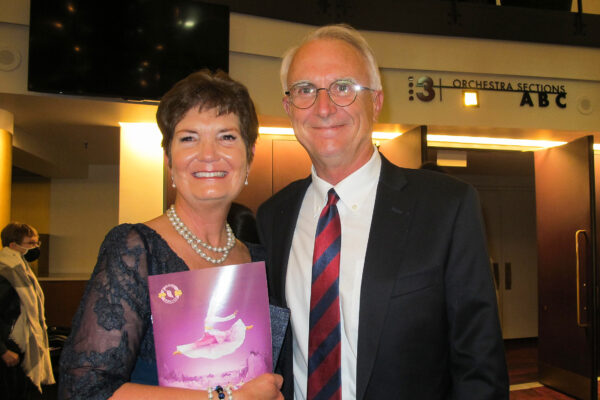 Also in the audience was Jennifer Wilson, who came back to see Shen Yun for the fifth time. This time, she brought her husband, Michael, with her.
"It was fantastic as always," Jennifer said.
She added that she feels a spiritual connection to the performance.
It was the spirit of it all, the spirit of the dancers, the spirit of the musicians. For me, that was my spirit too.
"It was the spirit of it all, the spirit of the dancers, the spirit of the musicians. For me, that was my spirit too," she said.
The couple commended Shen Yun's artists for their sense of humor and their joy of doing what they love.
"They're happy, and they've got a fabulous sense of humor," Jennifer said.
"You can see they're excited when they're [performing]," Michael added.
He also commented on the athleticism of the dancers. "Their ability to do things so perfectly in time with the music … it's pretty amazing that they can do that," he said.
Understanding that Shen Yun is not able to perform in China, Jennifer said, "I'm just sad that China can't embrace the same values that Shen Yun does."
Reporting by Yawen Hung, Mary Mann, and Maria Han.
The Epoch Times considers Shen Yun Performing Arts the significant cultural event of our time. We have proudly covered audience reactions since Shen Yun's inception in 2006.