SALZBURG, Austria—Ariane Haering is the pianist of the Alban Berg Ensemble. She attended the Shen Yun Performing Arts evening of Jan. 26 with her daughter, Flora.
As a musician, Haering was impressed with Shen Yun's live orchestra. She was particularly pleased in seeing a female conductor leading the ensemble at the Großes Festspielhaus, in Salzburg.
Wonderful musicians who play together and—a female conductor.
"The music surprises me. I am very excited about the way it is played, the wonderful articulation, and also the very beautiful ensemble sound. They have great possibilities and great instrumentalists, you can hear that. Wonderful musicians who play together and—a female conductor," Haering said.
"I like her energy very much. She catches everything, even the energy that takes place on stage, and does this in connection with the orchestra," she said.
She also noted that despite the pandemic, Shen Yun's energy left her feeling hope.
"I think it brings a lot of hope … It is noticeable and it naturally lifts us up and allows us to have a much higher access to energies," she said.
Haering's daughter shared her impression of New York-based Shen Yun.
"It is pretty colorful, it was creative and really very beautiful. I have never seen anything so beautiful before," Flora said.
Haering agreed with her daughter.
"Yes, very professional. [There is] a precision in the dance steps," she said. "The story being told also speaks of a culture that one would like to get to know better, which gives us an insight, that is very important."
Founder and artistic director and performer of RICOCHET Dance Productions, Karin Fisher-Potisk, attended the Shen Yun Performing Arts on Jan. 24. She had flown in from London to enjoy the performance together with her mother.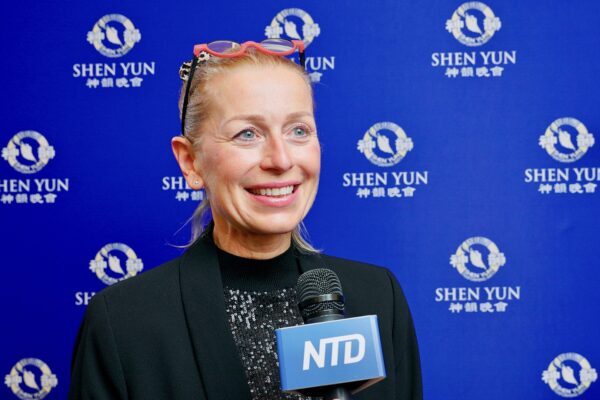 "I bought the tickets as a present for my mother for her birthday and I flew here to see it with her. It is physically very precise and acrobatic and the dancing is very exact and the stage design and the music just impressive," she said.
Shen Yun dancers are trained in classical Chinese dance. The versatility in their bearing and form give them the superb ability to express emotion through dance movements alone. The athletic tumbling and aerial techniques are often associated with gymnastics or acrobatics when they in fact originate from classical Chinese dance.
As someone with expertise in dance, Fisher-Potisk shared her thoughts on the dancers of Shen Yun.
"The dancers are of course superbly trained, clearly from the technique, from the jumps, and the exactness of the movements, so the choreography is simply super precise. The additional great thing is that there are also acrobatic elements in it," she said.
Reporting by Qing Rui, NTD, and Maria Han.
The Epoch Times is a proud sponsor of Shen Yun Performing Arts. We have covered audience reactions since Shen Yun's inception in 2006.