BUSAN, South Korea—A Korean educator said "Shen Yun is a something created by the divine," and "no words can describe how touched I am by Shen Yun."
Mr. Seo Chang-Seok, the president of the Education Center at the Allak College of Chungnyeolsa, attended Shen Yun Performing Arts at the Sohyang Theatre in Busan on Feb. 2.
"This is an amazing performance. It's majestic!" he said. "The scenes on stage convey the teachings from the divine beings. They are enormous and grand."
New York-based Shen Yun is the world's top classical Chinese dance company, and has a mission to show the beauty and goodness of "China before communism." For 5,000 years China's civilization was built on values and virtues from the spiritual teachings of Buddhism, Taoism, and Confucianism.
"The choreography put all the 5,000 years of Chinese history inside the dances. The pictures that the dancers presented are gorgeous. The music, artistry, and expressions are extraordinary. With the brilliant costumes, the performance is amazing!" he said.
He said the dancers coordinated with each other so precisely, as if they were "one person's movements. This level is extremely difficult to reach."
"This show is not something you'd typically see. You can't imagine how great it is. It's like heavenly maidens are dancing for us. It's outstanding," he said.
Mr. Seo was surprised by Shen Yun's backdrop, which can interact with the stage, letting dancers can travel back and forth between the stage and the backdrop.
"That human beings can make this kind of dynamic backdrop—what an awesome creation!" he said.
Mr. Seo said he was impressed by the concepts Shen Yun delivered him, which he summed up in three words: truthfulness, compassion, and tolerance.
"I was very touched by these three words. We all should recite these three words. We should remember them in our hearts," he said.
Mr. Seo appreciated Shen Yun's director. He said "the director created this miraculous performance" that was "inspiring and uplifting audiences" like himself.
'The Best Art in the World'
Mr. Doh Yong-bok is the president of SARATOGA, co-chairman of the Korean Chorus Organizing Committee, and the president of the Busan City Culture Award Winners Association. He praised Shen Yun as "the best art in the world."
"Everything is excellent in Shen Yun. All of it is magnificent. The dances are incomparable. They perfectly present the sacred and the beautiful. They are models of the highest artistry," he said. "I can't imagine how hard training needs to be to make this fabulous performance."
Mr. Doh agreed that traditional values and culture are very important to a country and a nation.
"We wouldn't have today's society if we don't have traditions. Only by cherishing and embracing the culture we will have a bright future," he said.
Mr. Doh also caught the concepts of truthfulness, compassion, and tolerance, which he thought were great and very important.
"Truthfulness, compassion, and tolerance are the foundation for us human beings. Everybody should attend Shen Yun," he said. "I learned from Shen Yun that we can solve all the issues if we follow these principles and work hard to solve difficulties."
The name "Shen Yun" means the "beauty of divine beings dancing." Shen Yun delivers through music and dance the virtues from 5,000 years of Chinese civilization—like loyalty, propriety, wisdom, justice, and benevolence—values that are universal and shared the world over.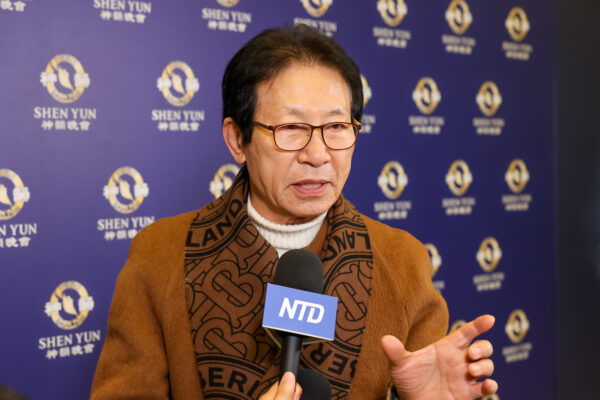 Mr. Kim Woo-ki is the chair of Gimhae Model Taxi Drivers Association. He said he liked Shen Yun very much and would introduce Shen Yun to all his friends.
"The dances are so vividly beautiful. They are fantastic. The live orchestra's playing coordinates with the dances so harmoniously. I was mesmerized by them," he said.
Mr. Kim said Shen Yun's level of beauty is not something you see every day.
"They are incredibly beautiful. It's really classic," he said.
Shen Yun Performing Arts World Company kicked off its first performance in South Korea this season at the Sohyang Theatre in Busan on Feb. 2. In the following days, Shen Yun will perform in Busan, and then in the city of Gumi and Seoul, until Feb. 19.
Reporting by Epoch Times Staff in Busan, South Korea.
The Epoch Times is a proud sponsor of Shen Yun Performing Arts. We have covered audience reactions since Shen Yun's inception in 2006.