SYDNEY, Australia—Owner and chief executive of IT company Ironborn, Vittoria Anderson, said she found Shen Yun Performing Art's contemporary piece that depicted a true story of faith in the face of persecution by China's communist authorities as "courageous."
"The one with the school girl was brave … that was really, really brave for them to choreograph," Ms. Anderson said after watching New York-based Shen Yun at the Sydney Lyric Theatre on April 29.
The vignette she referred to was the piece that showed peaceful Falun Dafa practitioners being persecuted in China for their faith. The faith, Falun Dafa, is a spiritual practice that teaches people to return to the values of truth, compassion, and tolerance in their daily lives. The faith has been brutally persecuted by the Chinese Communist Party (CCP) since 1999.
"They showed why they stand behind their beliefs which was why it was both heartbreaking and beautiful," Ms. Anderson said.
Shen Yun showcases ancient and modern China through a series of story-based vignettes that depict timeless virtues, such as benevolence, loyalty, and courage.
Each vignette is precisely choreographed with Shen Yun's world-class dancers, its live orchestra, and its state-of-the-art animated backdrop.
Feeling Inspired
Such tales of timeless virtue gave inspiration and entertainment to senior brand manager at Johnson & Johnson, Simone Tawadros, who also watched Shen Yun perform on April 29.
"Taking us through the different time periods, different characters, different costumes; I really enjoyed it. And also just having the screen, and them jumping in and out of the screen I thought was very creative," Ms. Tawadros said of Shen Yun's patented use of animation, where the dancers on stage one minute disappear only to reappear in animated form a second later in digital form.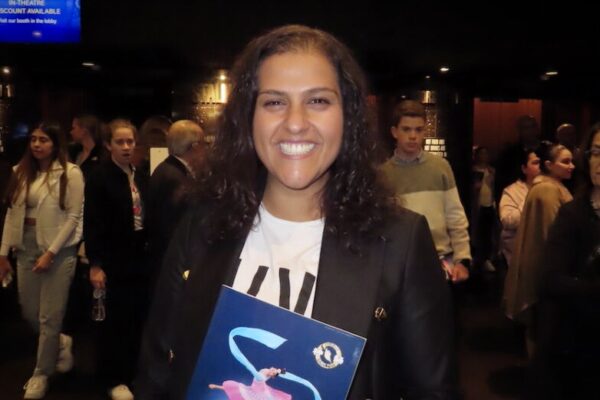 Ms. Tawadros said she enjoyed the piece about a famous drunk monk in Chinese literature—Monk Lu—from the classic "Outlaws of the Marsh." Monk Lu is a strong martial artist who sought refuge in a Buddhist temple and later single handedly subdued a number of thieves.
"[The monk] was just very charismatic," she said.
Ms. Tawadros also applauded Shen Yun's efforts in reviving traditional Chinese culture.
Traditional Chinese culture—a culture that has been almost lost under communism—was believed to have hailed from the heavens. A connection with the divine was reflected in Chinese music, medicine, calligraphy, clothing, language, and much more. People sought harmony between Heaven, Earth, and humankind, and followed the course of nature.
"I believe that everyone should go back to their roots and then share their roots with the world, and I believe that that mission is being fulfilled by Shen Yun."
Reporting by Julia Ye, Rebecca Zhu, and Henry Jom.
The Epoch Times is a proud sponsor of Shen Yun Performing Arts. We have covered audience reactions since Shen Yun's inception in 2006.