TOKYO, Japan—Japanese jewelers and designers enjoyed Shen Yun Performing Arts at the Shinjuku Bunka Center in Tokyo on Jan. 24.
A kimono designer attended Shen Yun after seeing the colors on a Shen Yun flyer, which left an impression on her. After attending the show, Ms. Ida Miki said: "Every detail of Shen Yun is absolutely perfect."
Ms. Ida said she was amazed by the color saturation.
"Shen Yun uses a special color scheme. All colors in Shen Yun are very beautiful and bright, and represent magnificence and nobility," she said. "The colors are dazzling to my eyes. They are so gorgeous, without any dull ones. They are sumptuous and luxurious. I love them."
The performers greatly impressed Ms. Ida, who felt they defied gravity.
"The dancers are very capable. They finished easily all the astoundingly difficult movements. Those techniques are tremendously difficult and really superb. They did them like a piece of cake," she said. "It's amazing!"
"Their jumps and spins look very powerful, but their bodies are very light. The most incredible thing is they coordinate accurately, and you can see they are synchronized from any angle," she said.
Ms. Ida was surprised by Shen Yun's dynamic backdrop. "It's very interesting and very creative. The figures flew out of the backdrop, and changed into dancers on stage," she said. "It's a great enjoyment to see this."
I have never thought a performance can be as wonderful as Shen Yun.
Ms. Ida said she had a great time with Shen Yun because "I have never thought a performance can be as wonderful as Shen Yun. I felt like I have attended a collection of productions."
She said she would encourage all her friends to attend Shen Yun. "This is a majestic performance. Everyone must attend at least once in their lives," she said.
New York-based Shen Yun is the world's top classical Chinese dance company and has a mission to show the beauty and goodness of "China before communism."
'They Inherited the Power of the Traditional Culture'
Jeweler Mr. Abe Makoto operates a gem store in Tokyo.
He said he felt sad that Shen Yun can't perform in China, where classical Chinese dance originated.
"It's great that Shen Yun expresses the traditional Chinese culture by using dances," he said. "I think the reason why the dancers can perform such difficult movements and can train themselves into this superb level is because they inherited the power of the traditional culture."
Mr. Abe said the dancers danced wonderfully without any fault, which he found impressive. He thought a lot about the culture and traditional values after attending Shen Yun.
"I feel that Japan, China, and the United States will experience some difficulties in the future. Traditional culture can unify people. With this unity, our society can develop in a good direction," he said. "It's a pity that people in China can't attend this amazing performance."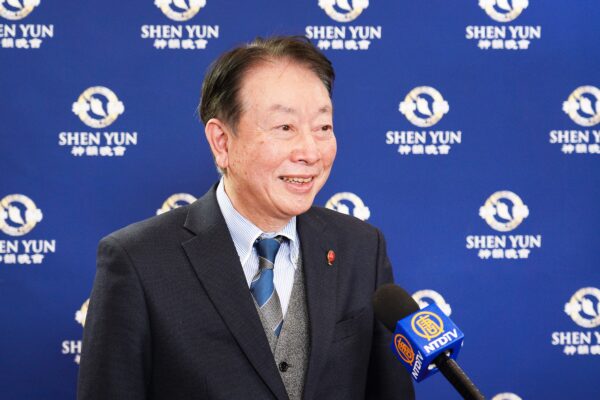 For 5,000 years China's civilization was built on values and virtues from the spiritual teachings of Buddhism, Taoism, and Confucianism, virtues like loyalty, propriety, wisdom, justice, and benevolence—values that are universal and shared the world over.
Values 'Enrich People's Deep Souls'
Jewelry designer Ms. Okubo Reiko also operates a gem store in Tokyo. She was touched by the values that Shen Yun presents.
"The values of traditional cultures enrich people's deep souls, and are very precious," she said. "Shen Yun is inspiring. I deeply acknowledged the Chinese traditional cultures from Shen Yun. I was very touched."
As a designer, Ms. Okubo said that she learned a lot about color schemes, and loved each program.
Each Shen Yun performance consists of nearly 20 vignettes, presented through highly-expressive art forms such as classical Chinese dance, original orchestral music performed live, soloists who sing in the bel canto tradition, animated digital backdrops, and more.
Reporting by Epoch Times Staff in Tokyo, Japan.
The Epoch Times is a proud sponsor of Shen Yun Performing Arts. We have covered audience reactions since Shen Yun's inception in 2006.