MILWAUKEE, Wis.—As 2021 came to a close, audience members in Milwaukee chose to spend the final moments of the year with Shen Yun Performing Arts.
Joe Pilon was pleased to experience Shen Yun as the stress of the past year was swept away.
"It kind of takes me away from all of the problems and stress of the last year. So it's kind of a nice release," Mr. Pilon said. He added that he felt a hopeful energy while watching the performance.
New York-based Shen Yun is focused on portraying China before communism, the inspiration for each piece stemming from China's 5,000 years of civilization.
"It actually makes me want to learn more about Chinese history before communism. I really don't know much about it before that, to be honest," Mr. Pilon said.
The combination of beautiful costumes, props, and choreography makes Shen Yun a mesmerizing experience.
Two pieces that struck Mr. Pilon involved scenes of nature, like the traditional Chinese plum blossoms, and another in which dancers used long, flowing sleeves of their costumes to represent water.
"Just the way the costumes are incorporated into the dancing. The sleeves came out and they came back in, kind of really did sort of evoke the feeling of movement in water," Mr. Pilon said.
Ben Henderson also expressed his appreciation for Shen Yun. Henderson had been wanting see Shen Yun since he was in high school, and this year the COVID-19 pandemic did not stop him from realizing that wish.
"This is the first show I've seen since the pandemic started. I've always wanted to see the show since I was in high school, and being able to come out here and see it and be able to experience it firsthand was just awesome," he said.
He added that the performance brought out an emotional reaction in him because "they put that much energy and that much skill into it."
His overall impression of the performance was that people should have "less hate, respect culture, and strive to teach it to other people."
Many audience members feel that they've learned more about traditional Chinese culture after attending a Shen Yun performance.
"I loved all the different styles of dance, all the different colors and everything. It was amazing to see something you don't commonly see, and just being immersed in that culture was fantastic," Mr. Henderson said.
He could see the dedication of the performers and felt that their long hours of rehearsal and practice had paid off.
"How in sync everyone was, was just so impressive. It was so clear that they had rehearsed this and practiced this. And it was something that they cared about and really loved. And it came out through the dancing," he said.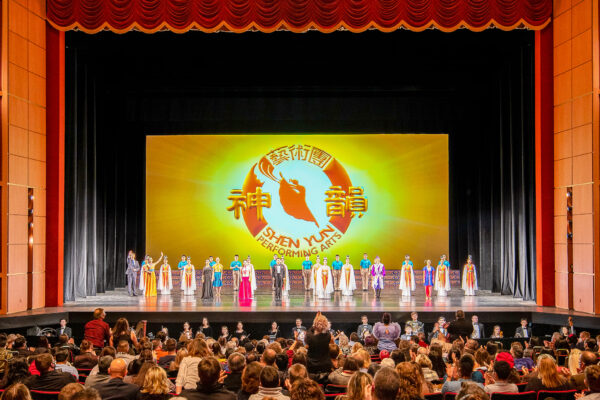 Reporting by Frank Liang and Maria Han.
The Epoch Times is a proud sponsor of Shen Yun Performing Arts. We have covered audience reactions since Shen Yun's inception in 2006.