Chef Lala Sharma Flexes Creative Muscle at Savoury
April 25, 2014 5:38 pm Last Updated: April 25, 2014 5:33 pm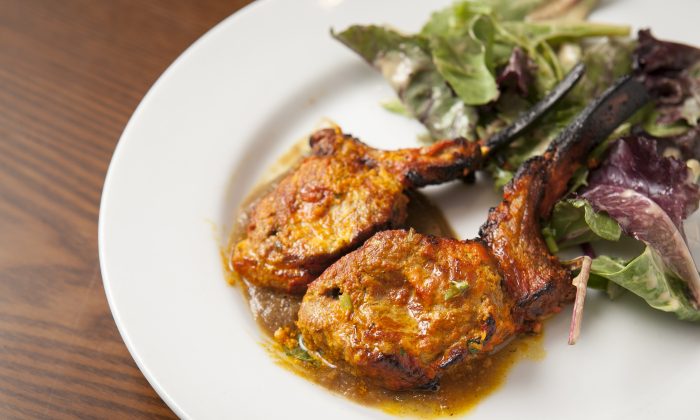 The secret is time. Lala Sharma, chef-owner of newly opened Savoury on the Upper West Side, tames meat dishes into mouth-watering tenderness. It takes six to eight hours of marinating. 
Any less won't do, he said; the meat would be chewy and dry.
Though he owns Swagat with this son Abhishek Sharma, just a few blocks away, at Savoury he gets to flex his creative muscles a little more and creates dishes that depart from the standard Indian menu.
I took his recommendations when ordering. To start off, lamb chops ($12) that had been marinated in ginger, garlic, vinegar, and red wine. It did wonders to whet the appetite.
The chicken ginger kebabs, marinated in fresh ginger, herbs, and spices ($16) looked completely unassuming when they arrived at the table—even a bit plain. But one bite changed my perspective. Here were kebabs made of white chicken that was moist, tender, and delicious. 
Another revelation was the southern Indian-inflected Dalcha Machchi ($19), which was a study in wonderful contrasts: the tender tandoor oven-baked salmon, sprouted lentils, which lent a delightful nutty flavor, and the pop-pop of mustard seeds, with curry leaves, bay leaf, and turmeric. 

Dalcha Machchi, chicken ginger kebabs, roasted bartha, and rice. (Samira Bouaou/Epoch Times)
Sharma uses sprouted lentils because his customers, by and large, are careful about their health and what they eat.
Indeed, every dish I tried was light; none were oily or greasy.
Abhishek told me, "I work 12 hours a day but I still end up going to the gym every morning. I want my customers to feel great when they go home."
Savoury also features cocktails inspired from Indian flavors, such as the Tajmopolitan (Absolut Kurant, Chambord, fresh lime and cranberry juices, topped with freshly grated cinnamon); or the Mango Masala (mango rum, mango purée and sour mix). There are also Indian beers; and wine is available by the bottle and glass.
Between Swagat and Savoury, it's a family affair. On my visit to Savoury, Lala was there. Abhishek had just come in from Swagat, where his wife was running the restaurant; and his mother was also there with his 25-month-old, contributing to the family business with her smiles. Even Abhishek's brother, who is working in the medical field, is taking care of the wall art.
Their hospitality is genuine and welcoming.
Savoury
489 Columbus Ave. (between 83rd and 84th streets)
212-875-1400
savourynyc.com
Hours
Sunday to Thursday: noon–10:30 p.m.
Friday and Saturday: noon–11 p.m.