A 12-year-old boy has cheered his grandfather up and helped him fulfill his lifelong dream to fly in a Spitfire for his 80th birthday by writing a heartfelt letter to an airfield.
Harrison Gurney wanted to lift his granddad Malcolm Hanson's spirits after his wife of 57 years, Sandra, 76, had to go and live in a care home last summer due to Alzheimer's disease.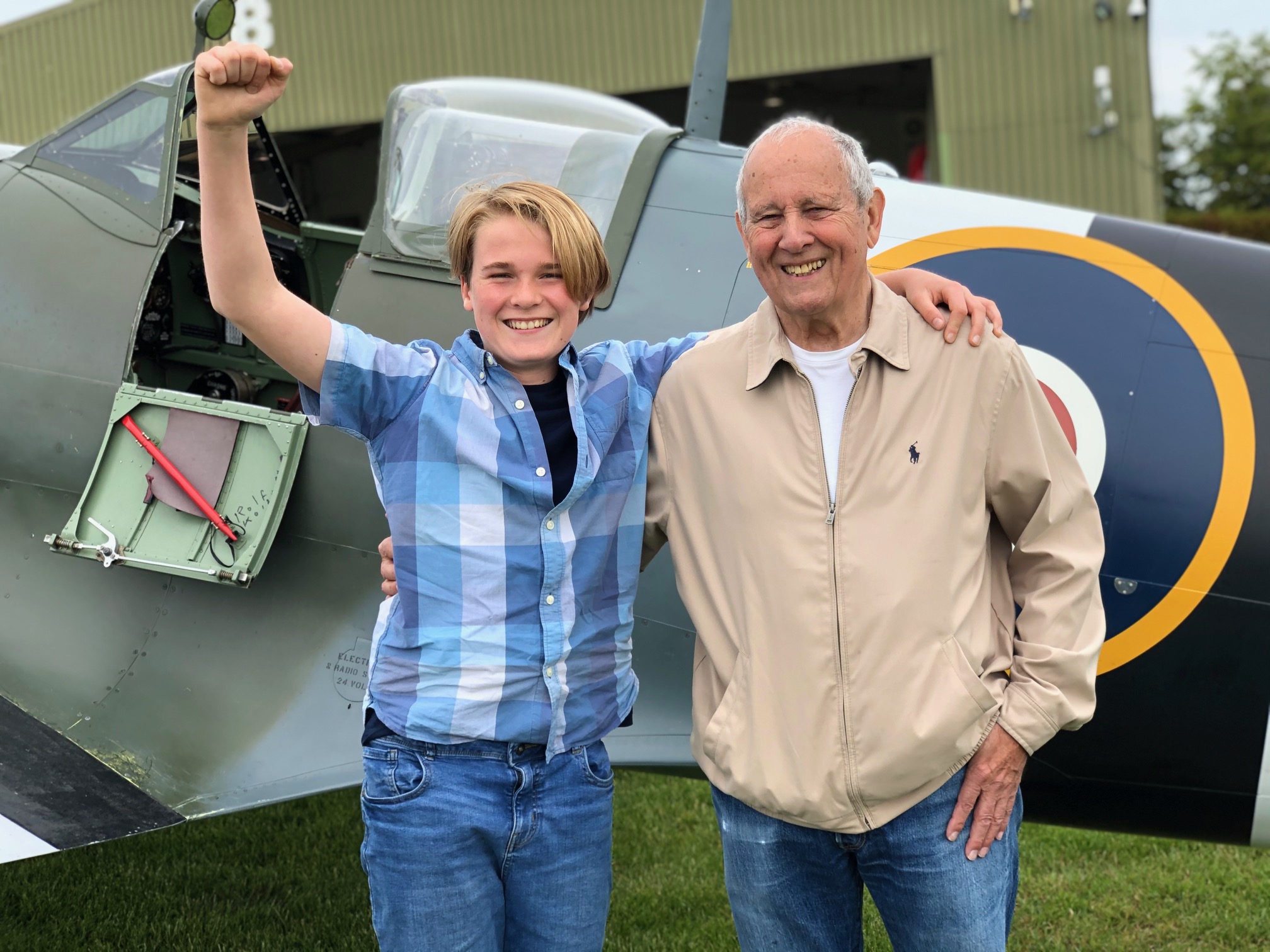 Malcolm's daughter, Charlotte, from Sunbury-on-Thames in Surrey, South East England, said: "My mom has been very ill with Alzheimer's. We really struggled as a family.
"We didn't want to put her in a nursing home, and did everything we could, but it got to the point where she was having so many falls and spending so much time in hospital. We didn't really have any choice," she added. "It was the last thing my dad ever wanted to do and it broke him."
Thus, when Harrison, who is "really close" to his grandad, noticed that his "mind was on other things," he wanted to find a way to make him smile.
Charlotte said that the only time Harrison got the full attention of his grandfather and when he was happy was the time he spoke about WWII, of which they both share an interest.
"My dad talks to him a lot about it and shares his own family history. He was born in Battersea and his earliest memory was when he was aged four, seeing the planes go over and him and his sister running to the air-raid shelter," Charlotte said.
The youngster hatched out a plan to fulfill his Spitfire enthusiast grandad's dream of flying a vintage aircraft and help him ring in his 80th birthday in style.
"My nan recently went into a care home and it's been hard for granddad to cope with, so I thought as it's his 80th birthday, this would be my chance to do this for him," Harrison said.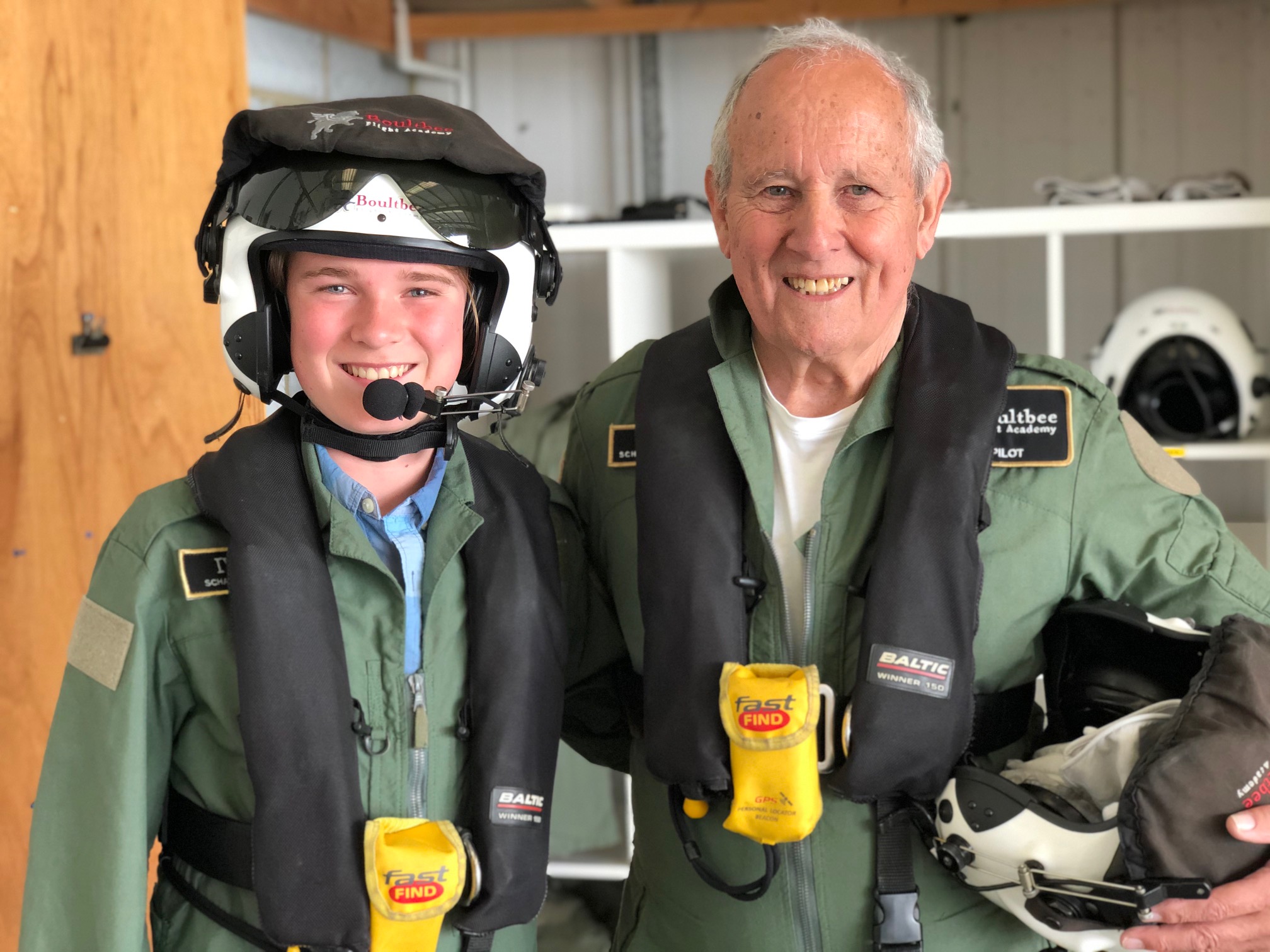 The pre-teen penned letters to airfields and private Spitfire owners across the United Kingdom asking for help. His mother said: "He wrote a letter and wanted me to help him find a place to send it. When I read it, it just made me bawl my eyes out.
"It said 'can you help me mend my grandad's broken heart'. He was worrying and wanted to help him smile again," Charlotte added.
With some financial help from his parents, Harrison managed to raise enough money for his granddad's surprise by doing chores around the house and offering to do garden work for other family members.
Bosses at Goodwood Aerodrome near Chichester in West Sussex were so touched by his letter that they offered him a flight in a classic aircraft.
"We spoke to Boultbee Academy and Goodwood. Their managing director has been so lovely. He came back to say it was a touching story and said yes, they would get my dad booked in," Charlotte said.
On May 28, Hanson finally got to live out his fantasy of taking to the skies and even got to briefly take control of the aircraft. The pilot later performed barrel rolls.
Meanwhile, Harrison, who wasn't expecting to go up, was told at the last minute on the day that he could go.
"While I was up there I was thinking 'when am I going to fall? Is this safe? When am I going to do a barrel roll?'" Harrison said. He also got the opportunity to take control of the flight, turning it left and right, and described it as a truly "great feeling."
After the flight, Hanson from Hampton, southwest London, said: "It was absolutely fantastic, it was the most amazing experience I have ever had. To have been allowed to take control on the Spitfire and put it through a very gentle maneuver was great.
"The pilot did barrel rolls and some dives, it was great fun—a brilliant day out, all thanks to Harri. He sets his mind on something and follows it through. We're very proud of him."

In 1945, when Hanson was a small boy, he witnessed a dog fight overhead. Ever since then, he wanted to go up there.
"They were fighting for our freedom, so I thought I would like to fly in that Spitfire and see what it's like. So to finally be able to do that was fantastic," Hanson said. "It's a life-long dream come true. Harri knew that and went and made it happen."
Additionally, Hanson's interest in Spitfires and planes was also aroused with his father being an engineer in the RAF at Lydd Airport in Kent during the Second World War. Hanson said that his father narrated stories to him about the airport he worked in and he has now passed all those stories down to Harrison.
Share your stories with us at emg.inspired@epochtimes.com, and continue to get your daily dose of inspiration by signing up for the Epoch Inspired newsletter at TheEpochTimes.com/newsletter