BUSAN, South Korea—"The colors are very rich. Shen Yun is extremely beautiful. I felt that the energy kept on gushing out of the colors," said Ms. Hyun Hee-Jung, a gallery owner in Busan.
Shen Yun Performing Arts World Company kicked off its first performance in South Korea this season at the Sohyang Theatre in Busan on Feb. 2.
New York-based Shen Yun is the world's top classical Chinese dance company, and has a mission to show the beauty and goodness of "China before communism."
Ms. Hyun felt that she was very fortunate to attend Shen Yun.
"I have attended countless performances. Only Shen Yun amazed me," Ms. Hyun said. "The color schemes are astonishing. No matter the male costumes or the female costumes, all costumes are astoundingly beautiful."
Ms. Hyun recalled that the National Palace Museum in Taiwan labeled a piece of jade as a national treasure. She was curious at how a piece of jade could be called a treasure. Now she understood after attending Shen Yun.
"The costumes in one female dance is in the same color as that national treasure jade. The saturation of colors is magnificent," she said.
Ms. Hyun enjoyed the dances.
"Both the male and female dancers displayed their respective strengths, spirits, and aesthetic lines. They were inspiring, and delivered positive messages," she said. "They were so harmonious: the male dancers were so masculine, and the female dancers so feminine. It was very entertaining to see the contrast in the dances. It's gorgeous."
Ms. Hyun also found the backdrop very interesting. "The dancers entered the backdrop and then came back. With the 3-D design, it's so vivid."
"I learned a lot from Shen Yun. I was inspired," she said.
For 5,000 years China's civilization was built on values and virtues from the spiritual teachings of Buddhism, Taoism, and Confucianism, virtues like loyalty, propriety, wisdom, justice, and benevolence—values that are universal and shared the world over.
'It Moved My Heart'
Mr. Park Jong-ho operates a company. He felt he was blessed after attending Shen Yun.
"I frequently attend shows, but today, Shen Yun woke me up. I had a great time," he said. "It moved my heart. I felt very close to Shen Yun. The performance is fantastic."
Mr. Park appreciated the values that Shen Yun delivers.
We are busy and lost in business and other modern things. But sitting here, I was awakened. I feel very happy and feel blessed.
"The story-based dances and the soloists' songs talked about love and kindness. They are very touching. The key is the sense of humanity that Shen Yun delivers," he said. "We are busy and lost in business and other modern things. But sitting here, I was awakened. I feel very happy and feel blessed."
Mr. Park said that he saw the theatergoers around him were all excited to attend Shen Yun.
"The dancers' performance is great. The backdrop is stunning. It's huge, bright, and clearly delivers the stories. It's worth attending just to see this," he said. "The whole production is in super high quality. It's rarely seen and brought us a brand-new feeling."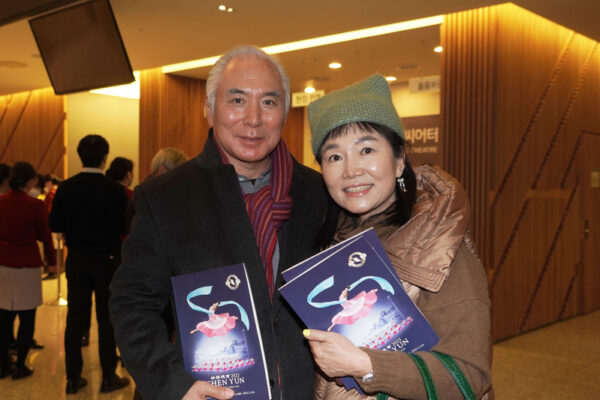 Each Shen Yun performance consists of nearly 20 vignettes, presented through highly-expressive art forms such as classical Chinese dance, original orchestral music performed live, soloists who sing in the bel canto tradition, animated digital backdrops, and more.
'This Is a Must-See'
Ms. Ju Min-yoon is a traditional  Korean music singer. She said attending Shen Yun is like entering a dream.
"I had a very big expectation. It's so much more than I could have imagined. The show is much better than I expected. It's incredibly beautiful," she said.
Ms. Ju said Shen Yun's artistry was extraordinary, and the values the show presented were more important and valuable.
"Shen Yun clearly delivered those values, such as the love of parents for their children, loyalty, etc.. These values are guidance for how to live," she said.
Ms. Ju said she decided to attend Shen Yun every year in the future, and she hoped everyone could at least attend Shen Yun once in their lives. "This is a must-see," she said.
Every year, Shen Yun puts on an all-new production, including new choreography, music, costumes, and backdrop sets.
Reporting by Epoch Times Staff in Busan, South Korea.
The Epoch Times is a proud sponsor of Shen Yun Performing Arts. We have covered audience reactions since Shen Yun's inception in 2006.