Wisconsin Physicians Finds Meaning in Shen Yun
April 5, 2014 10:09 pm Last Updated: April 6, 2014 2:49 am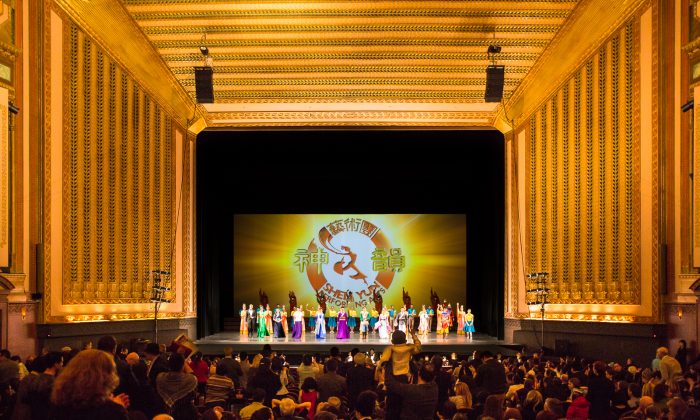 CHICAGO—As the Saturday performance of Shen Yun Performing Arts Touring Company comes to a close many patrons reflect and find inner meaning on the unique performance. Physicians Jim and Rosemarie Panagas fall into this category.
"It's beautiful," said Dr. Jim Panagas.
Shen Yun is the world's premier classical Chinese dance and music company. Its mission is to revive 5,000 years of divinely inspired Chinese culture through dance-based storytelling of beloved myths, legends, and ancient and current history.
Shen Yun also travels with its own renowned orchestra. The music is original and the sound unique with the combination of traditional instruments.
Dr. Rosemarie Panagas was pleasantly surprised with the East-West orchestra which combines the beauty and distinctiveness of Chinese sounds with the power and precision of a Western orchestra: "It is really beautiful. … The music is very classical. So, I find it refreshing. It's very nice," she said.
Shen Yun draws top artists from around the world. With a passion for the classical arts, they join Shen Yun in its mission to revive a culture that was once almost lost.
Each of the short performances is introduced in both English and Chinese by two bi-lingual emcees. Translations of the vocal soloists are also provided on the backdrop.
"I liked the emcees, how they explain it," Dr. Jim Panagas said. "And, I also like the English translation; it makes it easier to understand."
The soloists who sing bel canto style in Chinese lyrics is one of the most difficult singing styles to master in the world. "Original Shen Yun compositions, each song contains reflections on the origin and meaning of life," says the Shen Yun website.
"Very poetic," added Dr. Rosemarie Panagas. "But still it has a lot of meaning. I like it. Of course, sitting here I'm fascinated … They seem so calm but they're really critical for all the sounds, so good."
"Very calming,"she added referring to her feelings after watching the programs.
"I like history and it's giving me a historical perspective of some of the most important things," added Dr. Jim Panagas. I think it's done very well. I really enjoy it."
"That's probably why I feel it's calming, not knowing that it's spiritual," continued Dr. Rosemarie Panagas. "I think I feel it not yet knowing there's really so much the relationship between nature and heaven and earth."

Reporting by Catherine Wen and Paul Darin
New York-based Shen Yun Performing Arts has four touring companies that perform simultaneously around the world. For more information, visit Shen Yun Performing Arts.
The Epoch Times considers Shen Yun Performing Arts the significant cultural event of our time. We have proudly covered audience reactions since Shen Yun's inception in 2006