Washington Attorney Inspired by Shen Yun
April 9, 2014 10:30 pm Last Updated: April 13, 2014 10:43 pm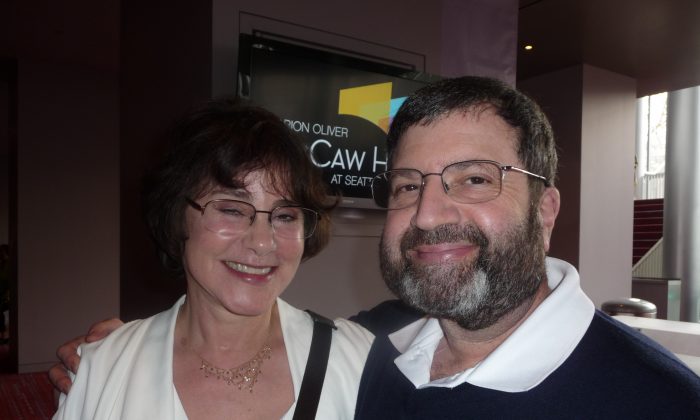 SEATTLE—Attorney, investment advisor, and radio personality Dennis Brislawn and his wife Susan Sparks-Brislawn were deeply touched and inspired by Saturday's Shen Yun performance at Seattle Center's McCaw Hall.
"I was commenting that the concepts and the words conveyed were touching and inspiring," Mr. Brislawn explained. "I thought … first of all the tie to the divine and creation was touching and also the way the dancers moved and interpreted was easy to follow and it drew me in and I thought several of the stories conveyed a wonderful message and required thought."
The message of the performance was very inspiring, he explained: "That there's hope, that life is confusing, that one must walk a path to trust in the divine, seek the divine, look beyond today's problems … the stories conveyed a wonderful message."
Based in New York, Shen Yun aims to revive China's divinely-inspired culture.
"Sophisticated dance techniques, an orchestra joining instruments from both the East and West, beautiful costumes, and a stunning back drop—this is Shen Yun at first glance," says the Shen Yun website.
"But digging deeper, one discovers a sea of traditional Chinese culture. Mortals and divine beings merge on stage as one. Principles such as benevolence and justice, propriety and wisdom, respect for the heavens, and divine retribution, all come to life, washing over the audience. Originating from Confucianism, Buddhism, and Taoism, these ideals are the essence of traditional Chinese culture."
Ms. Sparks-Brislawn said she highly enjoyed the music performed by the Shen Yun Orchestra, which combines traditional Chinese instruments and classical Western instruments. She also enjoyed the hundreds of colorful costumes.
"We really enjoyed it," she said.
"I thought it was incredible. The colors and the pageantry and the dancing were spectacular," Mr. Brislawn added.
"I would strongly recommend that people see [Shen Yun]. It's a wonderful expesure to China and China's history and pageantry, and something that China still has just through all of us on the outside," Mr. Brislawn said.
"I would come back myself and see the performance again. It was wonderful," he concluded.

Reporting by Rachel Huang and Carol Wickenkamp
New York-based Shen Yun Performing Arts has four touring companies that perform simultaneously around the world. For more information, visit Shen Yun Performing Arts.
The Epoch Times considers Shen Yun Performing Arts the significant cultural event of our time. We have proudly covered audience reactions since Shen Yun's inception in 2006.