Vienna's Audience Shares Insights
May 12, 2014 8:15 pm Last Updated: May 17, 2014 8:20 pm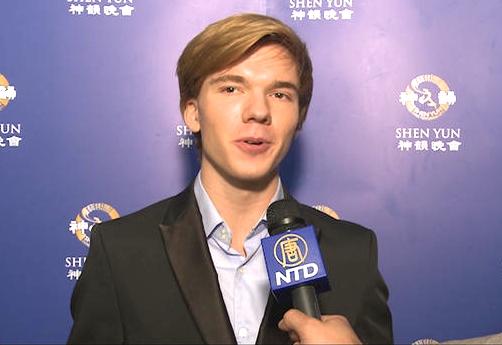 VIENNA—The New York-based Shen Yun Performing Arts Company's performed its closing show at the Wiener Stadthalle on Sunday, May 11. This venue opened in the late 1950's, seats up to 16,000 people and is known for many famous shows and artists having performed there.
They young Russian violinist Mr. Yury Revich had seen the Shen Yun show last year and was delighted that he could be in Vienna for the 2014 performance.
He said, "I found it very inspiring as I'm a musician myself and it was the first time that I heard so much Chinese music. It actually inspired my new album."
"I was excited to watch every second of this show. I learn new things every time I attend this show."
"I find it fascinating how professional the musicians and artists are and the quality of the wind and the string instruments, the conductor is great too. I liked the soloists a lot. The three keywords I would use to describe what the whole show was about for me is quality, wisdom, history and beauty."
Fashion Designer Mr. Christian Klinger said that the show was "awesome," just as he had found it when he was in the audience in 2012 and 2013.
He said, "It is deeply touching that ancient culture could be transported to modern times. Furthermore, it is difficult to understand that the show is forbidden to be performed in China."
For him, having seen the show for the third time, the message is "Everything is connected to god and love. It always is faith and divinity … It always is about divinity. This is the message I have received."
There were people from different backgrounds in Sunday's audience. Among them was Mr. S.E. Rafael Mariano Grossi, the ambassador from Argentine. This is the second time his Excellency has seen the Shen Yun show. He had watched the Shen Yun last year in Charlotte, USA.
"I have seen the Shen Yun show before and know that it is of excellent quality. I enjoyed everything I have seen, the choreography, the colors and the dances."
Ms. Joe Danzinger, a managing director at a Vienna advertising firm. She also is the former deputy editor of one of Austria's women magazine.
She said that in her mind, Shen Yun "represents hope and to not give up despite great adversities. The Red Dragon will be conquered if not today, but then tomorrow."
"One should openly live what one believes in. That is the message I received from the artists."
Given her understanding, she also said, "For me the message of this show is of great value, packaged in a very smart way."
According to the Shen Yun website, "Shen Yun cannot be seen in China today, where traditional culture has been nearly lost. Yet Shen Yun—a non-profit organization—has become an international phenomenon, bringing the wonders of ancient Chinese culture to millions across the globe."
Reporting by NTD  Television and Heide B. Malhotra
New York-based Shen Yun Performing Arts has four touring companies that perform simultaneously around the world. For more information, visit Shen Yun Performing Arts.
The Epoch Times considers Shen Yun Performing Arts the significant cultural event of our time. We have proudly covered audience reactions since Shen Yun's inception in 2006.