AUCKLAND, New Zealand—As the curtain went up on Shen Yun Performing Arts at the Kiri te Kanawa Theatre, Aotea Centre, on Feb. 29, 2020, Ingrid Huygens, a psychologist and a treaty educator, was immediately impressed by the beauty and elegance of the dancers.
"We absolutely loved it, we are both dancers. I've always loved dancing and this is probably the most beautiful dance show I have ever seen," said Huygens, who attended the performance by the New York-based company with a friend. Huygens is no stranger to other cultures in her role as an educator, about the treaty of Waitangi.
Huygens who together with her companion enjoys folk dancing loved the "Water Sleeves," dance where the dancers' long silken sleeves flow like water. She was also impressed by the dance, "Song of the Grasslands," a stirring portrayal of the relationship between the riders of Mongolia, their horses, and nature.
"I loved the erhu, the two-string violin. Because I am a psychologist I feel it is healing to listen to an instrument like that. You can feel that it heals the human spirit."
"It was a performance that was so positive about human life, it was humorous, … it was very forgiving about [the] foolishness of humans. It showed the [traditional] values of compassion, kindness—how to be harmonious in society. I think that all dance carries a message."
For over 5,000 years China enjoyed a culture that was based on values and morals that emanated from the teachings of Buddha, the Tao, and Confucius. Under the communist regime, however, traditional culture was virtually destroyed. Spiritual practices have been persecuted and their followers incarcerated or forced to leave China in order to practice their faith freely.
"I want to go home and read about all the dynasties and to understand more about the 5,000 years of [Chinese] civilization. I think that it is inspiring to remember the long histories of civilizations—not to have prejudice," Huygens said.
She also added that next year she would be encouraging her folk dance group to learn about traditional Chinese culture and to come and watch the Shen Yun dancers.
Emotional and Full of Praise at Shen Yun
The Katenes were very emotional and full of praise after watching Shen Yun at the Kiri te Kanawa Theatre, Aotea Centre, on the same evening.
"The colors, the performance, the dancing, even the spiritual side of it, is just unbelievable. It gives me goosebumps just talking about it," said Elaine Katene, an educator in property management.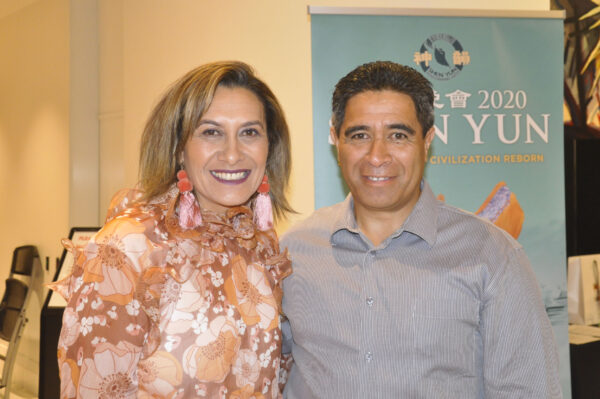 With a repertoire of classical Chinese dances, ethnic and folk dances, and an orchestra comprised of classical Western instruments and traditional Chinese instruments, New York-based Shen Yun is bringing China's traditional culture to audiences around the world.
Elaine Katene thoroughly enjoyed watching the traditional culture come alive on the stage. She loved everything about the performance but it was the dance, "Water Sleeves," that came to mind.
"It was just amazing. And the colors are so vibrant, I just want to jump up and go, 'yes!'"
She was also very touched by "The Firmament Renewed", a dance that depicts Creation and explains why human beings come down from their true homes in divine realms and reincarnate on earth.
"Spirituality was very real and couldn't be ignored," she said.
"[Spirituality] is everywhere and it's good that they bring it out and everyone recognizes it. And I thought, good on them [Shen Yun] for bringing that forward and letting us know this is what it was all about," she said.
Andrew Katene shared his thoughts about the present communist regime as an oppressive government.
"They tried to snuff [spirituality] out, but it's things like [Shen Yun] that open people's hearts and changes people's minds, and I thought this was good."
"Good on them for doing this," said Elaine. "Good on them for letting the world know."
With reporting by Nancy Yang and Diane Rowe.
The Epoch Times considers Shen Yun Performing Arts the significant cultural event of our time and has covered audience reactions since the company's inception in 2006.