YILAN COUNTY, Taiwan—Hiking through the ancient, fog-shrouded forest, my guide begins to look a lot like an old wizard. His water-slicked yellow raincoat becomes a shimmering cape; his long, pointed umbrella a wooden staff. His face, kind and creased with wrinkles, breaks into a smile full of glittering silver teeth. 
He's leading us through an enchanted realm. We clamber over carpets of black, tangled roots; duck under tunnels of twisting branches painted green with moss. I half expect a will-o'-the-wisp to appear in the distance, floating between the skinny tree-silhouettes that surround us on all sides, made hazy through the dense fog.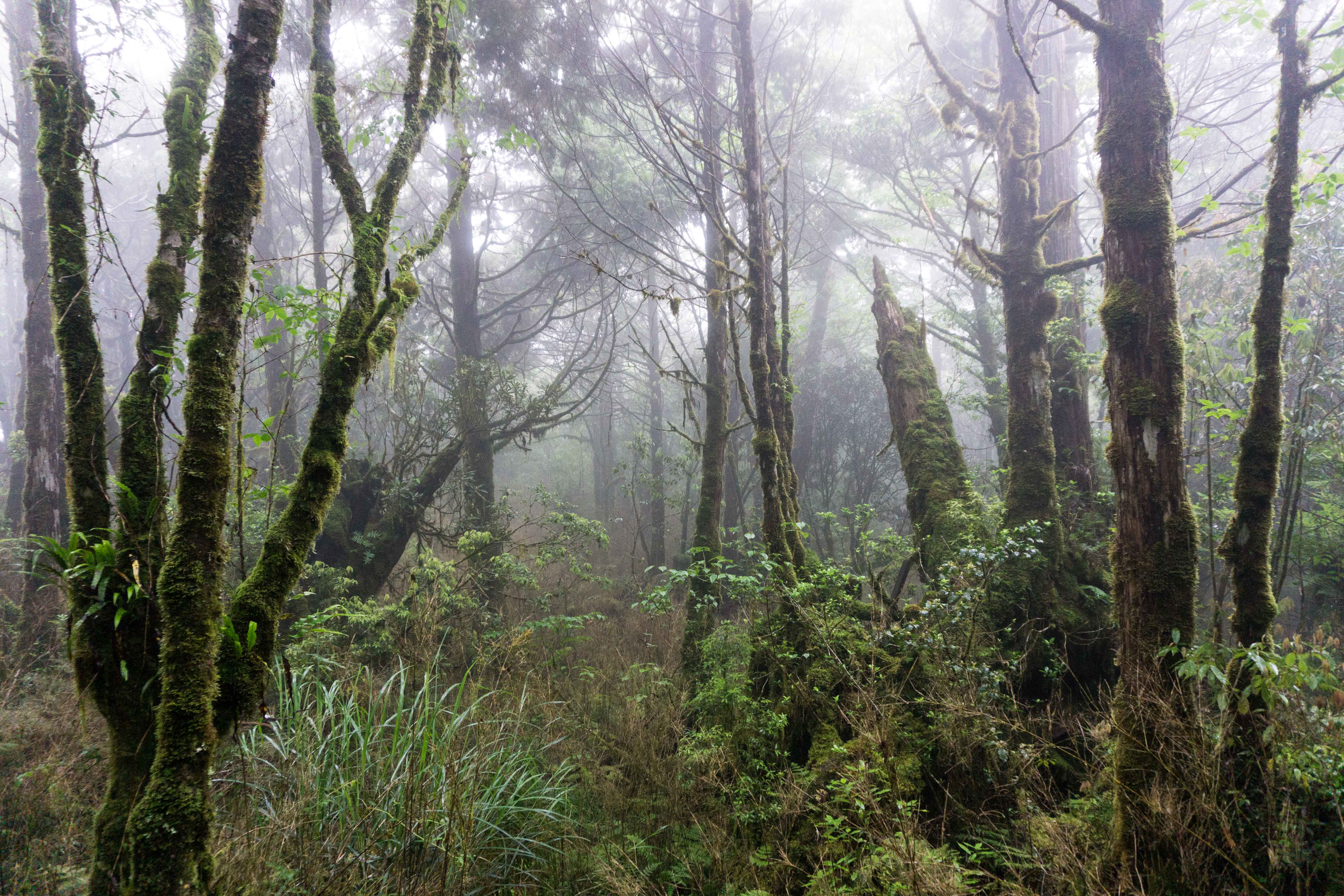 Though he's nearly 70, the guide keeps a steady lead on me and my fellow travelers. He stops every now and then to peer back at us through the mist, hands folded patiently over the curved handle of his umbrella-staff, to ensure that we haven't gotten lost. Once we catch up, he silently presses on.
It all feels a bit otherworldly, and perhaps for good reason. 
I'm deep in the Taipingshan National Forest Recreation Area, in northern Taiwan's Yilan County. Spanning a mountainous region over 31,000 acres, with altitudes from 1,640 to 6,560 feet above sea level, the park is the largest forest recreation area in Taiwan.
The route we've chosen, the Cypress Forest Trail leading into the Chinese Hemlock Trail, lies within a region designated as the "ancient forest park area," marked with an old wooden gate carved with Chinese characters and hung with glowing red lanterns. More lanterns line the long flight of steps from the gate up to the trailhead, where Zhen'an Temple guards the entrance.
That gate, a local tells us in a conspiratorial whisper, is believed to mark the boundary between the human and the spirit world. (Later, when one of my traveling companions stumbles on her way down the trail's steep, slippery steps, she exclaims, "It must have been a spirit! It pushed me!")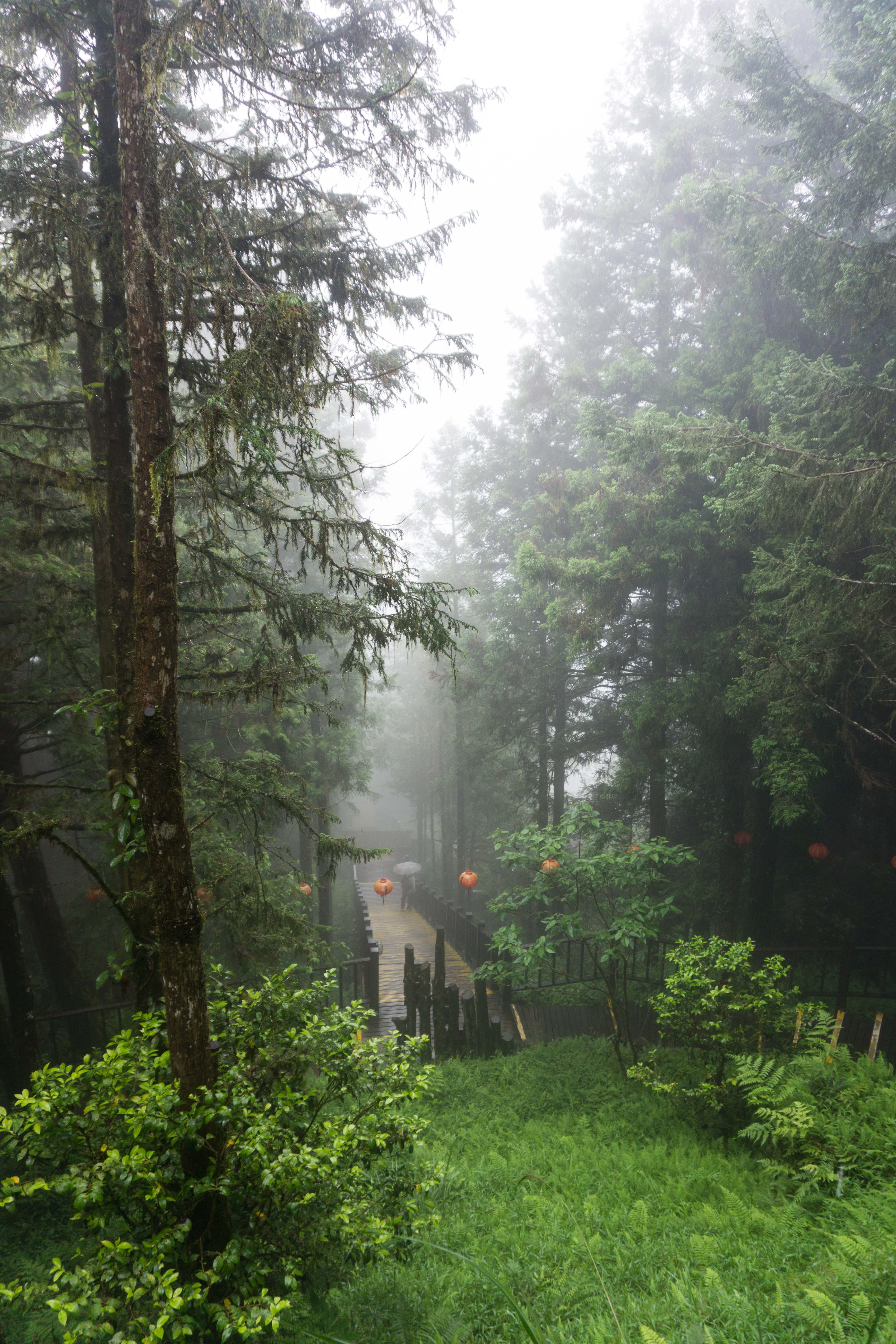 Well, whether you believe it or not, it's easy to let your mind wander here. 
This is an old forest, ancient and mysterious. Many of its trees—ones that escaped the logging industry that once thrived in this area—"haven't been touched since the island of Taiwan was formed," our guide says. "They're very precious."
They chronicle the course of nature when left to its own devices, and I'm struck by the intelligence and resilience on display. 
On the lower trail, we weave between low-lying, moss-covered branches of rhododendron, fanning out horizontally and twisting and tangling like giant knobby fingers in their search for patches of sunlight.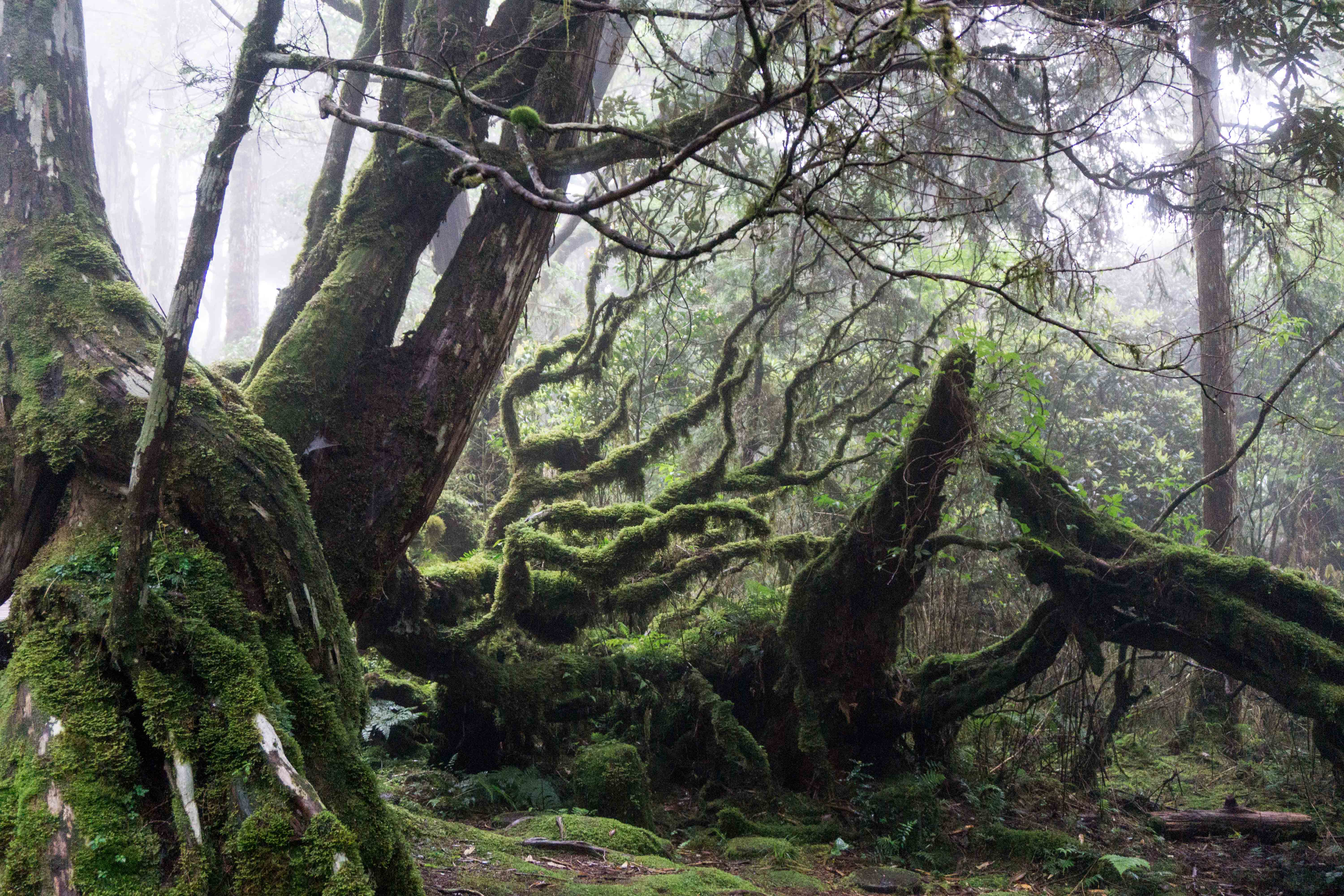 Among the cypress, our guide points out majestic old-growth specimens, some over a thousand years old. Others are younger, and smart: they sprout directly from the stump of an older tree or a fallen trunk, getting a head start on nutrients and height. 
As we climb higher, we enter the realm of the hemlocks, with their strong, sturdy wood and trunks speckled with pale green patches of lichen. Their branches stretch up toward the sun, forming umbrella-like canopies. Our guide reaches his arms over his head, curved and held out wide, to demonstrate: "Hemlock goes up. Strong. Very proud!" That sums up how I feel, too, as we scale seemingly endless wooden stairs toward the peak of the trail.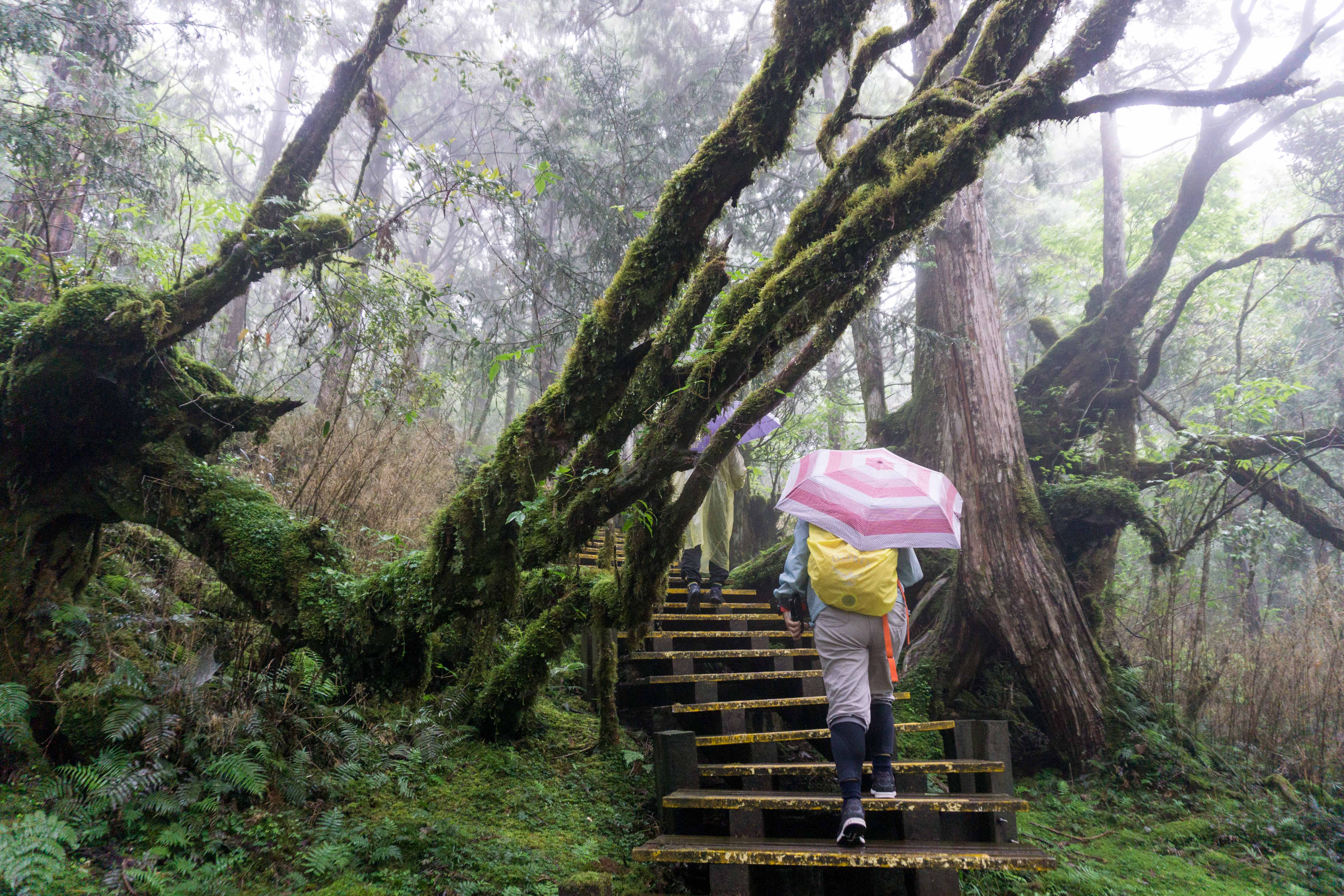 Remnants of History
Tucked amid the trees and the fog, there's also a lesson in Taiwanese history.
Before becoming a protected area for conservation and ecotourism, Taipingshan was one of the three main centers of Taiwan's once-lucrative logging industry. The practice was kicked off in the early 1900s by the Japanese, who had colonized Taiwan for its resources and were drawn to its great growths of valuable cypress.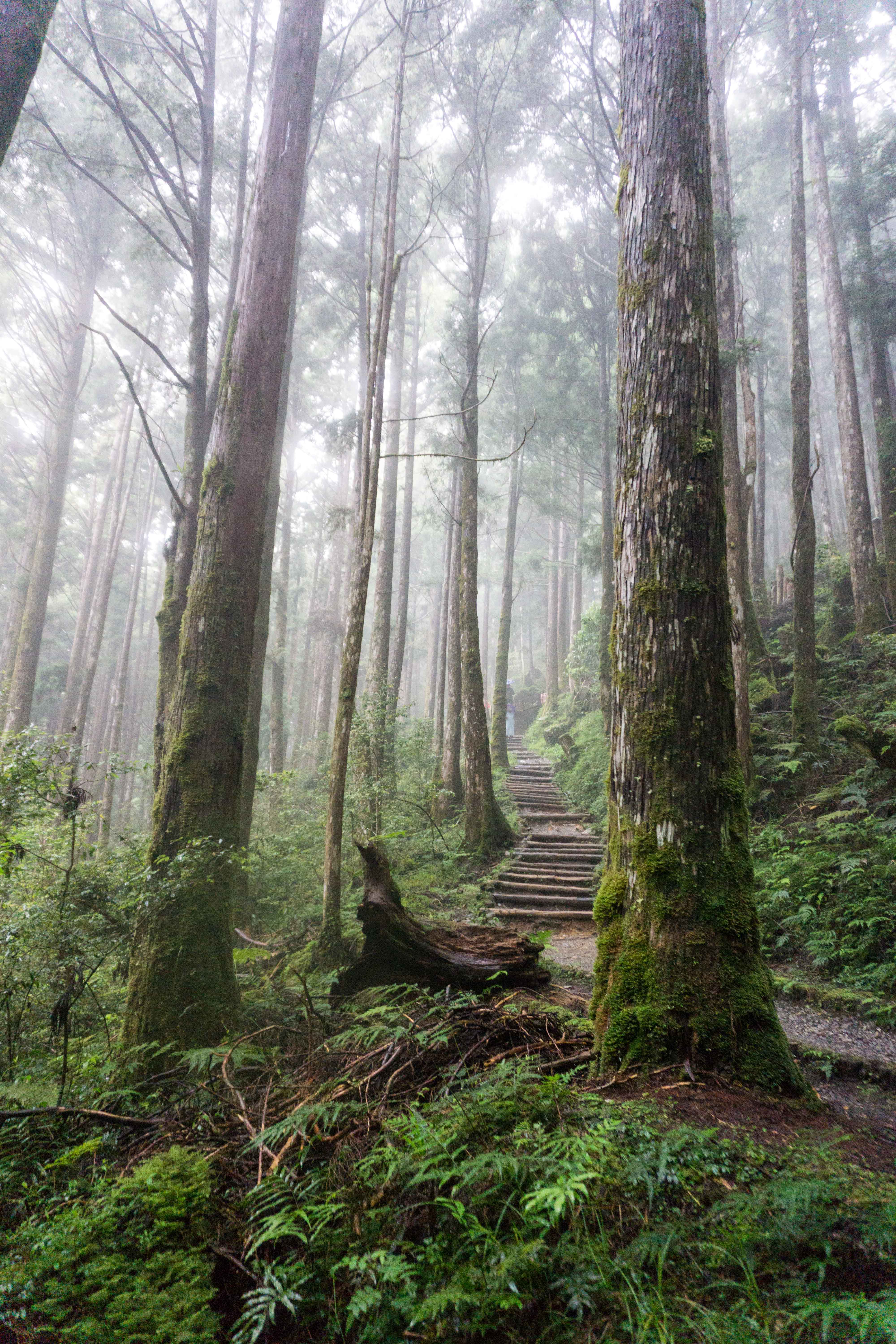 The industry continued after the Japanese left at the end of World War II, until sustainability concerns and a ban on logging in the island's old-growth forests abruptly shut it down in the 1980s. By 1983, Taipingshan was converted into a recreational area. 
Now, it's an ecotourism hotspot, complete with a loggers' residence turned guest house—Taipingshan Villa, where I'm staying—and hiking trails for all levels of fitness. Many of those trails repurpose old logging railways and forestry roads, and remnants of historic train tracks, stations, and logging carts dot the paths. 
One of the area's most popular, the Jiancing Historic Trail, features several stretches of old, curving wooden tracks, overtaken by moss and vines—demonstrating the power of nature, our guide muses, reclaiming what civilization tried to take.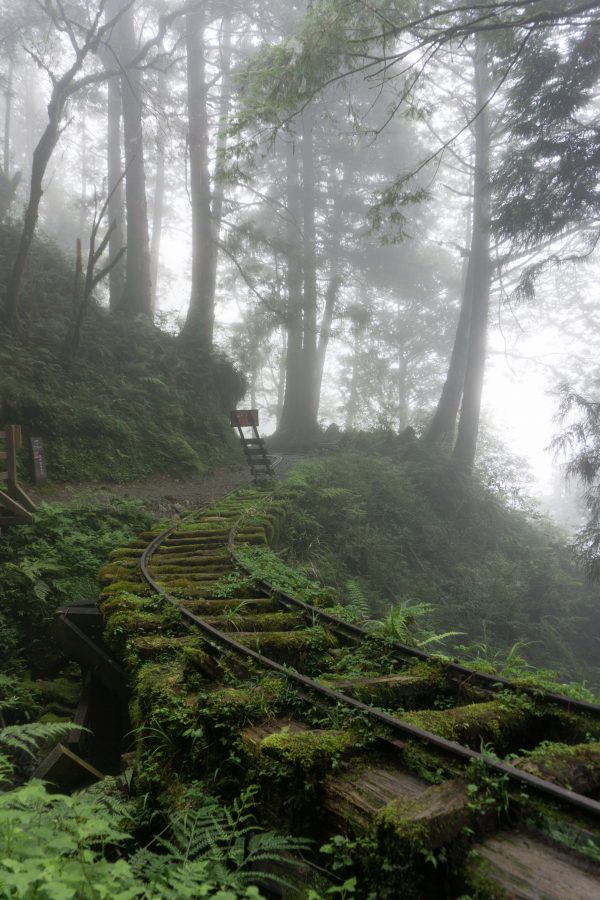 One section of the railway, though, is still running: a 1.9-mile stretch of the Maosing line, between Taipingshan Villa and Maosing Station. Here, the Bong-Bong Train, once a real wooden logging train that transported lumber over 12 miles down the mountain, now offers visitors a 20-minute joyride to the past. 
Before our hike, I'd hopped on board for a ride, cruising along winding tracks that cut through the side of the mountain and traverse fog-filled valleys. I felt perfectly safe in my newly renovated steel train car, but tried to imagine the harrowing trips loggers had to make back in the day. In these perpetually foggy, rainy mountains, casualties were high.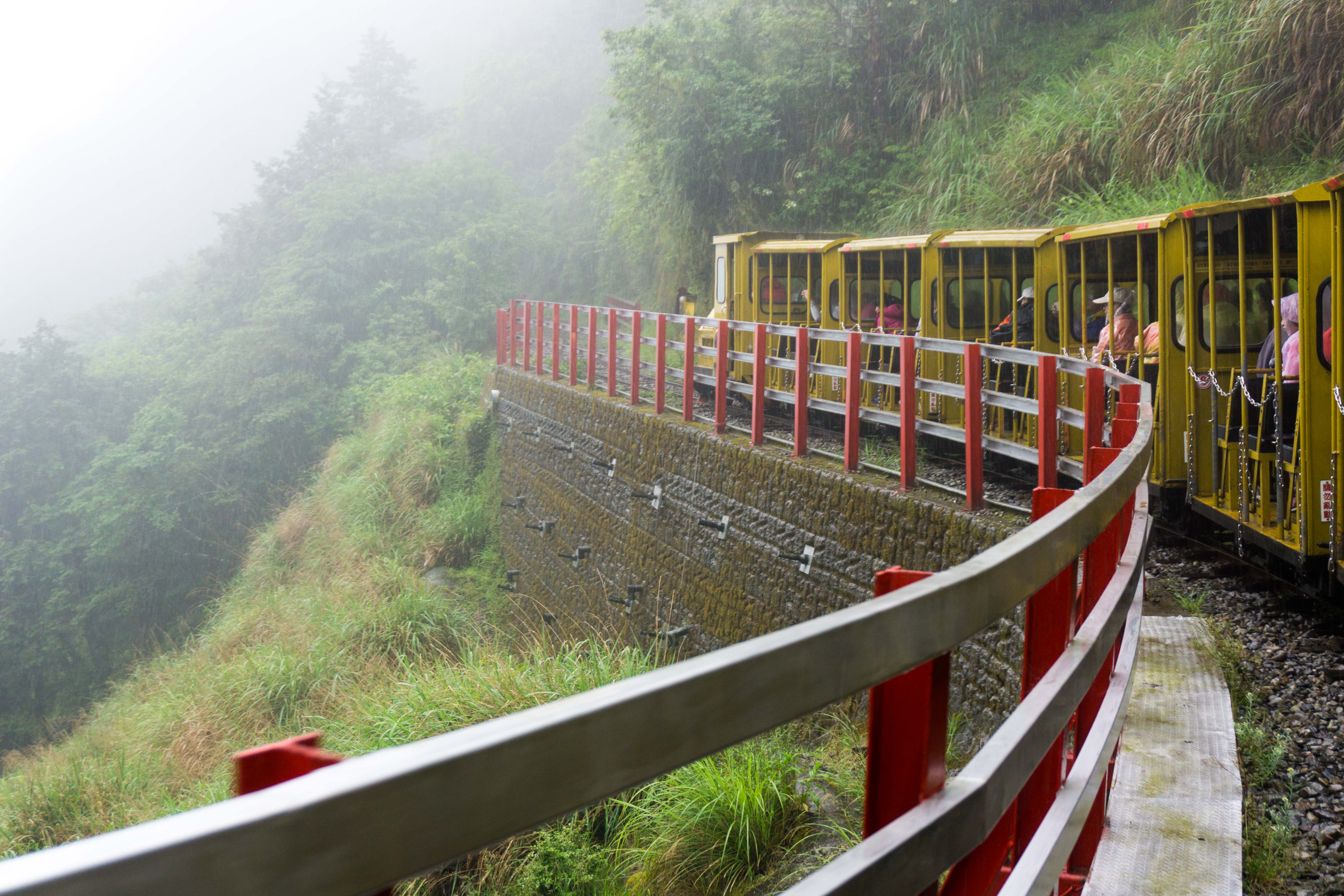 At the Maosing stop, passengers can continue the journey on foot via the looping, half-mile Maosing Reminiscent Trail, built along the bed of the railway and surrounded by cypress. Some are tall and slender, stretching upward into the sky; others are only fat stumps, long chopped down by loggers and now covered with moss. 
As I walked a short length of the trail, a local guide stopped me in front of a stump and instructed me to rub its blackened surface. It left a dark smudge and deep, woodsy scent on my fingers: cypress oil, another precious product of these trees. The scent was muted by the rain, she told me, but when the weather is better, it perfumes the whole forest.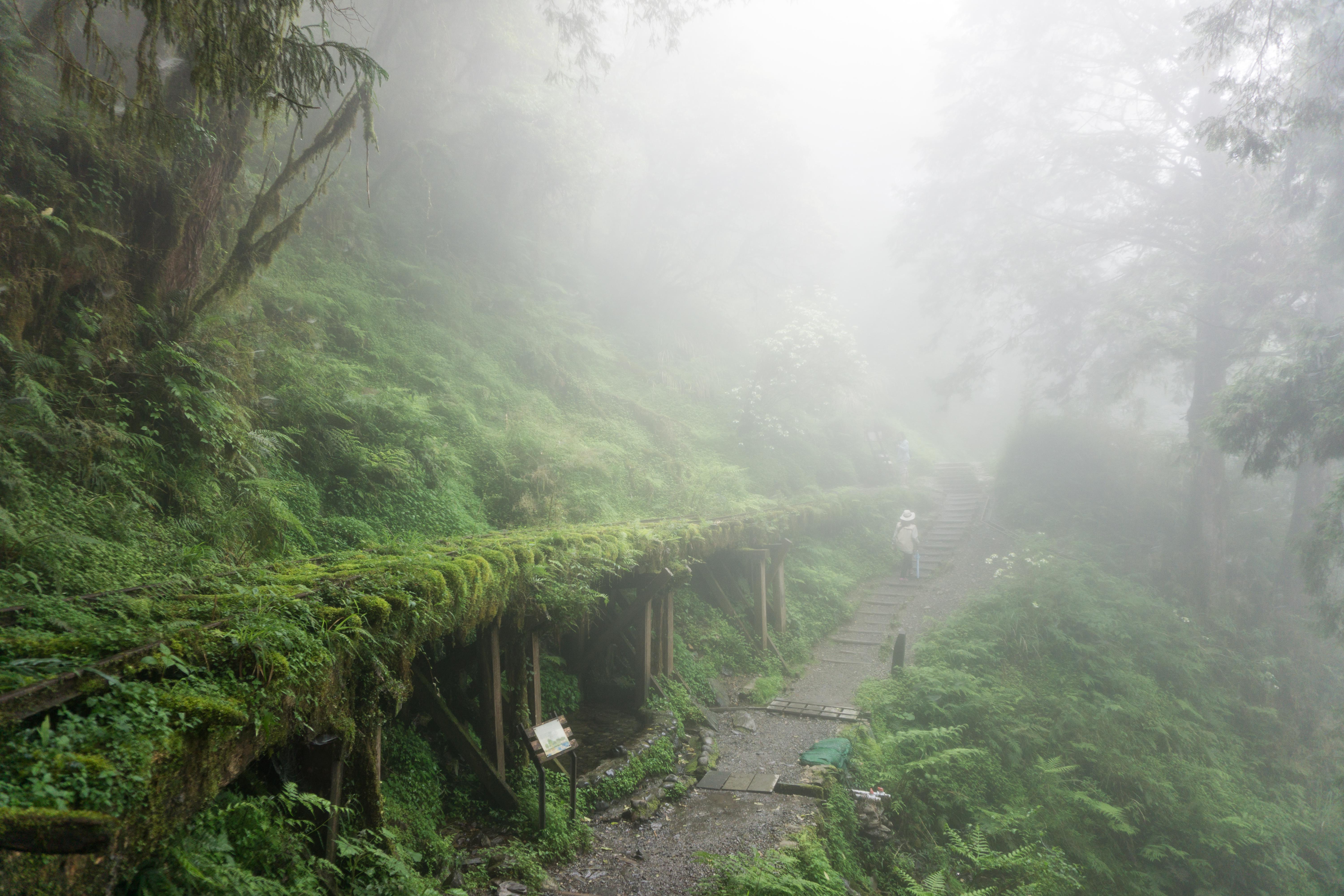 Chasing the Clouds
Throughout my visit, one term repeatedly surfaced in conversation: "yun hai," meaning the "sea of clouds." 
This dreamlike phenomenon, a thick blanket of clouds that settles over the valleys and between the mountaintops like a rolling sea, is one of Taipingshan's most sought-after sights. It's a fairly common phenomenon, but still fickle and elusive: It needs just the right mix of atmospheric conditions to form, and can dissipate just as quickly as it came, and the area's ever-present fog is another challenge, often covering up the sea even when it's there.
Lake Cueifong, Taiwan's largest alpine lake, is said to be the best spot in Taipingshan to see it. But even for locals who frequent the spot, a guide says, "For every 10 times we go, we might see the sea of clouds once."
Catching it, she tells me, is a matter of fate, not desire. 
Regardless, on our way up the Chinese Hemlock Trail, which ends in another prime vista point, we earnestly—if vainly—entreat the mountains to give us a chance. 
"It's her first time to Taiwan!" one of my companions shouts into the fog, trying to put in a good word for me. "She's come so far, won't you let her have a look?"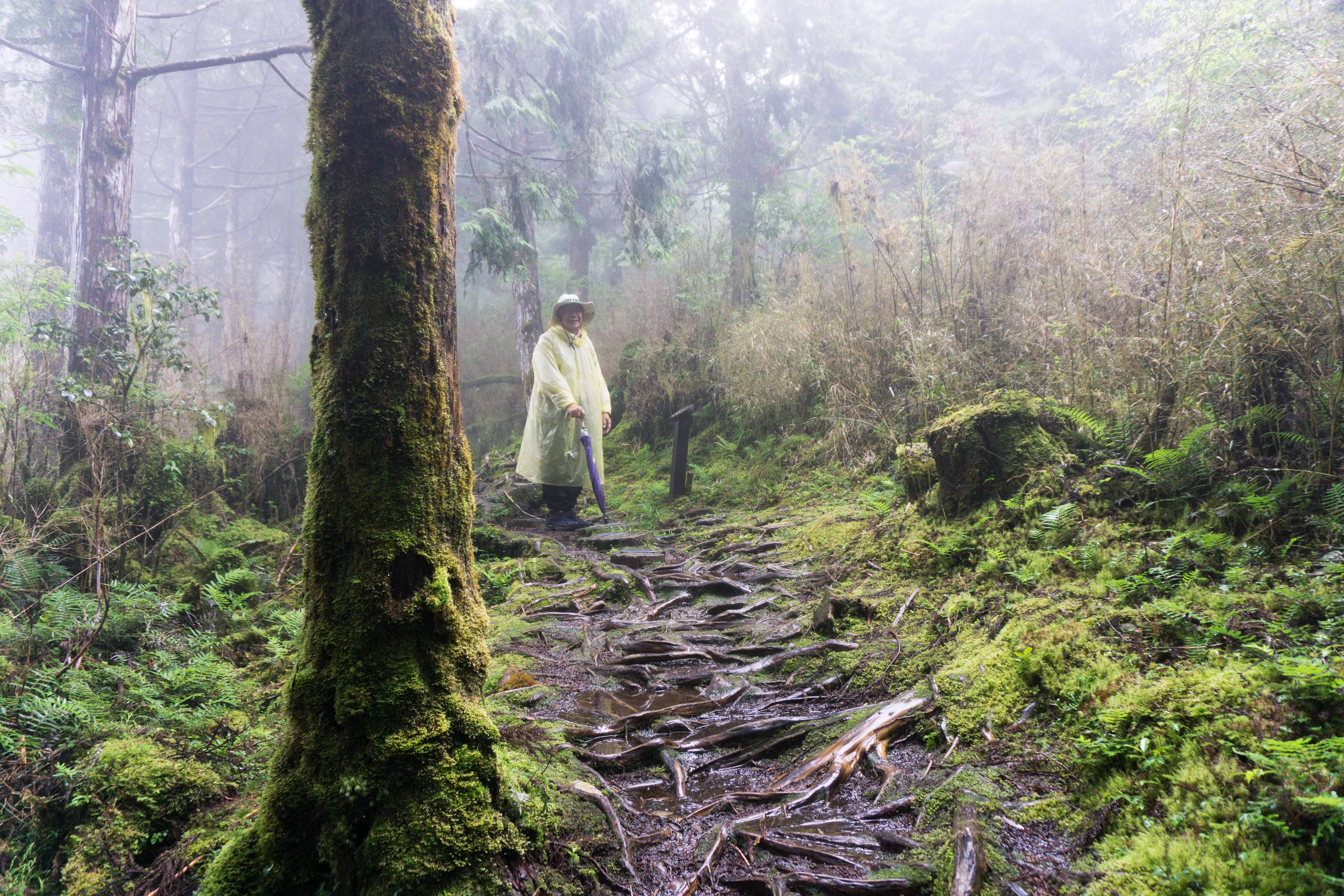 As we push higher, rising from the fog-shrouded depths of the forest, our surroundings noticeably change. The skies become clearer and brighter; for the first time, birdsong pierces the air. When we finally emerge from the trees at the top of the stairs, I can't hold back a gasp. 
Laid out before us, almost blindingly bright white, is the sea of clouds. It stretches toward the horizon in one great, cottony expanse, punctured by distant mountain ridges that look like floating islands, craggy tops illuminated with light. Whispers of fog linger at its edges, threatening to creep back in and end the show. But while we can, we greedily take in the view, unabashed in our yells of excitement and delight.
After a few minutes, the fog indeed rolls in and the view is obscured. We use our combined lung power to try and blow it away—our efforts partially foiled by laughter—but the moment, precious in its brevity, is over.
As it turns out, though, our luck—or fate—hasn't quite run out yet: the sighting isn't the trip's last. 
The second happens that night, during dinner at the villa restaurant. A murmur builds into a commotion, as rising shouts of "It's the cloud sea!" prompt heads at every table to turn toward the window. Outside, the fog has cleared to reveal another billowing sea, this one gray and eerie in the dim light of dusk, with dark purple mountain-islands coming more into focus by the second. We all rush outside to the nearby observation deck, food temporarily forgotten, to marvel at the sight. 
The next day, I drag myself up at just before 5 a.m. to catch the sunrise, and find yet another view of the sea. This one, in the soft light of dawn, is flanked by green mountains on either side and backdropped by a sky streaked pink and orange.
But nothing surpasses the sheer joy of that first encounter, whooping and hollering at our magical mid-hike reward. It was a long way up and it's a long way back down—but somehow, it hits me, I don't feel tired at all. 
At the very end of the hike, I'll suddenly realize my legs are shaking. But in the moment, lungs full of clean mountain air and heart full of awe and respect, I feel light and invigorated, with a giddy sort of spring in my step. Everyone else's spirits seem to be lifted, too, and we sing and laugh our way back down the steep incline. 
Some might dismiss it as adrenaline, but I don't doubt that there's something special in those ancient, mysterious trees.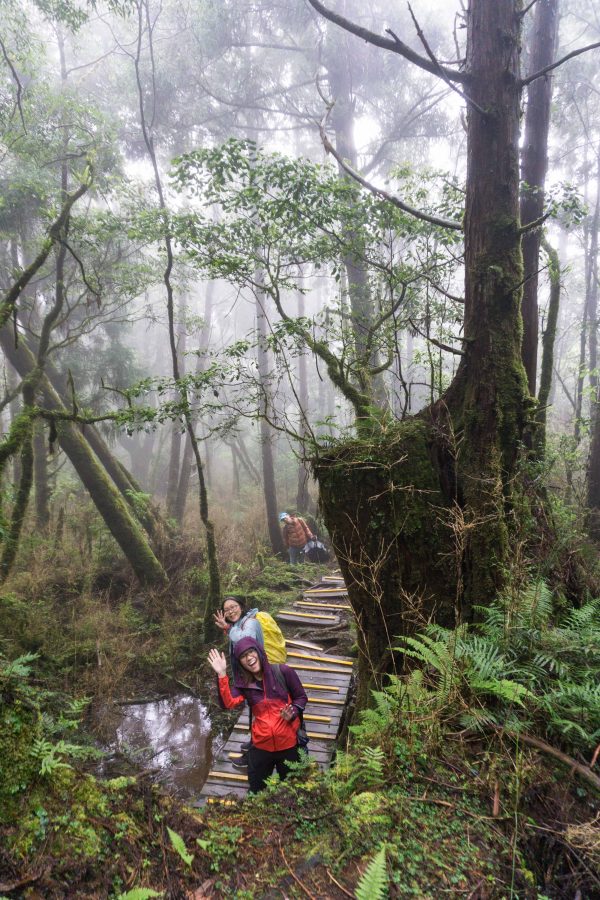 If You Go
Taipingshan is beautiful—though rainy—year-round, so plan your visit based on the face of the mountains you'd like to see: speckled with flowers in the spring, lush and verdant in the summer, painted fiery reds and yellows in the fall, dusted with snow in the winter.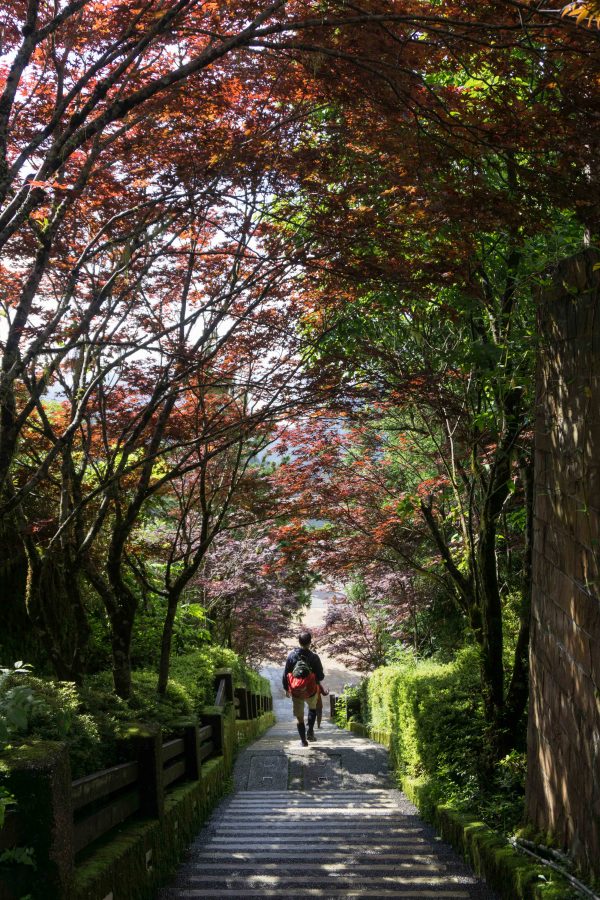 If you go by car, brace yourself for winding mountain roads. You can delegate the driving to someone else by taking the public Kuo-Kuang shuttle bus, which makes one daily round trip between Yilan and Taipingshan on weekends and holidays, or book a tour through Taiwan Tour Bus or another company. 
However you get there, stay at least one night to best experience all that the area has to offer. You have two choices for accommodations: Taipingshan Villa, the larger of the two, with a more convenient, centralized location; and Cueifong Villa, a more isolated option near Cueifong Lake (with designated times when the power is cut). On-site dining uses truly fresh, local, and seasonal ingredients—in the late spring, when I went, that meant an abundance of young, sweet vegetables and lots of seafood—with no set menu; the food depends on what's available that day. To secure a room at either lodge, locals advise, you'll want to book two months in advance. TPS.forest.gov.tw

The writer was a guest of Taiwan Tourism Bureau.