I've never been a die-hard advocate of local, organic food (I've even talked about the subject in my column). But there is one season when eating locally grown, organic produce is just plain easy—and also won't cost your entire paycheck. That season is now: summertime! 
This time of year, even my quaint, eight-stall farmers market in downtown Carmel, California is absolutely brimming with produce. Summer fruits and vegetables like zucchini, tomatoes, and squash grow so prolifically that farmers are able to offer great prices, rivaling even the largest chain grocery stores. 
This summer, my husband George and I have been having an especially fun time perusing the local markets with our 6-month old son, as we prepare to start feeding him his first solid foods. 
Typical of our relationship, George is approaching feeding baby Mattis with a very laissez-faire attitude ("We'll just put a bunch of food in front of him and see what he grabs!") whereas I am stress-reading every baby feeding nutrition book that I can get my hands on. What food should I introduce first? How can I avoid giving him allergies? What pureed vegetable medley is most likely to ensure that he gets into Harvard?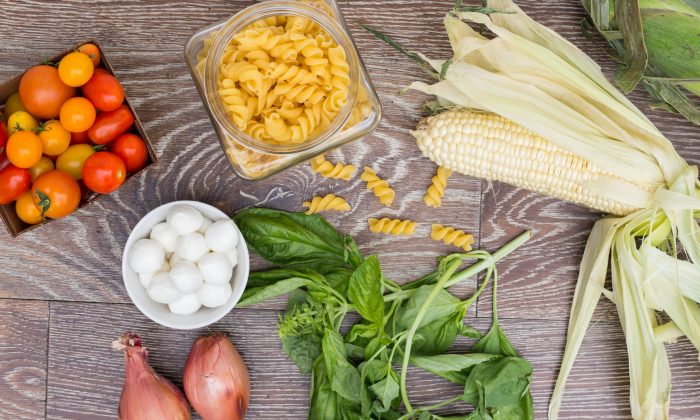 The one major takeaway from all the research I've done is pretty straightforward: Stick to non-processed foods—whole ingredients like fruits, vegetables, and meats—and make sure they're organic, if possible. Basically, feed your baby the food that you know perfectly well you should be eating. 
Don't worry, this isn't going to become a column where I preach about the evils of processed foods and tell you to only eat organic. Processed foods like frozen meals make our busy lives simpler, and every now and then, they're the best option for a number of reasons—maintaining your sanity after a busy day being one of them. But a quick recognition that processed cereals, pretzels, and frozen pizzas aren't the best way to nourish our bodies is fair, right? 
Eating Local
Having worked in the food industry for the past seven years, I've long understood the merits of eating locally from a taste perspective. Locally grown food has a shorter distance to travel, and thus can ripen in the field, versus in the back of a truck, allowing it to become more flavorful in the open air and sunshine. 
But until I started researching how to feed my baby healthily, I didn't fully realize the nutritional implications of buying local, seasonal, and organic produce. 
Not only does food taste better when it is allowed to ripen in the field, but it also has a much higher nutritional content, because that extra time in the soil and sunshine allows it to soak up crucial nutrients. 
Locally bought produce also doesn't have to be sprayed with preservatives that allow it to stay "fresh" in a shipping container, and then on a grocery shelf, for weeks or even months. 
With these factors in mind, George and I set a challenge for ourselves. Whenever possible, we are going to purchase and cook only organic, locally grown produce. We live in Monterey, California, the county where a huge percentage of the nation's fruits and vegetables are grown, so this should not be hard. Cost is usually a huge consideration in the way that we shop for our food, but during the summer, the prices at the market are excellent.
Changing It Up
Since setting this challenge at the end of June, we have dramatically increased our vegetable consumption. Most nights, George throws a few veggies and cuts of marinated meat on the grill while I'm putting the baby to sleep. Grilled flank steak with corn and zucchini has been a regular, but really, pick any summer vegetable, and it's been on our grill. Summer fruits have made an appearance, too—a few nights ago, we had grilled peaches with chicken thighs. 
George could happily grill every single night of summer, but variety is the spice of life, and my love of pasta can't be relegated to the colder months alone. I wanted to come up with a pasta that highlights locally grown, seasonal produce, while also being just as easy (or easier!) as throwing a bunch of stuff on the grill. 
This one-pot summer corn caprese pasta checks all of those boxes. The pasta, tomatoes, shallots, and garlic all cook together in the same pot, the tomatoes breaking down while the pasta cooks. A good pour of extra-virgin olive oil and a handful of Parmesan cheese are stirred into the remaining pasta cooking water, to create a silky and bright tomato sauce. And corn, basil, and mozzarella are tossed in at the last minute, so that the corn stays nice and crisp and the mozzarella just begins to melt.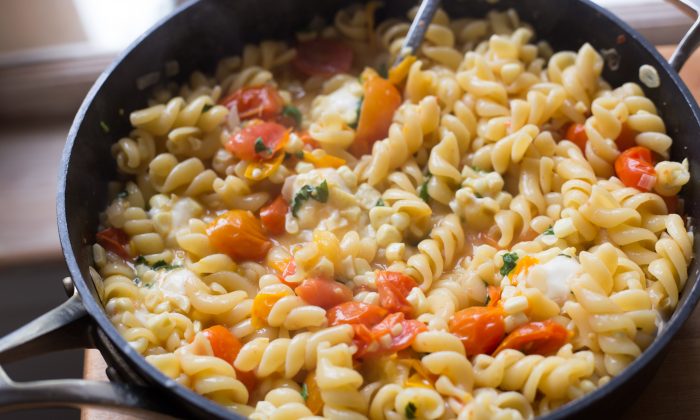 To me, this recipe is the essence of summer in a warm, comforting bowl. Buy your ingredients locally if you can, for best taste and nutrition. 
Oh, and if you're wondering what we landed on for Mattis' first food—we went with a California staple, mashed avocado, straight from the Carmel Farmers Market.
One-Pot Summer Corn Caprese Pasta
Serves 2, with leftovers
1 pound cherry tomatoes (about 2 1/2 cups), halved

8 ounces dried fusilli, rotini, or campanelle pasta

1 large sprig of basil

1 large shallot, minced

3 garlic cloves, thinly sliced

1 teaspoon kosher salt

1/4 teaspoon red pepper flakes

Kernels from 2 ears of corn (or 1 1/2 cups frozen kernels)

1/3 cup grated Parmesan cheese, plus more for garnish

2 tablespoons extra-virgin olive oil

4 ounces ciliegine mozzarella balls, halved (about 12 mini mozzarella balls)

1/3 cup fresh basil leaves, julienned, plus more for garnish
Place cherry tomatoes, pasta, sprig of basil, minced shallot, sliced garlic, salt, and red pepper flakes in a 10-inch pot or skillet. Pour in 2 1/4 cups water and bring to a boil over high heat. The water might not cover the pasta depending on the size of your pot—that's OK!
Reduce heat to medium-high and simmer uncovered, stirring often, for 9 to 11 minutes, or until the pasta is cooked and most of the water has evaporated. Depending on the size of the pot you use, it may take more or less time for the water to evaporate. If the water evaporates before the pasta is cooked, add another 1/4 cup of water and keep cooking. 
Remove basil sprig and discard. Stir in the corn, parmesan cheese, and olive oil until it all melts together into a smooth sauce. Taste and season with additional salt or red pepper flakes as desired.
Remove from heat and briefly toss in the mozzarella balls and basil by stirring just a couple times. The mozzarella balls shouldn't melt completely, just get warm and gooey. 
Serve topped with basil, Parmesan, and more red pepper flakes if desired.
Tips
If you use a pot or skillet wider than 10 inches, your water will likely evaporate before the pasta is cooked. Add more as needed until the pasta is cooked. 
Large tomatoes, cut into small pieces, would also work in place of the cherry tomatoes. 
Alternative grain pastas, such as chickpea or brown rice, will also work here; just adjust the cooking time until the pasta is al dente.
Want to add meat? Try first browning about 1/2 pound of sausage or ground beef, turkey, or chicken, removing it from the skillet, then cooking the pasta right in that same skillet. Stir the cooked meat back in at the end.
Caroline Chambers is a recipe developer, food writer, and author of "Just Married: A Cookbook for Newlyweds." She currently lives in Carmel, Calif., with her husband, George, and baby boy, Mattis. Follow her on Instagram for cooking tips and snippets from her life in Northern Calif. @carochambers