FORT WORTH, Texas—Alex Klinedinst, marketing business owner, said that watching Shen Yun Performing Arts was an eye-opening experience, one that brought her insight into Chinese culture.
Shen Yun performed at Bass Performing Hall in Fort Worth, Texas, on Jan. 8, as part of its 2019 world tour wherein six equal-sized companies will travel to over 100 cities across four continents.
Klinedinst, who owns Bluebird Creative, said she was particularly interested in how the Shen Yun presented the spiritual side of Chinese culture, something she previously did not know existed.
She recalled a trip to China five years ago, during which she asked a local about spirituality in the country.
"Their answer was pretty flat. They said, 'We don't have spirituality here,'" Klinedinst said.
Such an answer is unsurprising in mainland China today given that traditional Chinese culture, which inherently contains a deep spirituality, has been systematically suppressed during the almost 70 years of communist rule.
Concerned about loss of culture and tradition under the communist regime, a group of artists formed Shen Yun in New York in 2006 to bring back genuine Chinese culture, which was developed over 5,000 years of Chinese civilization.
Spirituality and belief in heaven or the divine is fused into the root of traditional Chinese culture. Teachings from Buddhism, Taoism, and Confucianism have been passed down for millennia, forming the basis of Chinese moral philosophy. These ideas include the harmony between Heaven and Earth, the balance between man and nature, and divine retribution.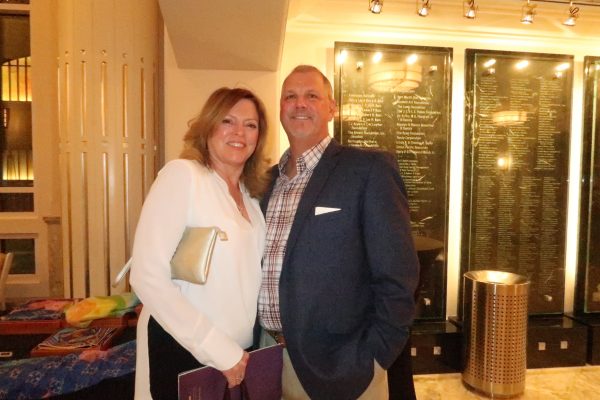 'I Support Your Culture'
Sandy Reeves, assistant vice president at Comerica Bank, who came with her family to the performance, said she enjoyed watching a different cultural experience on stage.
Reeves said that while Chinese culture was different to her own, she was surprised to find that universal values were presented.
"I think it was interesting to see how [Shen Yun showed] a different culture, but still very much aligned with the way we would believe, or having faith in a higher power. And being kind to one another," Reeves said.
She also appreciated the grace of the dancers' movements.
"I hurt just watching the dancers … I mean they have to really be spry and limber. It was beautiful," Reeves said.
Dancers at Shen Yun are classically trained artists, many of whom are award-winning; they perfect both classical Chinese dance, and ethnic and folk dance styles. Classical Chinese dance is an art form refined over thousands of years that comprises both a rigorous physical component including difficult tumbling techniques, and also a strict inner composure, which aims to allow the dancer to transmit their spirit and feelings to the audience.
Reeves's husband, James Reeves, a retired aircraft engineer, was also impressed with the performance, adding that he supported the culture Shen Yun is hoping to revive through the arts.
James said he enjoyed being able to watch the performance with his family.
"It was beautiful, it's a difference experience altogether for us."
With reporting by Amy Hu and Cathy He.
The Epoch Times considers Shen Yun Performing Arts the significant cultural event of our time and has covered audience reactions since the company's inception in 2006.