LONDON—One of London's top society photographers said the dance in Shen Yun was unbelievably beautiful.
Lara Arnott, who regularly photographs events for Tatler magazine and Sotheby's auction house, described the colours as "so spectacular."
"There's just something going on to feast your eyes on every minute," she said. "There's the background, that's constantly moving and changing with the most beautiful scenes, it's just stunning.
"And the dancing is just unbelievable, it's almost emotional, how beautiful it is," she added.
Arnott saw the performance on April 30 at the Eventim Apollo in London.
Shen Yun's mission is to revive 5,000 years of traditional Chinese culture through music and dance.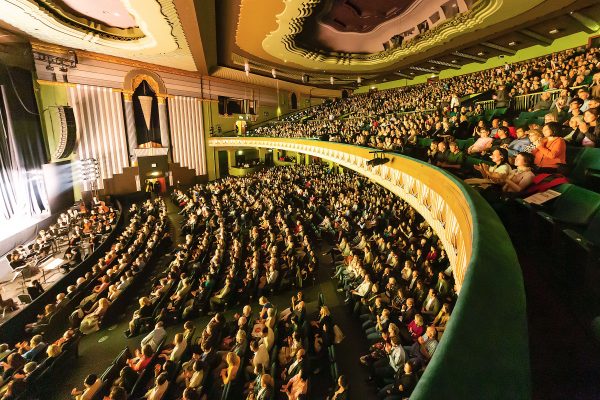 The classical Chinese dance company is in the midst of its 2019 world tour, with six companies performing in over 130 cities across four continents.
Besides dance-based stories, the New York-based company also performs classical Chinese dance vignettes and musical solos.
'Incredible Art'
Arnott said reviving traditional Chinese culture was a "brilliant idea."
"The fact that I didn't know so much about this incredible art goes to show there definitely needs to be more awareness of it," she said.
China was once known as Shen Zhou, or divine land, a term describing a time when it was widely believed that the divine transmitted a rich culture to the people of the earth, according to Shen Yun's website.
But after seven decades of communist rule, most of this culture was pulled apart by Mao Zedong and subsequent leaders. Multiple campaigns aimed at dismantling traditional culture had a warping effect on Chinese identity.
Seeing that genuine Chinese culture was on the brink of being lost, a group of overseas artists was determined to bring it back. This was how Shen Yun Performing Arts was born, back in 2006.
"We could all do with seeing a little bit more of this," Arnott said. "It's so relaxing, so uplifting, and I feel very moved by it, so I think we could all do with a little bit more of it in our life."
However, she thought it was "despicable" that Shen Yun cannot perform in Mainland China.
"The people of China need to experience how talented their past is. I think that's unbelievable, it's despicable, it needs to change," she said.
With reporting by NTD Television and John Smithies.
The Epoch Times considers Shen Yun Performing Arts the significant cultural event of our time and has covered audience reactions since the company's inception in 2006.
London, Europe
Shen Yun New York Company