HSINCHU, Taiwan—Popular singer and actress Tang Lan-hua attended the sold-out performance at the Hsinchu Performing Arts Center, on Oct. 2, as the New York-based Shen Yun Symphony Orchestra concluded its nine-city tour.
Tang said that she used her ears and heart to listen to every single note at the Shen Yun concert. She briefly summed up her experience—"It was a feast of beauty."
Shen Yun Symphony Orchestra, consisted of musicians from Shen Yun Performing Arts, debuted at Carnegie Hall in New York City in 2012. Four years later, the orchestra began touring Asia, and many Taiwanese cities have been included in the annual tours.
Taiwan can now lay claim to having one of the largest Shen Yun fan bases outside of North America. This year, the New York-based company put on a total of 11 concerts, with major cities such as Taipei and Kaohsiung included.
"I closed my eyes. I felt like I was at times on a mountain or a valley. Or I was in a bamboo forest—there was the chirping of birds. … I also felt the presence of a woman of classical beauty," said Tang, explaining how the music took her on a surreal journey even though she was seated in a concert hall.
Tang added that the 5,000 years of Chinese culture did come through in the music, and she felt improved as a person after attending the concert.
The Shen Yun Symphony Orchestra is a one-of-a-kind orchestra, for it successfully brings together a full-sized symphony orchestra with traditional Chinese instruments, such as the Chinese violin "erhu" and the Chinese flute "pipa."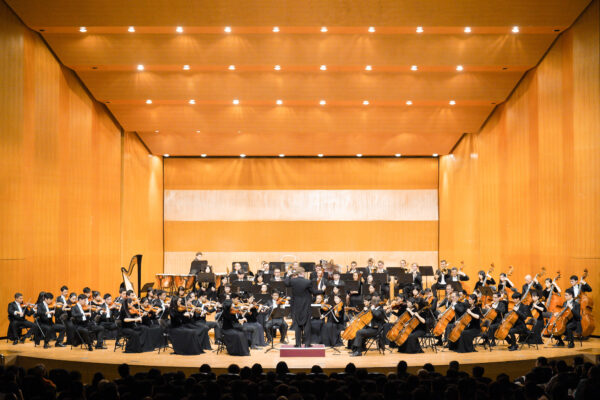 Shen Yun explains on its website that the orchestra has mastered this combination of East and West, to create a "fresh, harmonious sound."
"I was truly touched, from different musical compositions to the way musicians conducted themselves on the stage," Tang said. Her mood changed with the music; during one piece she felt the power as if many horses had galloped in front of her, and at another, she felt the comfort of being loved.
Tang added that it would be great for young children to be exposed to Shen Yun at a young age, for its music has a positive impact.
Shen Yun Symphony Orchestra will now travel to North America, with a performance in Toronto on Oct. 6.
It will then return to the United States with two performances at Carnegie Hall's Stern Auditorium in New York on Oct. 12, before traveling to Washington, D.C., Chicago, and Boston. 
Reporting by Chang Yuan-chang, Lin Chiu-hsia, and Frank Fang.
New York-based Shen Yun Symphony Orchestra comprises musicians from the six Shen Yun Performing Arts touring companies. For information about the October performances, visit: ShenYun.com/Symphony
The Epoch Times considers Shen Yun Performing Arts the significant cultural event of our time and has covered audience reactions since the company's inception in 2006.