CHIAYI, Taiwan—Two Taiwanese government officials were among enthusiastic and appreciative audience members at the Chiayi Performing Arts Center, on Sept. 27, when the Shen Yun Symphony Orchestra took to the stage for its seventh performance in Taiwan.
"I found a power [at the performance] that brought me such great relief—the tension was gone," said Weng Chang-liang, the magistrate of Chiayi County.
Before coming to hear the Shen Yun Orchestra, Weng explained that he had only planned to see the performance for half an hour because of his busy work schedule. But he said that he couldn't leave early once the concert started because it was so wonderful.
The performance was a "spiritual liberation," said Weng.
One of the things that amazed him the most was the combination of Chinese instruments and the Western orchestra. Weng explained that he found the mix between the East and West excellent.

Based in New York, Shen Yun Symphony Orchestra comprises musicians from Shen Yun Performing Arts, which has expanded to six touring groups since its debut in 2006.
It was this successful blend of a full-sized symphony orchestra with traditional Chinese instruments that makes Shen Yun Symphony Orchestra one of a kind.
Shen Yun explains on its website that that Chinese instruments, such as Chinese violin 'erhu' and Chinese flute 'pipa,' have their unique characteristics. It is not easy to blend these instruments with a Western orchestra to create a "fresh, harmonious sound."
Shen Yun music brought back to life a powerful emperor in the ancient Chinese dynasty of Qing, according to Weng.
He explained that the musical piece about Emperor Kangxi (1654-1722)—one of China's most celebrated emperors—was powerful because it reminded him of how the Emperor was able to safeguard the Qing Dynasty by quashing a rebellion in southern China and stopping an invasion in the North.
The magistrate expressed his gratitude to Shen Yun for bringing its performance to Chiaqi, which is not one of the major cities in Taiwan.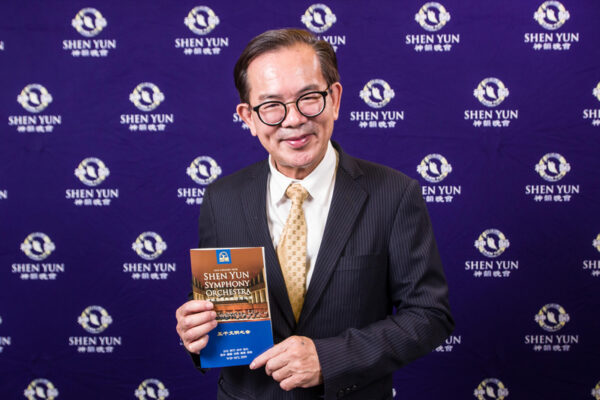 Another official in the audience Hsu Yo-jen, the director-general of the local government's culture and tourism bureau, hearing the Shen Yun orchestra was a stunning experience.
Hsu explained that the musicians worked in perfect unison—something not easy to accomplish.
In one musical piece about ancient imperial guards, Hsu explained that the fast tempo of the piece made him felt like a battle was presented before him. With another piece about Mongolia, Hsu said that he did feel as if there was the real clatter of horses hooves.
Hsu added that he was amazed at the performance for "condensing thousands of years of [ancient] Chinese culture."
"I lost myself in the performance," said Hsu. "It was perfection."
Reporting by Frank Fang.
New York-based Shen Yun Symphony Orchestra comprises musicians from the six Shen Yun Performing Arts touring companies. For information about the October performances, visit: ShenYun.com/Symphony
The Epoch Times considers Shen Yun Performing Arts the significant cultural event of our time and has covered audience reactions since the company's inception in 2006.