Snippets From VIPs Attending Shen Yun in Brussels
April 12, 2014 1:51 am Last Updated: April 12, 2014 2:00 pm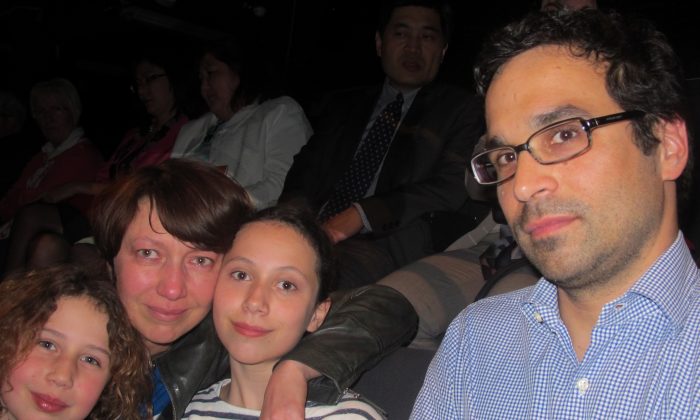 BRUSSELS—Many VIPs were left spellbound after seeing for the first time world-acclaimed Shen Yun forming Arts, staged at the National Theatre. Among them was Fedja Zlobec, European commissioner for External Economic Relations who accompanied Lilia Colombi to the performance, April 5.
"It was nicely done," Mr. Zoblec said, "Especially the combination of the traditional and spiritual Chinese traditions. I liked it a lot."
According to the company website, "Shen Yun is an extraordinary journey across 5,000 years of Chinese civilization."
Mr. Zoblec praised the New York-based production formed in 2006 to rejuvenate authentic divinely-inspired Chinese culture, almost lost due to 60 years of communist rule.
Many Europeans could identify with the communist regime's oppression of Falun Gong as they, themselves, were subjected to the same treatment when communism ruled the Soviet Union.
"Falun Gong, also called Falun Dafa, is guided by the principles of "Truthfulness, Compassion, and Tolerance,'" says Shen Yun's website. "It has helped over a hundred million Chinese people understand and return to the essence of traditional Chinese culture—Confucian, Buddhist, and Taoist schools of thought."
'You have to be a strong believer to survive certain regimes'
Polish-born Ewa Ptaszynska who works as a policy officer for Land Transport was enjoying the performance with her husband Michal Ptaszynka, European Commission and Development Manager and their daughters.
"I was sure that the girls would love it because of the colors, the costumes, and the music and all the dance," said Mrs. Ptaszynska. 
"They really liked it," she said.
"With classical Chinese dance, live orchestra, dazzling costumes and animated backdrops, Shen Yun will transport you to another world," the website explains.
Mr. and Mrs. Ptaszynska related to the plight of Falun Gong banned by the Chinese communist regime in 1999 and highlighted in a couple of Shen Yun story dances. 
"Yes. You have to believe. You have to be a strong believer to survive certain regimes," Mrs. Ptaszynska said.
She was touched by commitment from all the artists to produce such a performance.
"It was touching in the end when you realize first how much effort each requires for all this, the artists, to perform in that way," she said.
She also sensed "a strong love for this civilization and this culture that they are committed to show everybody all over the world, the core of the Chinese civilization. So it's moving."
'Very nice to see people come from heaven to earth'
Also deeply touched by Shen Yun were Vedran Vejic, a NATO military officer and his wife Yulia Vejic, both originally from Croatia. They have been living and working in Brussels the last couple of years.
"I like it very much, I've never been in touch with Chinese culture," Mr. Vejic said. "I like the performance with the lotus flower…It's fantastic, the men with the fans. That was a warrior dance."
Mrs. Vejic thoroughly enjoyed the otherworldly sounds of the erhu, an ancient Chinese two-stringed bowed instrument. "Very, very, very nice," she said.
In reference to the spiritual aspects woven through the Shen Yun performance, Mr. Vejic said his own Croatian culture also believes in heaven.
"But it's very nice to see the people come from heaven to earth, [then] go back to heaven," he said.
With state-of-the-art graphics technology, Shen Yun's digital-backdrop team creates vividly animated settings, extending the stage and transporting the audience to a world where heaven and earth are one.
'China in the present day is very sad'
Enjoying the Shen Yun presentation were Balazs Nyul-Donka, assistant of the European Commission Region Policy and his wife Judit Nyul-Donka, also an assistant of the European Commission.
"It was really fantastic," Mr. Nyul-Donka said. "The decorations, the dresses, dances, they are fantastic. And it is very good that [Shen Yun] shows some aspect of Chinese [spirituality] and ancient mythology." 
The couple are from Hungary and 25 years ago the communist regime tried to destroy all the nation's ancient values, knowledge and traditions, Mr. Nyul-Donka said.
"So seeing this on the stage that in China is not [allowed] in present days is very sad, and we feel sorry, because in our history, it was quite the same." 
Hungary was part of the Soviet communist regime up until recently. "You could not practice your religion; there was no freedom of speech, or expression. Now it is getting better. The communist regime is over." 
He admired the culture portrayed on stage in folk dance and classical Chinese dance. "And the music was also fantastic."
Mr. Nuyal-Donka felt the lyrics in the songs carried a strong message.
"Life is eternal and there is a divine level of life and we received this message via the songs and via the performances. The stories that they showed us—mythological, ancient stories—somehow teaching people what is good and bad and fighting against evil. So through the music, dances, choreography, we received this message," he said.
Mrs. Nyul-Donka echoed almost everything her husband said about Shen Yun.
"It is hard to formulate it in words. I am from Hungary, and Hungary was also a communist country until 1989, so I have also this history. I can understand it. It is very sad when people can't be free." 
'Very colorful, impressive'
A member of the European Parliament, Judith Merkies said she thought Shen Yun was "very colorful and impressive." 
"I think the mix of the ancient dances combined with very modern attitude…it was very colorful. There were many things I liked. But I think that dance more towards the end, with the Mandarin Ladies with very strange clothes was very impressive."
She said China has many traditions, but not every tradition can currently be performed in China, referring to the oppression of Falun Gong.
"The country that doesn't celebrate its past, has no complete future."
'Absolutely loved it'
Polish-born Olga Kopiczko, a lawyer for the European Commission, was seeing Shen Yun for the second time.
"I absolutely loved it. And this year, as soon as I saw the posters in the town advertising the show, I bought my ticket. And I am enjoying it a lot," she said. 
"It is beautiful. I love the way they dance. They are absolutely graceful. I am fan of ballet, but I find this way of dancing even more sophisticated than typical European ballet. It is a bit more [athletic]. It requires a lot of strength and a lot of practice. It is visually beautiful. I love the costumes. It is beautiful, it is impressive, graceful." 
She said she picked up a spiritual message through the performance to always try to be a better person.
"It is just very beautiful. You are always touched by beautiful objects and a beautiful performance. It is just excellent."
New York-based Shen Yun Performing Arts has four touring companies that perform simultaneously around the world. For more information, visit Shen Yun Performing Arts.
The Epoch Times considers Shen Yun Performing Arts the significant cultural event of our time. We have proudly covered audience reactions since Shen Yun's inception in 2006