Update: Shen Yun Creations was renamed Shen Yun Zuo Pin this summer.
For years, fans of the world renowned, New York-based Shen Yun Performing Arts would ask where they could buy recordings of the performances, and whether Shen Yun would consider making its content available online. Besides the Shen Yun Orchestra performance recordings that include only a few of the original pieces from the performances, it was impossible to experience Shen Yun other than in person.
Then the pandemic hit.
Countries shuttered their gathering spaces one by one across the globe. The seasons of the classical Chinese dance company's seven touring groups immediately came to a halt. Weeks turned into months and it was almost a year and a half before the company would perform on stage again. Thousands of people who bought tickets for the 2020 season held onto their tickets for two years, hoping for their chance to see Shen Yun in action when the pandemic was over.
The artists didn't stay idle during that time. They continued to create, and started to release more and more content online. Last year, the company announced Shen Yun Creations, a video subscription website with artist profiles and interviews, educational videos, recordings of dances from past seasons, glimpses of the performers' daily life as they continue to tour this season, and operettas and bel canto vocal performances.
D.F., Shen Yun Performing Arts Artistic Director, opens the site with a statement:
"Shen Yun Performing Arts is the world's premier classical Chinese dance and music company. Established in New York, Shen Yun Performing Arts is reviving and carrying forward China's authentic five-thousand-year-old divinely inspired culture. It does this through classical Chinese dance, ethnic dance, dance stories, orchestral accompaniment, as well as instrumental and vocal solos.

"Ever since its establishment in 2006, Shen Yun has been performing in the most prestigious theaters around the globe, receiving tremendous audience acclaim and adoration. Now, to satisfy the great demand of audiences around the world, we present these Shen Yun creations to you."
The online project has been a hit. Even as Shen Yun returned to its global tour schedule—this year's season starting in the fall and ending in July, several months longer than its typical tour season—the artists have been more active than ever on their new online platform.
A Peek at Shen Yun Creations
The dance method pioneered by Shen Yun is shown in detail in videos on the website. More explicitly, in the traditional Chinese arts and culture circles, there's a term called "body leading the hands" ("shen dai shou"), considered the pinnacle of dance technique, but also used in similar physical arts, like operatic dance and martial arts.
Much of the 5,000 years of Chinese civilization has been lost since the communist regime took power in the last century, but dance school across China still speak of "shen dai shou." Yet, none of them have been able to teach it.
But Shen Yun, an American company largely started by artists who fled China in search of freedom, has developed "shen dai shou" to the extent that they have been able to integrate the method into their pedagogy, and it has become a basic requirement for every company dancer.
This method is so coveted that in the most recent international NTD Classical Chinese Dance Competition, dancers from Taiwan said they made the trip to upstate New York to participate in the competition mainly to learn "shen dai shou" from the other participants who hailed from Shen Yun and its academy Fei Tian.
On Shen Yun Creations, the artists demonstrate this "lost method" in a series of comprehensive videos demonstrating beginner, intermediate, and advanced classical Chinese dance sequences.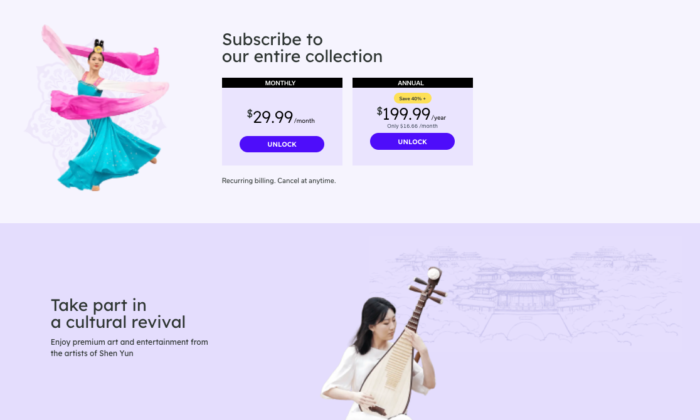 Enjoyed this article? Visit ShenYunCreations.com, Shen Yun's streaming platform for all-original dance, music, concerts, and more.
The Epoch Times is a proud sponsor of Shen Yun Performing Arts. We have covered audience reactions since Shen Yun's inception in 2006.