MIAMI, Fla.—Stephanie Del Valle, a former theater actress, with her husband Bert Del Valle and their daughter were absolutely delighted by the majesty of Shen Yun Performing Arts showing at the Arsht Center.
"It was an absolute masterpiece—visual masterpiece. The music, the choreography, the costumes, it was remarkable," Mrs. Del Valle said. "Each piece was just executed to perfection. [It was] a unique experience that you won't find anywhere else and we can't wait to come back."
Although Shen Yun is based in New York, the company showcases China's 5,000 years of culture and civilization through dance and music. But that is not all there is to the performance. Audience members often comment on the array of emotions they feel watching Shen Yun.
It invoked a lot of feelings. There were moments of sadness, there were moments of comedy.
"It invoked a lot of feelings. There were moments of sadness, there were moments of comedy. I was surprised at the variety and the different feelings that [were] evoked in the stories that were being told. It was a lot more than I expected, really special," Mrs. Del Valle said.
Shen Yun 'Fills You With Joy'
Daniel Ruiz, a restaurant general manager, was also in the Miami audience.
He expressed his support for Shen Yun in their effort to share and promote China as it was before communism.
"I think they are very engaged with history, with what has happened, and how China was before communism," Mr. Ruiz said. "I think it is a very worthy mission that needs to be upheld consistently for China [and] the rest of the countries. It seems China was already beautiful and powerful way before communism."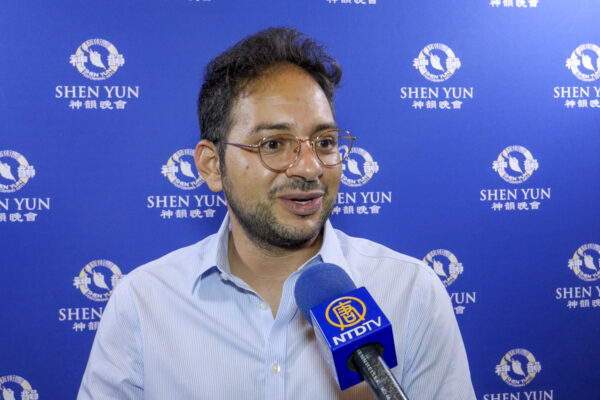 He shared that while viewing the performance, he felt a sense of happiness.
"It made me very happy seeing the performances in such an artfully crafted way. Very strong and very powerful and it fills you with joy. That's the word I'm looking for, a lot of joy to see how well young people do on that stage," he said.
"I do think anything that is art-related can help society, but I also believe presentations like this—where you see the beauty of the world—are also very important for us to keep on track and keep an open mind on how wonderful it is to be here," he added.
Reporting by Teng Dongyu, NTD Television, and Maria Han.
The Epoch Times is a proud sponsor of Shen Yun Performing Arts. We have covered audience reactions since Shen Yun's inception in 2006.