GOLD COAST, Australia—Federal Member of Parliament Scott Buchholz said he was one very happy Australian on Friday night, after experiencing Shen Yun Performing Arts at the Home of the Arts (HOTA) on the Gold Coast.
The assistant minister for road safety and freight transport said he felt privileged watching New York-based Shen Yun, which is presenting "China before communism" as it continues its tour Down Under.
"I'd be entertained by you for all the hours that you sweat, for all of the commitment that you make," he said. "If it's for one thing, and it's to make people smile, you have a very happy Australian here."
Mr. Buchholz, who attended the performance with his wife, was particularly impressed by Shen Yun's powerful storytelling, and said that it reminded him of Australia's ancient storytellers, who also tell their stories through dance.
"We are a nation of storytellers. But tonight, we witnessed a story from another culture. It's one that we identify with … with a meaning in the dance.
"The color, the beauty, the spectacular vision … [it's] nothing short of breathtaking," he said of the sold-out performance.
Also in the audience were former dancer Simone Kite and her husband, who were deeply touched by the stories from China brought alive on stage.
"It's mesmerizing," Mrs. Kite said. "You're just are in awe of all the props and costumes.
"It's just really creative … I would never come up with that unless I've seen it myself," she said.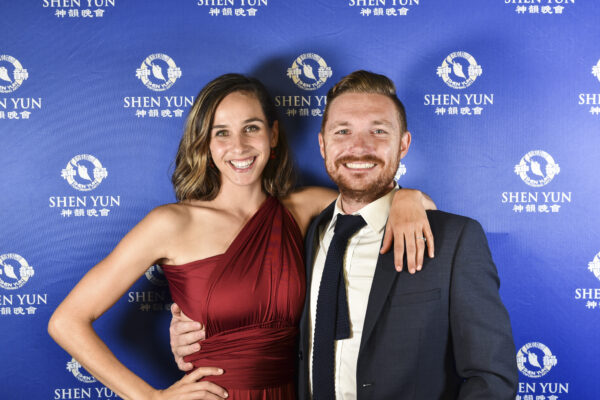 Mrs. Kite said a story-dance that impressed her was a piece titled "Insanity During the End of Days," which told of the tragedy of a father unwittingly aiding in the murder of his beloved daughter, who becomes a victim of organ harvesting crimes. This unthinkable state-sanctioned system of profiteering, based on true events in China, has claimed the lives of many innocent victims persecuted by the government, including those of the Falun Gong faith group.
Falun Gong—which is an ancient Chinese self-improvement discipline that teaches adherents to live by the principles of truthfulness, compassion, and forbearance—remains a target for eradication by China's communist regime today. In its rule over China, the regime also continues to withhold the people's freedom of belief and speech, as it fears losing control over their lives.
This is despite China's 5,000-year history of deeply rooted spiritual culture, where Buddhist, Taoist, and other philosophies were believed to be a gift from the divine to bring peace and harmony on Earth. Under communist rule, China's traditional beliefs have been systematically uprooted through numerous political campaigns, such as the great cultural revolution.
"My husband said to me, it's really sad that they've lost their culture," Mrs. Kite said. But the couple was glad to see Shen Yun bringing light to this story.
The Old With the New
Mr. Buchholz was also impressed by Shen Yun's innovative use of digital projections, which sees dancers' avatars jump from the stage onto the big screen to fly around in the heavens.
"The way that they integrated ancient tradition through technology into the dance—where they've taken the heavens and blended it to the Earth—is noteworthy," he said. "The storytelling is very powerful."
"What I saw on stage tonight was a culture communicating with an audience. And it was beautiful," Mr. Buchholz added.
"I'd encourage all those in Australia to take the opportunity to come and see a magnificent performance. There's a little bit of something for everyone."
Mrs. Kite also encouraged those who haven't yet seen Shen Yun to go.
"Come watch," she said. "It's amazing. They're beautiful … absolutely beautiful."
Reporting by NTD and Melanie Sun.
The Epoch Times is a proud sponsor of Shen Yun Performing Arts. We have covered audience reactions since Shen Yun's inception in 2006.