EDMONTON, Canada—Pediatric dentist Omar Mohammad called Shen Yun Performing Arts "wonderful, very well put together, and multitiered." He attended the performance with his daughter on the afternoon of April 24.
"It's very captivating visually, both the sound and the music, … and choreography—everything all together," Mr. Mohammad said.
Shen Yun is the world's premier classical Chinese dance and music company championing Chinese culture as it was before communism. It tours the globe each year from its home base of New York. Through story dances as well as folk and ethnic dance, Shen Yun transports audiences to different eras and regions of China.
"China has a very long history of culture, and that should never be forgotten. It's not just one culture; there are multiple cultures within China itself, that all come together to make China great," said. Mr. Mohammad.
Shen Yun also highlights some of the faith traditions that have accompanied Chinese people throughout their history. Mr. Mohammed enjoyed the scenes of salvation portrayed in the show. He felt that despite the suppression of belief in modern China, the Chinese people will make sure that their traditions live on.
"I think cultures and anything with passion will always come through if anybody wants to stop it," he said.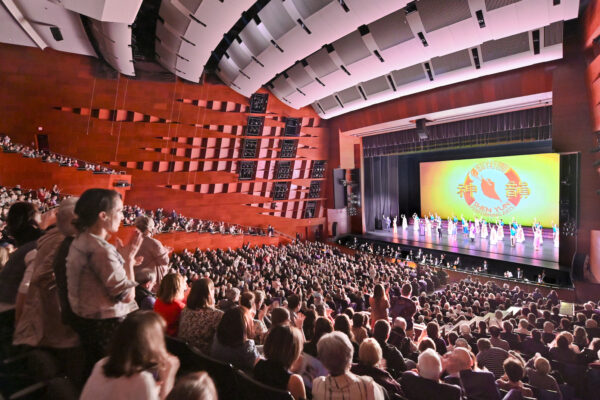 Psychologist Christina Devulyte was glad to be back in the theater after the pandemic. It was her fourth Shen Yun performance. She returns year after year to see the all-new program that comes every year.
"It's so wonderful to be back in the live theater, and to see such an amazing performance," she said.
Ms. Devulyte said she loved the beauty of the dances and how the dancers interacted with Shen Yun's patented digital backdrop.
"And the live orchestra, of course, it's beautiful," she said. "We enjoyed everything—the dances, the stories, the message, the message behind that, understanding that the show is not possible in the communist China nowadays. So we're very fortunate to watch it."
She regarded the experience as a boost for personal health.
"It's very important for our self-care, for our mental well-being," Ms. Devulyte said.
"I would say attending live performances is a very important part of our self-care, something that's important for us to do in order to be able to function."
She called it "one way of healing."
"When people struggle with depression, one thing that we always ask them to do is identify pleasurable activities that carry meaning for you, and try to book them and try to attend them, no matter if you're busy with other times," she explained.
"So it's a matter of making the time for attending a performance and finding that piece of self-soothing and self-care in our busy daily lives."
Reporting by Sunny Chen, Gary Bai, and Maple Lynn.
The Epoch Times is a proud sponsor of Shen Yun Performing Arts. We have covered audience reactions since Shen Yun's inception in 2006.