SYDNEY, Australia—John Ruddick MLC, a member of the Upper House in the New South Wales Parliament, praised Shen Yun Performing Arts and its mission to present "China before communism" when he attended a full house performance at Sydney Lyric Theatre on May 5.
"This is the real China—the ancient China," Mr. Ruddick declared during intermission. "I think Shen Yun is probably at the forefront of educating the world about the real China," the Australian state lawmaker added.
Founded in New York in 2016 by elite artists from all over the world, Shen Yun's mission is to revive China's five millennia of traditional culture—considered to be divinely inspired by Chinese people. This culture was once almost lost under communism.
Shen Yun declares it is presenting "China before communism." Mr. Ruddick was impressed by this.
"A lot of people in Australia don't appreciate how ancient China is and how spiritual China is," Mr. Ruddick said. "A lot of people in Australia think that China is an atheist country. In fact, the Chinese people are very interested in religious matters, and that's a good thing."
Mr. Ruddick is a member of the Liberal Democrats in the Australian state of New South Wales. He was impressed by the company's depiction of China's ancient cultural heritage.
"Shen Yun is spectacular," Mr. Ruddick said, encouraging everybody to experience the performance.
Shen Yun performs classical Chinese dance, ethnic, and folk dances, as well as story-based dances that depict ancient myths and legends as well as modern-day minidramas.
"There's no show like Shen Yun," he said, describing the performance as "spectacular, exhilarating, fascinating!"
Experiencing 'China Before the CCP Was Really Good'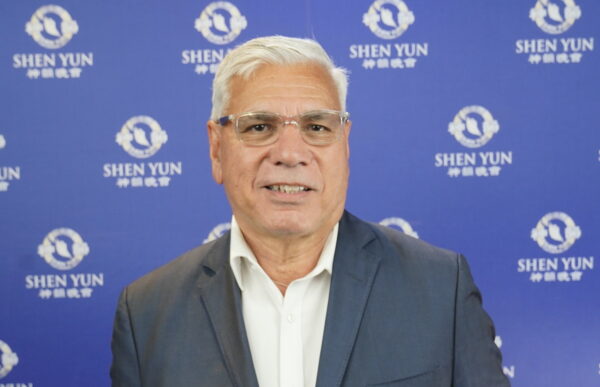 Experiencing China before communism at the Shen Yun performance on May 5, particularly its depiction of the country's rich history and spirituality, impressed Warren Mundine AO, a businessman and Indigenous advocate.
Mr. Mundine noted that Shen Yun taught him much more about China's ancient history and culture than he knew.
"I picked up things, as I said before, I'm not a Chinese history person, but I know about a few things," he said. "But seeing what China was like before the CCP was really good."
Mr. Mundine, who has had significant roles in the Australian public service and is currently director of the Centre for Independent Studies' Indigenous Program, attended Shen Yun's performance with his wife. He is also a recipient of an Order of Australia medal, one of the country's highest honours.
"It was a great performance," Mr. Mundine said. "My wife and I, we like performing arts, we like to go to the theatre and shows, and this was worth it," he added.
Mr. Mundine was struck by Shen Yun's depiction of traditional Chinese spirituality and tales from throughout its multi-millennial history.
"I thought it was an interesting part of it. Because, you know, we know about some of the thousands of years of history and that, and the different dynasties and that, but then having that spiritual effect, which a lot of people don't really know, I thought that was good. I thought it was really good," he said.
The Shen Yun Orchestra, which performs live, features a unique blend of classical Western and Chinese instruments. Mr. Mundine thought this made for a "great combination." He was also struck by the soprano and baritone soloists.
"I thought it was powerful," he said.
The athleticism of the dancers also impressed Mr. Mundine, who said he was amazed by their efforts. "I thought the whole thing was a great show," he said.
"I'll make sure that I'll bring some mates along, and we can have a look," he added. "It took me a while to get here, it took me a couple of years, but now I like it. So I'll bring a few friends along next time."
Reporting by NTD and Caden Pearson.
The Epoch Times is a proud sponsor of Shen Yun Performing Arts. We have covered audience reactions since Shen Yun's inception in 2006.