SYDNEY, Australia—For Alan Glynn, a former dancer and now a national dance judge, Shen Yun's performers showcased an art form that went beyond the advanced dance skills shown on stage.
"I could feel the story they're trying to tell—that's the main thing," Mr. Glynn said after watching New York-based Shen Yun with his wife in a packed theatre at the Sydney Lyric Theatre on May 7.
"And it comes through in their dancing, and their dedication to what they're doing, and their coordination as a team in all their different routines was magnificent."
Mr. Glynn is a Life Member of DanceSport Australia and was awarded the honorary title for making a significant contribution to DanceSport in Australia.
He said Shen Yun's classically trained dancers were "magnificent, faultless."
Shen Yun dancers are trained in classical Chinese dance. An art form that has been refined over thousands of years to become one of the most comprehensive dance systems in the world.
Utilising challenging flips and tumbling turns, including the "Yun" or inner bearing of an individual, the personalities and feelings of characters throughout China's 5,000-year-old history are portrayed with unparalleled clarity.
Shen Yun also declares that it showcases "China before communism," portraying China's rich spiritual civilisation before the tyranny of the Chinese Communist Party (CCP).
"Each story was so different," Mr. Glynn said, describing the "Water Sleeves" vignette—which shows graceful ladies of the imperial court dancing with flowing sleeves that ripple like water—as "particularly impressive."
The dance judge was also impressed with Shen Yun's portrayal of traditional values such as loyalty, compassion, and faith.
"You can't live a good life without having good values," Mr. Glynn said.
"Values are important for everybody."
Fashion Designer Says Warmth of Culture Displayed Through Colour
Meanwhile, fashion designer Ivona Salopek was impressed with the vibrancy and brightness of the colours displayed on stage.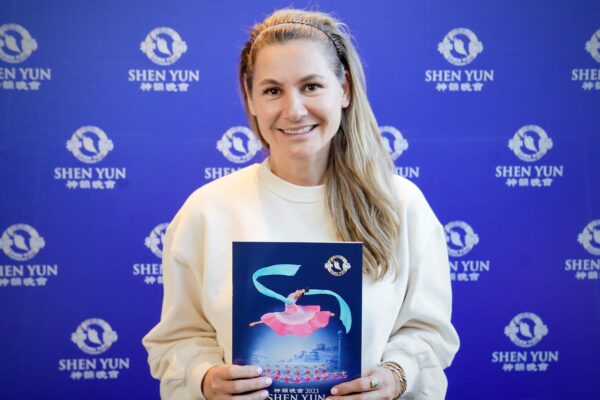 "The style, from the shoes to the costumes to the shawls to the background; the colour diversity and the mix and the way—that it all blends together, and it really, really works," Ms. Salopek said on May 7.
"And each scene has its own cultural colour influence, so it's incredible."
She said the colours displayed were reminiscent of China's authentic culture.
"The overall image is actually just a warmth—a real warmth of understanding the culture, the beauty, and just the inspiration of what it's made up of," Ms. Salopek said.
Reporting by NTD, Beatrice Lee, and Henry Jom.
The Epoch Times is a proud sponsor of Shen Yun Performing Arts. We have covered audience reactions since Shen Yun's inception in 2006.