Shen Yun's Use of Digital Backdrops Very Clever, Says Editor
April 30, 2014 4:36 am Last Updated: April 30, 2014 10:22 pm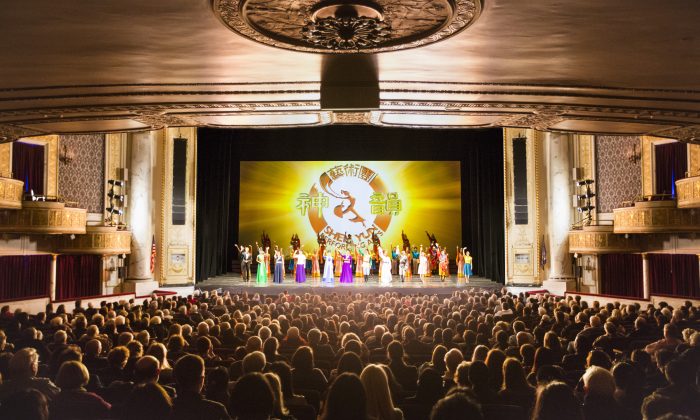 ROCHESTER, N.Y.—Shen Yun Performing Arts graced the stage at the Rochester Auditorium Theatre with its first of two performances in Rochester on April 29.
Karen Magnuson, an editor with the local newspaper Democrat and Chronicle, said Shen Yun's performance is "very beautiful."
"The costumes are fantastic," she added.
Ms. Magnuson was also impressed by Shen Yun's animated backdrops that interact with the dancers on stage. "Very, very clever," she said.
She also said she enjoyed learning about China's history and culture, and was interested to see China's traditions being preserved.
According to Shen Yun's website, the New York-based company aims to revive China's divinely-inspired culture.
'Back and forth from earth to deity'

(L to R) Tate with friends, Pat and James DeCaro, attends Shen Yun Performing Arts at the Rochester Auditorium Theatre, April 29. (Gloria Gao/Epoch Times)
James DeCaro, a faculty member at the National Technical Institute for the Deaf (NTID) currently on assignment at the Rochester Institute of Technology, described Shen Yun as "real virtuosity."
His wife Pat DeCaro, who was also a faculty member at the NTID before retiring, said she enjoyed the theme of the interaction between the heavens and the earth in the performance.
She also had praise for the erhu, a two-stringed instrument also known as the Chinese violin.
"It sounds like someone singing. It doesn't sound like an instrument, it sounds like a person. Amazing instrument," she said.
They both said they would recommend the show to their friends.
"I'm going to call a couple of people tomorrow and say you should come and you have to come tonight," Ms. DeCaro said.

With reporting by Tracey Zhu
New York-based Shen Yun Performing Arts has four touring companies that perform simultaneously around the world. Shen Yun's Touring Company will perform in Rochester from April 29-30. For more information, visit ShenYunPerformingArts.org
The Epoch Times considers Shen Yun Performing Arts the significant cultural event of our time. We have proudly covered audience reactions since Shen Yun's inception in 2006.