BOSTON, Mass.—Shen Yun Performing Art's popularity is reaffirmed each year by the number of theatergoers amazed by its authentic portrayal of China's traditional culture. In ancient times China was known as "Shen Zhou", or the Divine Land.
One of those people was Fred Tobman who was attending the performance at the Boch Center Wang Theatre in Boston with his wife and in-laws.
"I'm thrilled to be here," said Mr. Tobman, a retired owner of an insurance agency.
"I thought it was marvelous! Absolutely outstanding! [Shen Yun] gives you a lot of history," he said.
Shen Yun's mission is to revive traditional Chinese culture that was nearly destroyed under decades of Chinese Communist Party (CCP) rule. Its repertoire features classical Chinese dance, folk and ethnic dance that narrate stories from China's 5,000 years of civilization.
"I don't have one favorite at all because [the dances] were all so very well done," he said.
Mr. Tobman said he was touched by everything he saw.
"Even when I can see a horse in the background and his tail is wagging, all of these little things [Shen Yun] thought of. Somebody's brilliant about this. And when they have to take off and they're going back up to Heaven, it's like they're really going. You have to see this to believe it."
Shen Yun's production is meticulous in its realistic portrayal of life in China throughout diverse dynasties. Costumes, colors, and movements are authentic in every detail from the aesthetics to the styles of ancient China. The audience becomes part of the scene through Shen Yun's use of digital projection which creates a seamless interaction between the backdrops and the performers on stage.
"The music is excellent. Everything [was superb]," Mr. Tobman said.
It was very inspiring. It was motivational.
Ryan Navas runs a small sales company in Boston and says he has seen Shen Yun several times.
"It was very inspiring. It was motivational," Mr. Navas said referring to one of the performance's themes in the value of returning to tradition.
In regards to traditional culture, he thought much of it has been lost to modern thought and he found it refreshing that Shen Yun was addressing that.
Shen Yun sent out a message that one should "always return to goodness, with compassion," Mr. Navas said.
"We have to be better … I think that compassion is something that's very necessary and I think it's the moral fabric which ties humanity which is very good," he said.
"I think when you have compassion … we will return to a lot of good things and we'll come out of the current situation that we are in, in a better condition."
He applauded Shen Yun's mission to revive China's traditional culture.
"I think it's very good, because [traditional Chinese culture] has been destroyed in China … with the communist regime. So, I think it's very, very important to return back to goodness. It's super important, and to … eliminate that atheistic frame of mind," he said.
Jim and Kali Reynolds were also amazed by what they saw at Shen Yun.
"We are with my 99-year-old father. It was his idea, but the performance itself is magical. The synchronicity of the movement and the colors combined with the backdrop of the screen is really beautiful," said Mr. Reynolds, who works with the elderly.
Shen Yun performs in all parts of the world but has not been allowed by the CCP to be performed in China.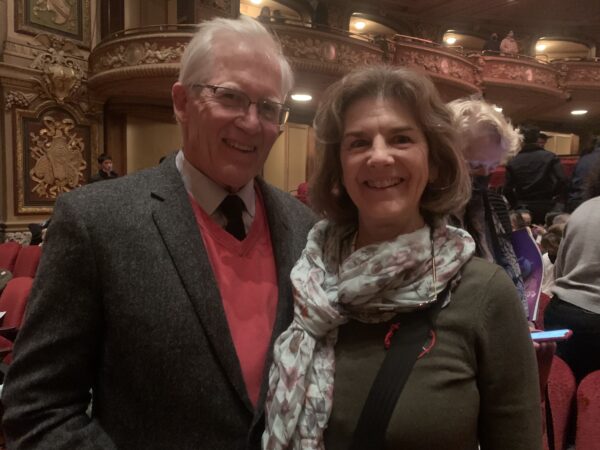 "I feel like it is such a privilege for us and such a loss for those living under the rule of communism. I feel that we're blessed to be able to witness this talent and I think that the [fact that the] artistic director has the ability to bring to life this beautiful form of art is really wonderful. Wonderful blessing for us and a shame for those that live behind the wall," Mr. Reynolds said.
"Overall, I just feel like … all of us in the Wang Theatre here are being treated to a treasure. It is almost like a hidden treasure" he said.
Mr. Reynolds' 99-year-old father, Stephen Parson, brought the family to the performance. Mr. Parson, who used to own a leather tanning company, said Shen Yun was "fascinating."
"The athleticism is marvelous," Mr. Parson said, adding that he was impressed by the seamless interaction between the digital backdrop and the dancers on the stage. "I bet everybody loves it."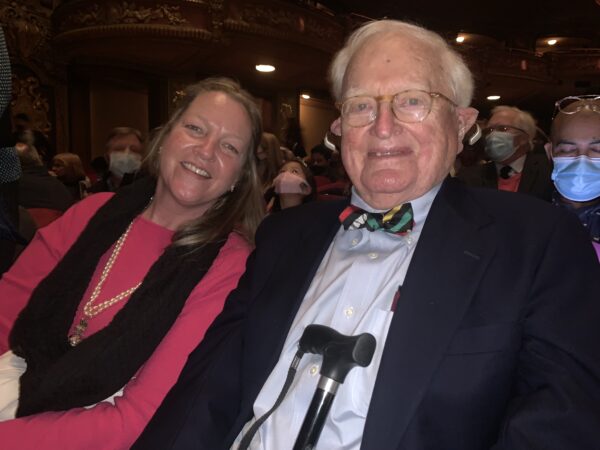 Ms. Reynolds, Mr. Reynolds' wife, thought Shen Yun was extraordinary.
"I had no idea that [there were] so many dances specific to cultures and parts of China and different ethnicities. There were so many different nuances that I was unaware of," she said.
As a teacher, Ms. Reynolds was fascinated by Shen Yun's presentation of ancient spiritual beliefs.
"[It's] not unlike the Christian beliefs in terms of life after death, eternal life … The whole idea of people becoming gods and gods becoming people is very interesting to me because it goes back to the first part of civilization," she said.
"So, a lot of different religious beliefs that overlap is something that I hadn't been aware of in terms of the Chinese history and how it is all related to Christianity as well as way back in the very beginning of times to the beginning of writing."
Ms. Reynolds also voiced her concerns over what is occurring in China under communist rule, linking it to the performance.
"I think it is really sad that the communists don't allow the people to express themselves with music and dance. It strikes me that it is really an oppressive way to live … not only because you are not experiencing music and dance but because that self-expression leads to more self-awareness," Ms. Reynolds said.
"So, it is really like shutting down the whole person."
I think that the colors strike me as being a message of hope.
She spoke of the use of color in the Plum Blossom dance in the performance.
"I think that the colors strike me as being a message of hope," she said. "It was so beautiful. They are all beautiful, the colors are extraordinary and the dancing is amazing. I actually had that feeling of hope after I saw that Plum Blossom dance."
Reporting by Yawen Hung, Ivan Pentchoukov, and Diane Cordemans.
The Epoch Times considers Shen Yun Performing Arts the significant cultural event of our time. We have proudly covered audience reactions since Shen Yun's inception in 2006.