Shen Yun's Message 'Transcends All Culture,' Says Publisher
April 27, 2014 5:09 am Last Updated: May 19, 2015 8:31 pm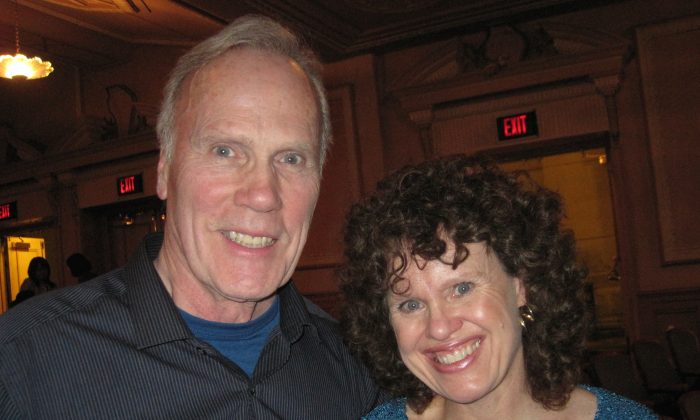 PHILADELPHIA—"Beautiful, very expressive," is how publisher Terry Kelly described the performance of Shen Yun Performing Arts that he attended with his wife Donna Andersen on Saturday evening at the Merriam Theater in Philadelphia.
Expressiveness is an inherent quality of classical Chinese dance, which is at the heart of what Shen Yun does. "Known for its incredible flips and spins, and its gentler elegance, [classical Chinese dance] is one of the most rigorous and expressive art forms in the world," according to the company's website. 
Mr. Kelly and Mrs. Andersen own a publishing company. Mrs. Andersen is also a freelance writer. 
"I liked the stories that are behind the performance," Mrs. Andersen said, adding that she admires the technical skills and physical ability of the dancers. 
"They obviously have a lot of talent, a lot of skill, they work very hard," she said.
"We are enjoying it, the philosophy of it, and the energy, and the beautiful dance. I particularly love the way the girls move around; it looks like they are gliding," Mr. Kelly added. 
"They tell a wonderful story, and just enjoying the color, the beauty of it, and the energy, just wonderful."
Shen Yun Tells a 'Universal Story'
Shen Yun, based in New York, was formed by a group of leading classical Chinese artists with a mission to revive China's divinely inspired culture. 
"Sophisticated dance techniques, an orchestra joining instruments from both the East and West, beautiful costumes, and a stunning back drop—this is Shen Yun at first glance. But digging deeper, one discovers a sea of traditional Chinese culture," explains the Shen Yun website.
"Mortals and divine beings merge on stage as one. Principles such as benevolence and justice, propriety and wisdom, respect for the heavens, and divine retribution, all come to life, washing over the audience. Originating from Confucianism, Buddhism, and Taoism, these ideals are the essence of traditional Chinese culture."
Shen Yun, Mr. Kelly said, "is a story of mankind."
"They are telling a story, a universal story for everyone, and the world for all time, I think. The fight against good and evil, the traditional battle, the quest for beauty, and the quest for peace, you know, this portrays it all," he said. 
Shen Yun's universal message, said Mr. Kelly, is timeless, and "transcends all cultures."
"It is just terrific," added Mrs. Andersen. 
With reporting by Tony Dang
New York-based Shen Yun Performing Arts has four touring companies that perform simultaneously around the world. For more information, visit ShenYunPerformingArts.org
The Epoch Times considers Shen Yun Performing Arts the significant cultural event of our time. We have proudly covered audience reactions since Shen Yun's inception in 2006.