Shen Yun's Creative Presentation Fascinates
April 9, 2014 8:18 pm Last Updated: April 10, 2014 12:46 am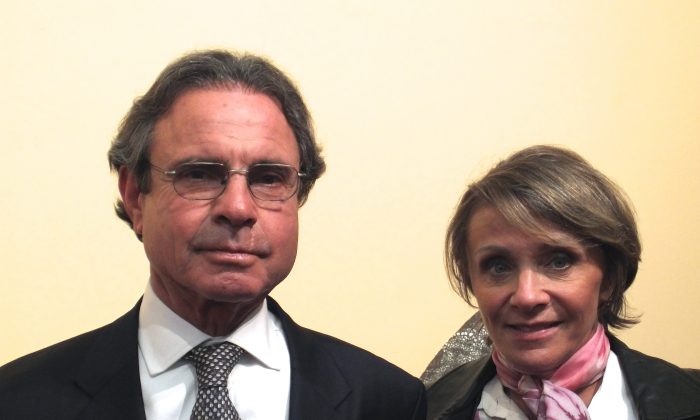 WELLINGTON, New Zealand—Eduardo Gradilone, a diplomatic official, attended the Shen Yun Performing Arts Show in Wellington on Wednesday, April 9, with his wife, Diva Gradilone.
New York-based Shen Yun's mission is to revive authentic Chinese culture. Shen Yun's dances and stories take the audience on a journey through the dynasties and regions of China, with dances showing the heavenly dress of the Tang Dynasty, Manchurian princesses of the 17th century, or the vibrant Yao village.
Mrs. Gradilone didn't know anything about Chinese dance and she said "It's been lovely, very colourful, the dancers are very nimble and competent. Everything is very coordinated."
According to Shen Yun's website "Classical Chinese dance is one way in which 5,000 years of Chinese culture has been passed down and retained. It is a dance form built on profound traditional aesthetics."
Mrs. Gradilone was very taken with the ancient legend Ne Zha Churns the Sea. An idyllic seaside village is the setting for this story of good versus evil. "The dragon and the woman that gives birth to a piece of meat—yes, that [is] very interesting. I liked that one," she said.
Mr. Gradilone agreed with his wife about the unique portrayal of this story saying "There are so many very modern and creative ways of presenting things in particular, the film mixing with the theatre especially."
The Shen Yun website explains the role of the digital backdrops to the scenes –"Shen Yun's digital-backdrop team creates vividly animated settings, extending the stage and transporting the audience through magical windows to completely different realms."
Mr. Gradilone appreciated the themes presented and said, "We are very interested in the artists' parts, and that's the message we are capturing and that's why we are here. So it's a message of culture; of peace."
Reporting by Shelley Shao and Judy Shakespear
New York-based Shen Yun Performing Arts has four touring companies that perform simultaneously around the world. For more information, visit Shen Yun Performing Arts.
The Epoch Times considers Shen Yun Performing Arts the significant cultural event of our time. We have proudly covered audience reactions since Shen Yun's inception in 2006.