Shen Yun's All-Encompassing Harmony Leaves Audience Uplifted
April 5, 2014 12:45 am Last Updated: April 5, 2014 4:15 am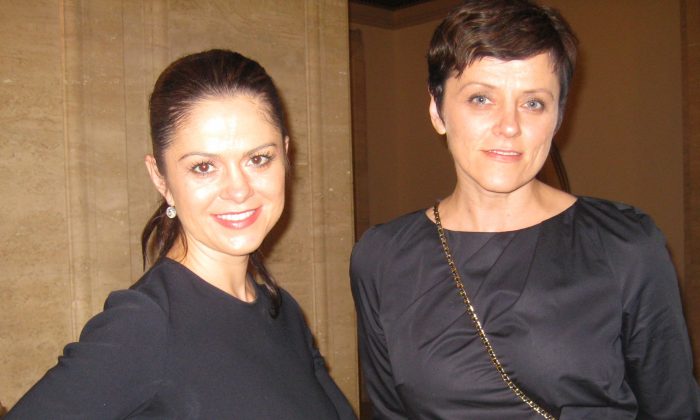 CHICAGO—"It's refreshing," Sabina Szura said and related that watching Shen Yun Performing Arts felt like meditating. "It felt like it. It was just transforming as to another reality," she said.
Shen Yun takes its audiences to the celestial palaces, imperial courts, and wild grasslands of China's past, according to the company's website. Based in New York, company members bring classical music and dance to the world as they aim to revitalize China's legacy of virtues and values.
Sabina Szura, president of Sotheby's International Realty, attended the April 4 performance at Chicago's Civic Opera House with Johanna Szura, who also works at Sotheby's.
At the heart of what Shen Yun does is classical Chinese dance, a dance system that requires both challenging technical skill and tremendous expressiveness.
"We're amazed. It's spectacular. The skills of the dancers are impeccable," she said. "We're just amazed with it."
The youngest member of the party, Nicole, appreciated the dancers. "I like it because they really do good moves, and they're really flexible," she said.
Joanna was most impressed with the coordination of the movement between the dancers, their synchronicity.
"Everything is in harmony," Sabina said. "All of the elements: the music, the dance, the outfits, the colors. I'm actually very impressed with how the digital impressions are used in the background and then transformed into life. The experience is quite amazing," she said.
As a result, Sabina and Joanna left the performance feeling uplifted.
Johanna thought that the uplifting feeling due to the total experience, "Altogether, when you put the music and the dance, the coordination with everything, they all coordinate. It's just amazing," she said.
The Shen Yun website explains, "These digital backdrop designs complement and synchronize all aspects of the performance: the characters, color of the costumes, specific dance movements, props, lighting, the story being told, particular notes played by the orchestra, and special audio effects."
"It's just mesmerizing," Sabina said.
Reporting by Teresa You and Sharon Kilarski
New York-based Shen Yun Performing Arts has four touring companies that perform simultaneously around the world. For more information, visit Shen Yun Performing Arts.
The Epoch Times considers Shen Yun Performing Arts the significant cultural event of our time. We have proudly covered audience reactions since Shen Yun's inception in 2006