Shen Yun: 'You really feel it'
April 27, 2014 2:25 am Last Updated: April 27, 2014 6:44 am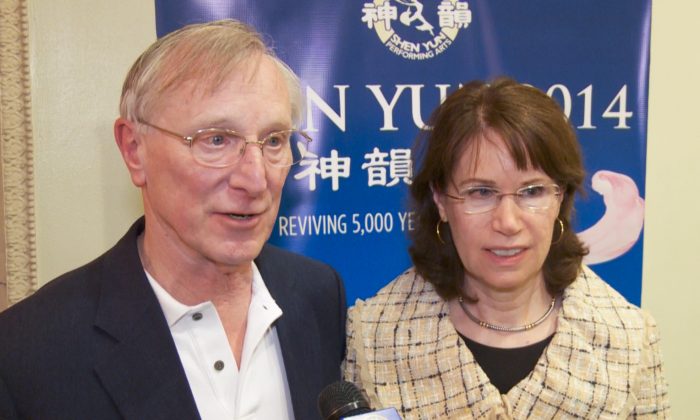 PHILADELPHIA—Shen Yun Performing Arts left the audience at Merriam Theater amazed with its presentation of the divinely inspired Chinese culture and its 5,000 years of tales and legends.
Attorneys Fred Wentz and Nancy Wentz praised the performance during intermission on Saturday evening.
"The performance has been fabulous so far," said Mr. Wentz, part of the McGory Wentz law firm in Plymouth Meeting. 
"The athleticism has been done with such amazing grace. And the costumes and movements are all so beautiful, and the technical aspects keep things really interesting and gorgeous. It's just a phenomenal show. I've never been in to see anything quite like it," he said. 
New York-based Shen Yun travels the globe to present Chinese ancient culture, with classical Chinese dance and ethnic and folk dance the core of the performances.
The dancers are adorned in handmade costumes and accompanied by state-of-the-art digital backdrops, as well as an orchestra that combines a classical Western philharmonic base with traditional Chinese instruments such as the 4,000-year-old erhu, also known as the two-stringed Chinese violin.
Mrs. Wentz, a partner at McGory Wentz, also appreciated the performance.
"It's beautiful," she said. "The female dancers just glide, they glide across, and the history of China is coming through. And I like the fact that you have an explanation as you go, so there are narrators who are explaining, and you are really drawn into what's happening and you really feel it."
Emcees come onstage between dance pieces and give the audience insight into the upcoming piece in both English and Chinese.
A litany of stories from Chinese history gives Shen Yun a lot of material to choose from. The performance this year includes part of the classic "Monkey King" as well as a story from the Song Dynasty in which the sinister official Qin Hui has his plans to execute general Yue Fei upended by a seemingly crazy monk.
"You feel the stories, you feel the energy of the dancers," said Mrs. Wentz.
Several dance pieces depict modern China, where things have changed for the worse. Persecution against Falun Dafa, an ancient meditation practice based on truthfulness, compassion, and tolerance is shown, but evil Chinese Communist Party officials are surprised by the end result.
"They start to talk about China today and how it's different than how it's been the last 5,000 years, and that's sad," said Mr. Wentz.
"It is sad," said Mrs. Wentz, "but it's part of the history."
Reporting by NTD Television and Zachary Stieber
New York-based Shen Yun Performing Arts has four touring companies that perform simultaneously around the world. For more information, visit Shen Yun Performing Arts. 
The Epoch Times considers Shen Yun Performing Arts the significant cultural event of our time. We have proudly covered audience reactions since Shen Yun's inception in 2006.